Rivals 100 DL names top four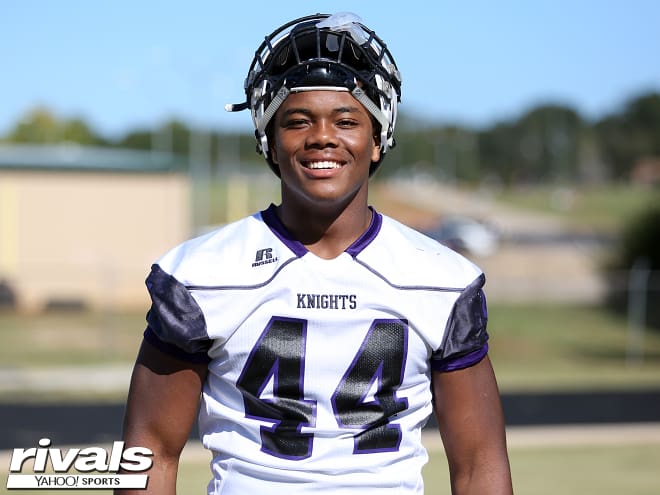 Travon Walker and Thomaston (Ga.) Upson Lee won a state title in basketball last season. The 6-foot-5, 254 pound junior defensive lineman loves hoops and he is very proud of that ring, but he knows his future is on the gridiron.
Walker will always remember basketball season as sophomore because he ended up on top, but that same time during his freshman year will stay with him too because that is when his football recruitment started.
He was offered by Georgia first, then just a couple of weeks later Alabama and Appalachian State offered the 2019 Rivals 100 talent.
With the early start, Walker has seen a lot on the recruiting trail and he has come out with his top four schools.
"My top four [schools] are Alabama, Clemson, Georgia and South Carolina," said Walker. "I am blessed to have this opportunity. I have a lot of great offers, but these schools stand out most to me right now."
Over 20 schools are in pursuit of the No. 4-ranked strongside defensive end in the country. Walker stands out immediately when you see him in action. He has the size, athleticism, attitude and upside that top schools coast to coast covet up front.
He was over in Tuscaloosa Saturday and this was his first game-day experience there and third overall visit. The Crimson Tide is in this race for multiple reasons.
"It was great to see my first game over at Alabama. The crowd was great, it was a good game and I saw a lot of great players.
"Alabama really has a lot to like. If I was to go there, then I know I would get the best of football and education. They have great coaches and leaders there and they set their players up to go far.
"I really relate to a lot of the players there. It is a very competitive environment and I am a very competitive guy, so they all push each other to get better."
Walker was at Clemson for the Auburn game in September and he has been in Athens to see Georgia a couple of times this season. One thing is common about those two schools in his eyes.
"When I am at Clemson, it has the hometown feel to it," said Walker. "Clemson reminds me a lot of where I live now. It is not too small, but not too big. I like that a lot.
"Georgia is very similar. I just feel at home when I am in Athens. Clemson and Georgia really are a lot alike with how I feel when I am there."
The Tigers offered about a year after the Bulldogs and that may hurt a school's chances for some, but Walker is not one of those.
"Clemson offered me back in January 2017, so they were a little late, but that is OK. I got on their campus, I met with the coaches and we just connected.
"I really like coach [Todd] Bates (defensive line), coach V (Brent Venables, defensive coordinator) and coach Dabo Swinney. They are great guys and we have really bonded. They are the big part of why Clemson is high for me."
The in-state school has had Walker's attention since he can remember. He grew up in a Georgia home, but there is more to him having Kirby Smart's program in his top four than that.
"Georgia is playing some great football and they are building up the program in a great way. They are getting very good players, the coaches are doing a great job and I feel very comfortable when I am there.
"Georgia was my dream school growing up, so I am blessed with an offer from them, but I like a lot about Georgia. I like the atmosphere, the coaches and the feeling there."
Walker will be up in Columbia this weekend to see South Carolina host Florida. It will be is first game there. The Gamecocks have made big strides in year two under Will Muschamp and Walker has taken notice.
"I really like how South Carolina is playing right now," said Walker. "They are a young team and they are playing good. It looks like they are going to be doing some good things here soon.
"It shows what type of coaches are there and they are on the right track. When I visited there before, what really stood out to me was the support there. The players have great help academically. They really stress education and I like that."
There is still time for other schools to jump in and make a run at Walker. He made it clear that this is his top four, not final four and he is still going to examine each of his options.
For now though, Alabama, Clemson, Georgia and South Carolina is where so many other schools want to be — on top.
"The recruiting process has been fun, but this is a business for me. I am searching for the best program for me. I am not ready to say these are the schools I will choose from yet, but they could be.
"I am getting closer, but I still want to take my time and be patient to make sure I do all I can to make the right choice. That is what I am working to do."
All schools are "equal" at this time said Walker.