Florida Man: An FSU prediction, report on commits and more
Florida State could use a shot in the arm on the recruiting front, and it just might get it. For that and everything else you need to know in the state of Florida regarding recruiting (plus some unexpected gambling advice), Florida Man is here to deliver.
FUTURECAST OF THE WEEK: Shambre Jackson to Florida State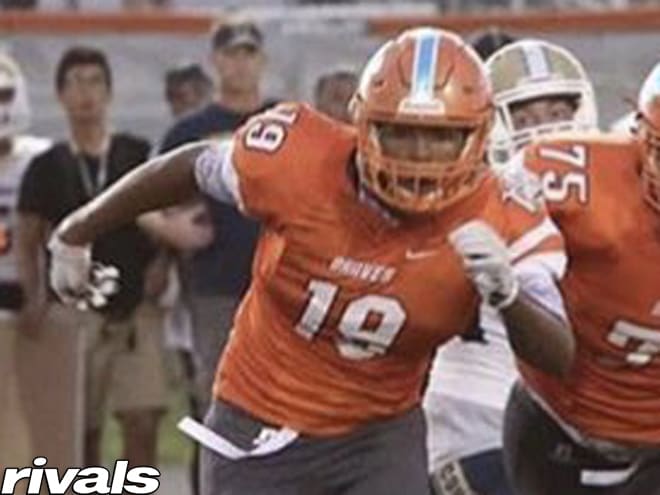 Picking against Alabama is often a losing proposition, but the Seminoles seem to have seized a significant lead when it comes to landing the Orlando-based Jackson. The Rivals250 defensive end has long had a solid relationship with Mike Norvell and company. He feels comfortable in Tallahassee and has seen his chances to visit other campuses limited by the Covid19 crisis.

Officially, Jackson has a top five of FSU, Alabama, LSU, Auburn and Texas A&M. Still, Alabama and, to a lesser extent, Auburn seem to be the only real threats to the Seminoles. This is FSU's to lose, however, and the Noles simply cannot allow another priority in-state target to escape during a pandemic. These are the types of battles Norvell should win. He'll do so in this case … I think.
STOCK UP - A pair of Maliks
Florida State commit Malik McClain entered his senior season as a mid-range three-star and the No. 100 wide receiver in the 2021 class. After just one game, it's clear the 6-foot-5 wideout is significantly undervalued. McClain showed some incredibly impressive game speed to go along with his elite length and enormous catch radius while hauling in two touchdowns in IMG Academy's nationally televised win over Venice (Fla.) High School on Friday. Should the versatile target continue where he left off in game one, he'll find himself in the thick of the four-star conversation when the rankings are updated. He possesses the size-speed combination of a Rivals250 receiver.

Like McCalin, Miami commit Malik Curtis used his season debut to make a statement. Curtis is currently ranked as a 5.5 three-star prospect. And while his lack of size limits his ceiling, his truly elite speed and explosiveness will allow him to slide up in rank during the next update. The UM pledge caught a pair of touchdowns and ran for another in a performance that saw him account for more than 200 total yards. Curtis is incredibly dynamic and clearly has the athleticism to impact a game in a number of ways despite his lack of size. His 5.5 ranking is not long for this world.
NEW ON THE RADAR - Willie Bankston
Class-of-2023 wide receiver Willie Bankston is part of an incredibly deep pool of sophomore receivers in South Florida. And while he's yet to haul in his first offer, that will come in due time. The shifty Monarch High School underclassman has solid size as things stand and will likely get bigger in the year ahead. Bankston showed off some impressive speed and reliable hands at a recent workout. He could be in for big things this season should his high school be permitted to play, as it's clear he's the type of player that should be on the radars of a few power five schools.
THE FIGHT FOR FIVE STARS - JC Latham
Alabama commit JC Latham currently sits on the cusp of five-star status as the No. 23 prospect in the country and his bid to get over the hump is off to a fast start. The IMG Academy standout has long had five-star size and athleticism. I was interested to see how much Latham, a converted defensive end, progressed as a tackle in his second year playing the position and he answered the bell during his week one performance.
Latham, who had some hiccups in pass protection last year, looked mostly dominant against a solid Venice defensive line on Friday night and has improved when it comes to both hand placement and finishing blocks. That's all to say it's so far so good when it comes to the pursuit of five-star status.
PARTING THOUGHT - For entertainment purposes only
We are on the eve of the first Power Five game of 2020, so let's impart a little unsolicited, non-expert gambling advice, shall we?
First off, count me in the group of people that think Miami will take a step forward this year. Even without star defensive end Greg Rousseau, who opted out of the season to prepare for the NFL, things will eventually click and the Hurricanes will drastically improve on last year's 6-7 finish.

That said, also count me among those that don't think the Hurricanes are covering 14 points in Thursday's opener against UAB. I expect the Miami offense to experience some growing pains with touted Houston transfer D'Eriq King under center and talented offensive lineman Navaughn Donaldson still recovering from injury. Miami will probably win this game, don't get me wrong. Winning and covering are very different tasks, however. Plus, UAB already has a game under its belt, which helped it get accustomed to the most unusual season in recent memory.

*** DISCLAIMER: Not only will I not reimburse you if this fails to cash, I'll likely laugh at you for being dumb enough to bet actual American currency based on something I said. That's on you, man. You should know better. Who raised you?