Florida and Georgia extend rivalry to satellite camps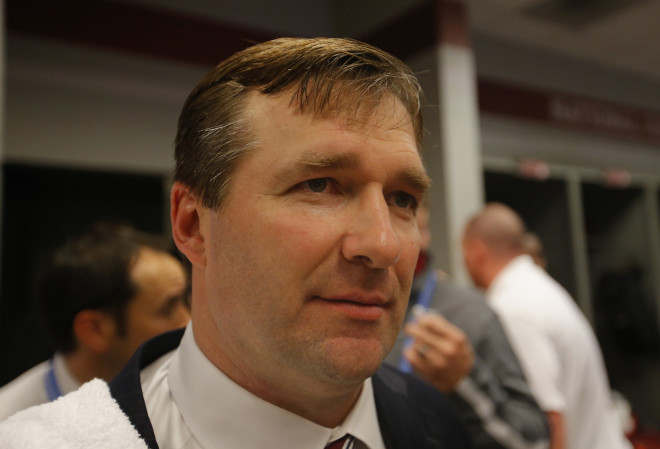 It turns out the Florida-Georgia football rivalry isn't just about the World's Largest Outdoor Cocktail Party in Jacksonville. The Gators and Dawgs are now squaring off in a satellite camp battle as well.
Florida made news earlier this month with plans to hold a standalone satellite camp in Atlanta on June 15 at KIPP Atlanta High School. Now it appears that Georgia's coaching staff will also be working a satellite camp at KIPP on June 15, and the Bulldogs' event will go from 2-5 p.m., while Florida's event will be from 6-9 p.m.
Both events will be organized and run by I Dare-U Training, an Atlanta-based group that works with football players from ages 8 and up. Each camp will cost $40 and I Dare-U founder and former Georgia football player Glenn Ford said he expects several prospects to attend both events.
"I think there will be over 100 kids who do both events," Ford said. "When you get an opportunity to do a camp in your own backyard in front of two of the best programs in the county that's something you can't pass up. I expect most of them to do both."
Ford said it was a "collaborative process" when it came to scheduling the two events, but Rivals.com National Recruiting Director Mike Farrell said he's not surprised to see the Bulldogs respond to Florida's plans by holding their own solo event.
"This is actually very predictable and everyone could see this coming," Farrell said. "There's no way Florida comes into Atlanta and runs their own camp and Georgia doesn't respond. But again, this is where satellite camps are headed, run by training groups and with one staff at a time, so where's the exposure for kids to smaller schools? This is what the NCAA feared, an arms race between SEC schools and camps run simply out of rivalry. I expect this will happen in other states with other schools as well."
Both Florida and Georgia are participating in several satellite camps, with the Bulldogs coaches set to attend at least three camps in the Atlanta area alone. What makes the June 15 events unique is the fact that the schools won't be sharing the field with other programs, like several of the other satellite events. However, Ford said Florida is free to watch Georgia's camp and vice versa, but only the Georgia coaches will work the Georgia event and only Florida's will work the Florida event.
UGASports.com recruiting analyst Jake Reuse said the camps in Atlanta give the new UGA staff a chance to impress local prospects without necessarily bringing them to campus.
"Not everyone in the Atlanta metro area grew up rooting for the Bulldogs or dreaming of an offer from them, and that's certainly cost Georgia their fair share of prospects over the years," Reuse said. "(Kirby) Smart knows if he truly wants to 'shut down the borders,' he's got to start in the most important part of the state and that's Atlanta."
The rationale is the same for Jim McElwain and the Florida staff, which has had success in Atlanta over the last two recruiting cycles, but has yet to land a Rival250 prospect from the metro area since taking over for Will Muschamp.
"The Gators are looking get some traction in the state of Georgia and this camp is yet another example," InsideTheGators.com recruiting analyst Blake Alderman said. "Atlanta-area prospect AJ Terrell is one of their top priorities and he trains with I Dare-U, so this gives the staff a chance to not only work with him but get to know guys who are involved with Terrell's recruiting process. Having the entire coaching staff to work with Terrell and many other top flight recruits in the Peach State can only benefit the Gators."
Terrell is one of several marquee players expected to attend both events. Other likely attendees include Rivals100 prospects LeAnthony Williams and Xavier McKinney and three-star prospects Deon Jackson, Corey Reed and Sheldon Evans.