Five-Star: Top offensive performers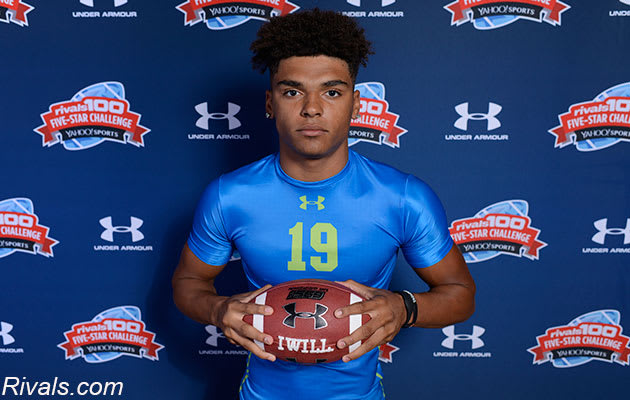 The 6-foot-4, 193-pound wideout showed good body control to come down with the football even when he wasn't all that open. Grimes displayed great concentration near the sideline to keep his feet in bounds and was smooth throughout the session, proving once again why he's one of the more highly regarded receivers in the country.
3
OL
Lexington (Ky.) Lafayette
Wills lined up at right tackle and took control over almost every defensive end and every kind of defensive end, too. Fast guys trying to get the edge were handled. Power players attempting to go right through Wills or ripping inside were taken care of as well. The 2017 prospect has nice size, excellent feet, he sets well and then extends his arms and controls almost every rep.
4
TE
Bradenton (Fla.) IMG Academy
5
OL
Allen, Texas
6
WR
xFort Lauderdale (Fla.) St. Thomas Aquinas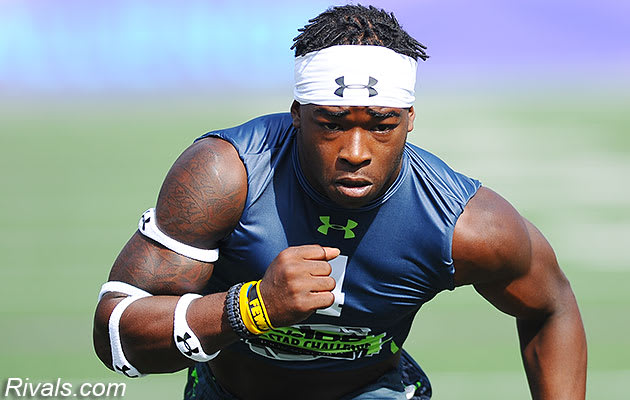 7
OL
Lakeland (Fla.) Lake Gibson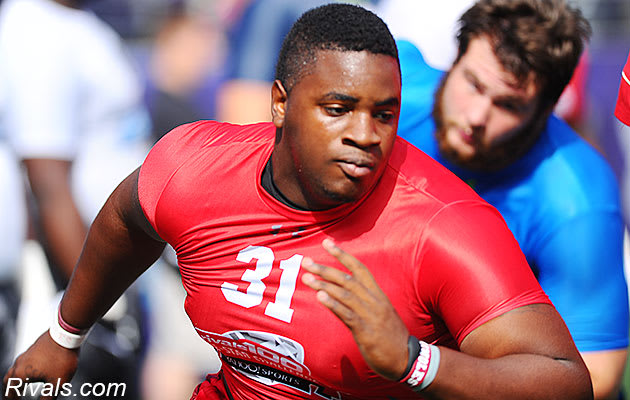 All eyes were on Jones heading into the event, but Johnson was the one that raised some eyebrows during the one-on-one portion of camp Saturday. Johnson contained the 6-foot-5, 360-pound Jones by keeping a solid base and moving his feet to stay in front. Johnson also showed off a strong punch and got off the ball quicker than most.
8
OL
Detroit (Mich.) Cass Tech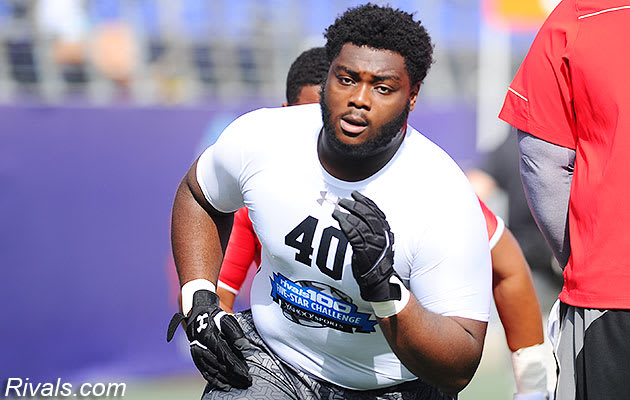 9
WR
Bradenton (Fla.) IMG Academy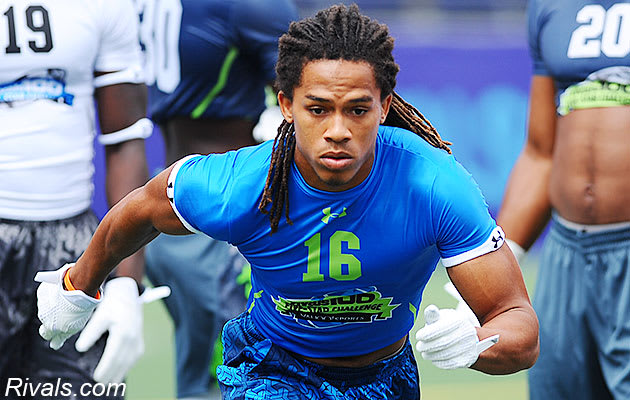 Chase was very fast and changed directions extremely well given how quickly he was moving down field. He has great balance that allows him to stay low through routes and explode past cornerbacks. Chase wasn't just elusive -- he also was very reliable as a pass catcher and made some highlight catches near the sideline.
10
ATH
Bowman (Ga.) Elbert County
The four-star receiver moved well in open space and looked very comfortable against press coverage. Hardman looked like he welcomed the pressure and appeared to be at ease through his routes, showing confidence in his ability to eventually get open and make a play. He made some spectacular catches up the middle.
11
OL
Hyattsville (Md.) DeMatha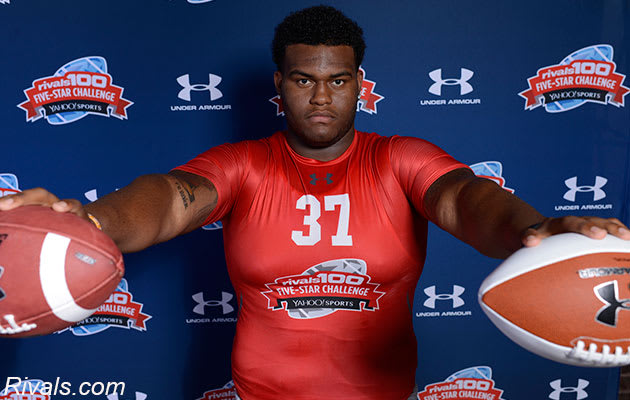 Davis plays with a mean streak and as an interior offensive lineman, that is a perfect situation. The four-star prospect lets nothing by him. He is tough, fierce, competitive and just keeps grinding. Davis has a tremendous punch and great footwork, so he anchors and stuns defensive tackles so they cannot get any movement toward the backfield.
12
WR
La Puente (Calif.) Bishop Amat
Sidney continued his stellar offseason with another solid showing against top-of-the-line competition. He was explosive as a downfield threat, beating a couple cornerbacks with a post route, and he also made some flashy one-handed catches during individual drills.
13
RB
Virginia Beach (Va.) Ocean Lakes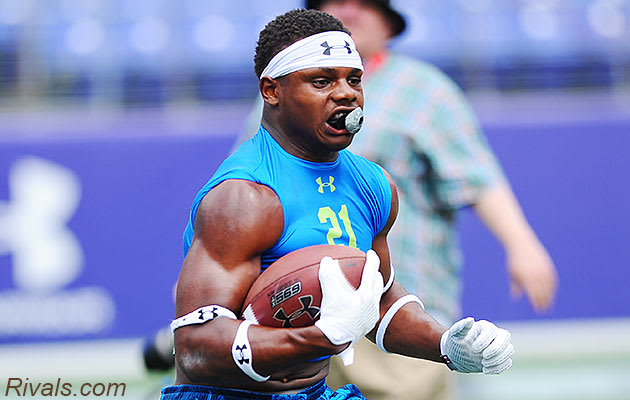 Laborn looked good in drills. He was fast and elusive, cut well and was sharp all around. Then the one-on-one drills started and the four-star prospect really stepped it up in a big way. Not only did Laborn burn a bunch of linebackers, but he ran great routes and showed excellent hands with at least two fingertip catches on deep balls. For an underclassman running back, Laborn showed phenomenal speed and hung with players a year older with no problem.
14
WR
La Puente (Calif.) Bishop Amat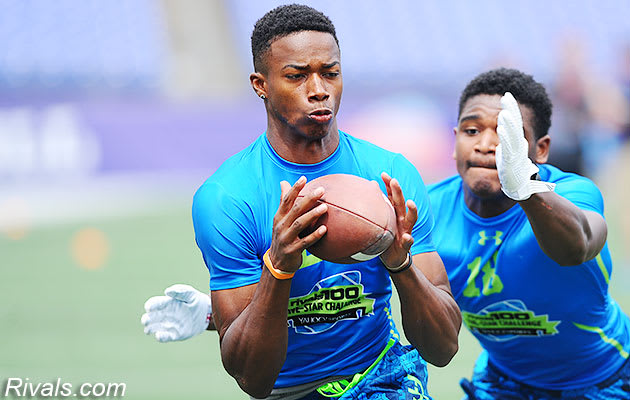 Fluidity and soft hands have been the biggest bright spots for Vaughns this offseason and he continued that trend Saturday during the one-on-one portion of camp. The lanky receiver created separation and caught everything thrown his way.
15
WR
Oxford, Miss.
Metcalf was deceptively quick and repeatedly beat cornerbacks with double moves to get open. He was dominant in one-on-ones and tremendously smooth in individual drills, especially given his 6-foot-2, 197-pound frame.
16
WR
Niceville, Fla.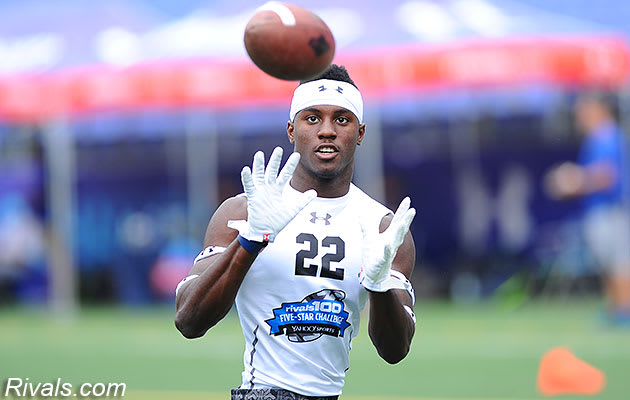 17
WR
Egg Harbor City (N.J.) Cedar Creek
Mitchell really stood out during the drill portion of camp, separating himself with explosive speed and he made a bunch of tough one-handed catches. He is a big receiver with a lot of ranginess and he can create space against most defensive backs. Mitchell was a little too quiet during the one-on-one session, but he still made some nice plays and had a strong showing throughout the day.
18
WR
Coconut Creek, Fla.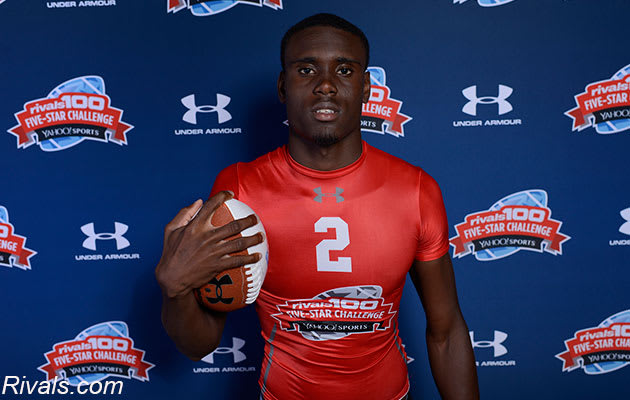 Victor is thin (6-4, 173), but he has a tremendous catch radius because he has such long arms. The four-star is wiry, but he doesn't get pushed around by cornerbacks and he's surprisingly athletic. Victor looks like a lanky small forward in basketball that moves very well at wide receiver. He can separate from corners and even if he can't get a lot of space, he is always in contention to catch the pass because of his length and size.

Blair Angulo
West Recruiting Analyst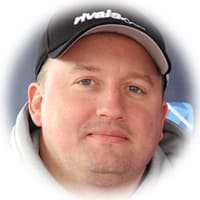 Adam Gorney
West Recruiting Analyst

Complete Coverage