Five-star RB Devyn Ford talks Ohio State, Virginia Tech, and Penn State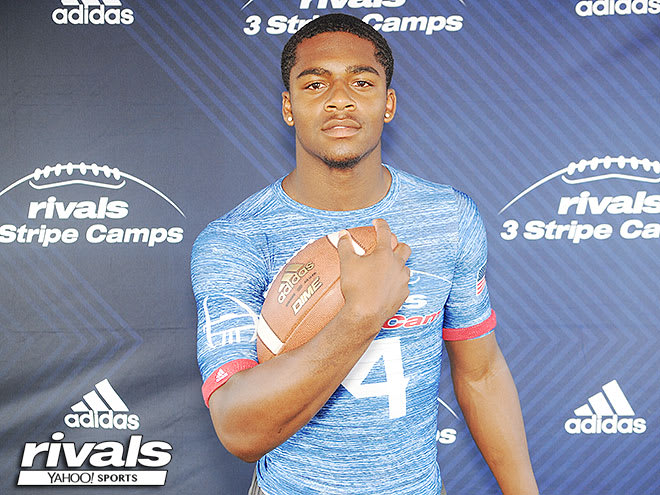 In the final months of his recruitment, five-star Devyn Ford is halfway done with what looks like his final visits. The top-rated running back in the Rivals100, Ford took a multi-day unofficial visit to Ohio State earlier this month and is fresh off a visit to Virginia Tech, his first official visit. The Stafford (Va.) North Stafford star will take an official visit to Penn State this weekend followed by an official visit to Ohio State the following weekend.
Ford took a few minutes to explain how the first two visits of the month went, what he expects at Penn State this weekend, and whether or not he has a leader.
IN HIS OWN WORDS...
"Leaving Virginia Tech, it was a really good feeling, Ford said. "I enjoyed it a lot. They have great fans and they were all getting with me on Twitter. I got to see a lot of different restaurants this time. Everything else was pretty much the same. I've been up there so many times that there really isn't anything I haven't seen yet.
"I got a little more in-depth with the coaches," he said. "I talked to coach Fuente and there was a little bit of a different feel. Overall, I didn't really see too many things that I didn't already know about. It was a really good visit though.
"The coaches reinforced that they have the other pieces like good offensive linemen coming in, better receivers coming, quarterback Quincy Patterson, and everybody else," said Ford. "They'll help me out and I'd help them out too. We could all make it happen for Virginia Tech. They have all the pieces coming in.
"I'm probably closest with coach Zohn at Virginia Tech," he said. "We talk a lot. We're real with each other and nothing is really left unspoken.
"The offense came out in the game and wasn't really clicking," Ford said. "The defense was demolishing them. It was crazy. At halftime, I got word that coach Fuente got in their butts and told them to pick it up. The offense starting getting more explosive plays, downfield passes, big runs, and things like that. That's all because of coach so you can see the words he spoke to the team can actually change the momentum and that was good to see.
"I was up at Ohio State for two days and we saw their spring practice," he said. "It was different than this Virginia Tech visit because this one was an official visit and Ohio State was an unofficial visit. I got to hang around campus, be with some players, and see what practice was like. It was different. You get a different feeling when you're at Ohio State. When you walk onto Ohio State's campus you know this is real, there are some fun and games there but you know you're there to work. It's like that anywhere but you get more of that hard working mentality and work ethic there. I can see that also when I go to Virginia Tech. You need to work hard no matter where you go but at Tech, it's a little closer to home and you a different vibe because you're only four hours from home. Everybody was welcoming and nice at Virginia Tech.
"I've got Penn State this weekend," said Ford. "I'm not sure what I'll see up there this weekend but I'll compare that with Virginia Tech, the environment, the people, the academics, what I would major in, and all that. I'm sure I'll talk to coach Franklin and coach Seider. Nana will be there too. I expect him to recruit me. Now that he is signed, he turns into a recruiter. I'm already hearing it in the school now. I think his word carries a little more weight than other players because I really know him personally, as teammates, and as friends. I can trust in what he says. It does have a big effect on me.
"I still believe everybody is equal in my mind," he said. "Virginia Tech did somethings that I really did like and enjoy. I need to see what the other two schools are doing too. As of right now, Virginia Tech is the one with the momentum. I just want to make sure everybody knows that they are all on the same level right now and there is no real frontrunner right now."
RIVALS' REACTION…
Needless to say, Virginia Tech knocked it out of the park with Ford. The growth he's seen from the Hokies on the field, the improved recruiting classes, and the way the coaching staff is able to make quick adjustments are all very important to him. Ohio State did a great job with Ford on his visit as well and the Buckeyes were in the next position but the momentum Virginia Tech picked up this weekend has blurred the picture a bit.
To make matters worse for Ohio State, Ford was caught off guard by the Steele Chambers commitment. The quotes above were from an interview conducted Thursday night prior to Chambers' commitment but after following up today, Ford doesn't mind that Chambers is now a part of Ohio State's 2019 class but he is surprised that the Ohio State coaches didn't let him know they were taking a commitment from Chambers (listed as an athlete but he has made it well-known he prefers to play running back in college). Ohio State let Ford know prior to Sampson James' commitment and that actually helped build trust between Ohio State and Ford. Ford's camp is now questioning whether or not they can trust Ohio State and that plays right into the hands of Virginia Tech and Penn State.