Five-Star Checkup: Wide receivers rack up big numbers in Week 8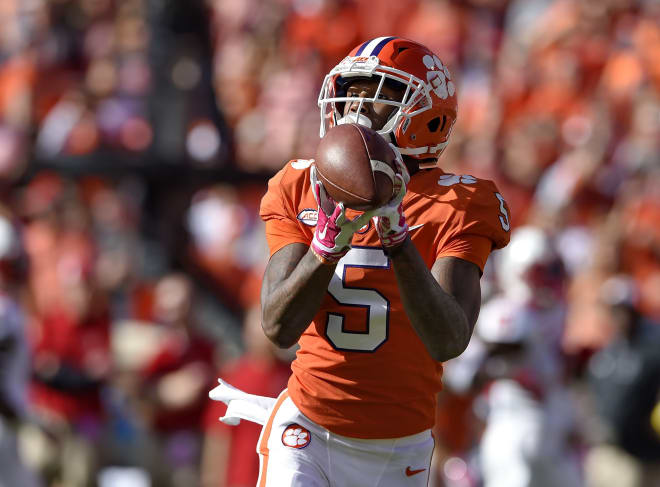 Mondays during the college football season, we will check in on former five-stars to see how they are panning at out the next level and beyond. This week, we look at the five-stars receivers who put up big numbers in key games during Week 8.
MORE: Sting Factor - Marcus Banks and LSU | Saturday's Shine & Shame
As a recruit: Higgins initially committed to the in-state Vols leading up to his junior season, but then decommitted from Tennessee after taking a visit to Clemson in January. He stayed on the market for six months before announcing for the Tigers on the Fourth of July.
What he did this week: Higgins has formed a nice bond with fellow former five-star, Clemson quarterback Trevor Lawrence, and he continues to put up big numbers for the Tigers. In Saturday's victory over NC State, Higgins hauled in eight passes for 119 yards and a touchdown. He's already exceeded his output from 2017 in catches, yards and touchdowns, and he and Lawrence should only continue to put up big numbers as their chemistry grows.

*****
As a recruit: Peoples-Jones committed to Michigan at the end of his senior season, choosing the Wolverines over Nebraska, Ohio State and Florida.
What he did this week: Peoples-Jones didn't get many opportunities in the passing game in Michigan's win over rival Michigan State on Saturday, but when he did he came up big. His long catch was a 79-yard touchdown in the third quarter to put the Wolverines up for good. Peoples-Jones has already matched his numbers for 2017 and is quickly becoming one of Shea Patterson's favorite targets.

*****
As a recruit: Jeudy committed to Alabama over Florida, Miami and others during the summer prior to his senior season.
What he did this week: Jeudy continues to electrify in Alabama's offense, and he was virtually unstoppable in the Tide's victory over Tennessee. He finished the game with five catches for 72 yards and a touchdown, adding to his career year. Despite not needing to play a full game yet this season, Jeudy is quickly approaching 1,000 yards and has done a nice job of filling the shoes of his friend and former teammate, Calvin Ridley.

*****
As a recruit: Waddle committed to Alabama on signing day earlier this year after considering Texas, Oregon, Florida State, TCU and several others.
What he did this week: Waddle and Jeudy form quite the duo for Alabama, and the one-two punch was on full display. Waddle led the Tide in receiving yards against Tennessee, catching four passes for 117 yards and a touchdown. Waddle is averaging more than 20 yards per catch on the season on 21 receptions and also serves as Alabama's primary punt returner. A fabulous freshman, Waddle is quickly living up to his ranking as a recruit.

*****
As a recruit: Irwin committed to Stanford over Arizona State a month before signing day in 2015.
What he did this week: Irwin's options are limited in Stanford's run-heavy offense but in Thursday night's victory over Arizona State, he came up big in his return to his home state. Irwin hauled in seven catches for 79 yards, his second straight game with at least seven grabs. Irwin is on pace to have the best season of his four-year career when it comes to catches and yards.