Five NFL prospects who could turn out to be first-round busts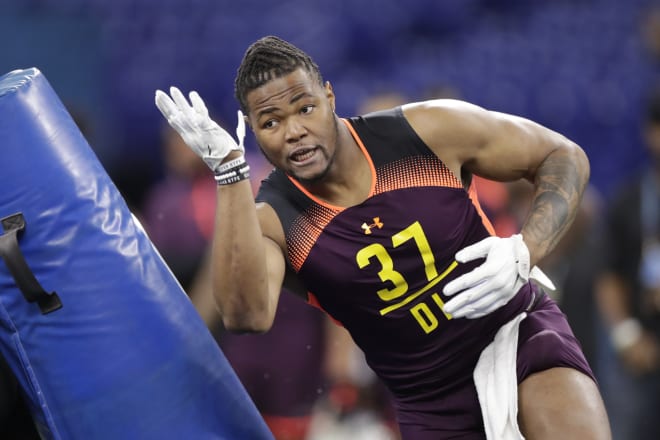 The NFL Scouting Combine is finished and pro days have taken place all across the country leading up to the NFL Draft on April 25-27. Here is a look at five guys who run the risk of being first-round busts.
MORE NFL DRAFT: Top five QBs | RBs | WRs
*****
Recruiting: On National Signing Day, Gary picked Michigan over Clemson. The Wolverines were considered the front-runner for some time. Alabama and Auburn were also in the running late in the recruiting cycle.
Buzz: There are absolutely no questions about Gary's athleticism, and he backed up his reputation at the NFL Scouting Combine by finishing fourth among defensive linemen in the 40-yard dash and vertical leap and tied for seventh in the broad jump. He got weighed at Michigan's pro day but opted against doing any other drills. Elite athletic ability is not the question with Gary. It's production. In three seasons with the Wolverines, Gary had only 9.5 sacks. In comparison, Kentucky's Josh Allen had 17 this past season alone.
Farrell's take: The lack of production from Gary is very confusing to me because this was a freakish athlete would could play defensive end or defensive tackle out of high school and always had a great motor. He would always be in line for extra reps at camps and at Under Armour week he simply dominated everyone. Perhaps it's a scheme issue at Michigan or some injuries, but questions remain about how a player so talented can have lower production than less talented defensive linemen in the same class.
*****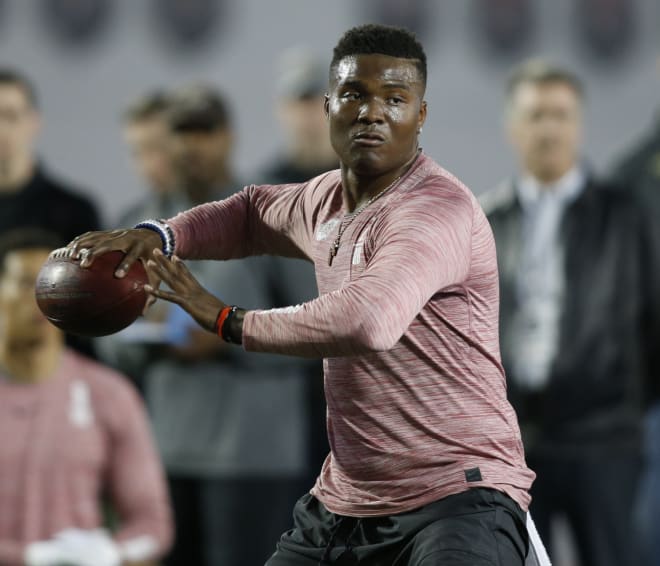 Recruiting: Haskins committed to Maryland the spring before his senior season, but he always planned to take other visits. The four-star quarterback took trips to Florida and Ohio State before flipping to the Buckeyes in mid-January leading up to signing day. He canceled a trip to LSU after his pledge.
Buzz: Haskins has one of the biggest arms in this draft and that's why he is projected to be an early first-round selection. He is almost entirely a pocket passer, though, and his ability to throw off-platform was something Haskins tried to show NFL teams during Ohio State's pro day. He also has a limited resume with only one starting season, but it sure was a good one: Haskins threw for 4,831 yards with 50 touchdowns and eight interceptions while leading Ohio State to a Rose Bowl victory.
Farrell's take: The reason Haskins is on this list is because he's a quarterback with one season of success, plain and simple. He has a lot of talent, a really good arm and throws a great football, just like he did out of high school. But many quarterbacks who have had only one year of success in college have failed badly. Perhaps Mitch Trubisky is the new model for this and Haskins will be a star, but we know he will be picked in the Top 10 and quarterbacks have a huge bust factor.
*****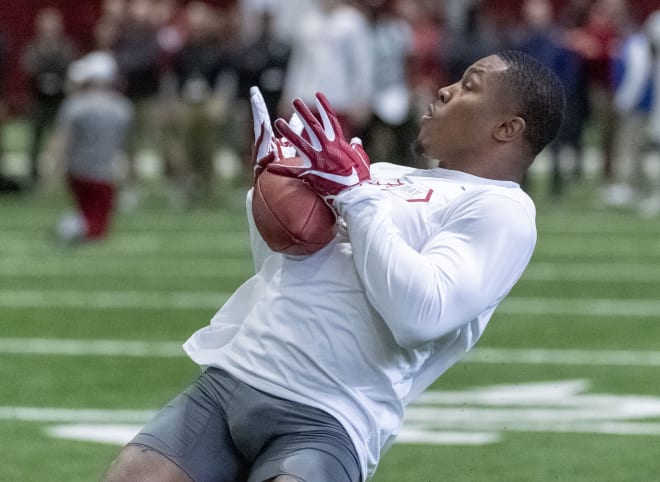 Recruiting: Jacobs ran for 2,704 yards with 31 touchdowns in his senior year, but he had no offers in December leading up to National Signing Day. Wyoming and New Mexico State offered and then things picked up dramatically into the New Year, with Alabama, Oklahoma and Missouri getting involved. He picked the Crimson Tide in early February.
Buzz: Alabama's pro day was especially important for Jacobs since he dealt with a groin injury at the NFL Combine. Jacobs was clocked at 4.6 seconds in the 40-yard dash, which seemed to be good enough for NFL teams. His other testing numbers were OK, not great, but certainly not knocking him off of that first-round grade. Scouts love Jacobs' running style, versatility and toughness, but other than running for 640 yards and 11 touchdowns this season, his numbers with the Crimson Tide were not great, even considering he split time in Alabama's backfield. The running back class is not loaded, so that could help Jacobs' draft stock in the first round.
Farrell's take: This running back class is not a good one, so Jacobs has emerged as a potential first-round pick. Is that because of the lack of depth or because of his talent? In high school, he was a late bloomer that Alabama took a chance on and it paid off, but he is very comfortable splitting reps and not having to be the "go-to guy." Can he handle the load as a 20-25 carry guy in the NFL? Is there a reason he never emerged as the true No. 1 at Alabama for a long period of time. These questions lead to a potentially high bust factor.
*****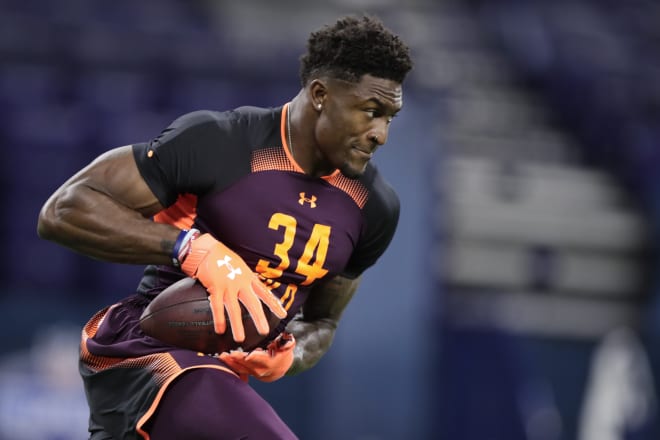 Recruiting: Metcalf committed to Ole Miss in the summer before his sophomore season. Alabama, Auburn and Cal made a run at him, but Metcalf stuck with his commitment. His father, Terrence, uncle, Eric, and grandfather, Terry, all played in the NFL. Calvin Johnson is Metcalf's cousin.
Buzz: Maybe no player at any position had a better combine than Metcalf, who looks to be chiseled out of granite, measured 1.9 percent body fat, got timed at 4.33 seconds in the 40-yard dash and just completely wowed everyone with all of his testing numbers. He improved on some things at Ole Miss' pro day, and he's now squarely in the conversation to be the first receiver taken in the draft. But is he even the best receiver on his own team, considering A.J. Brown put up far better stats? Plus, Metcalf had two season-ending injuries in his three years with the Rebels.
Farrell's take: Metcalf is a physical freak, there is no doubt about that. But he had some issues catching the ball in high school, he never turned that well and he's a bit of a straight-line guy. The injuries are also a question, as is the lack of production. He could be the biggest boom-bust guy in the draft. I remember seeing him for the first time and thinking he would end up as a surefire five-star, but he never took that next step. He hasn't done that in college either, so I worry about the bust factor here.
*****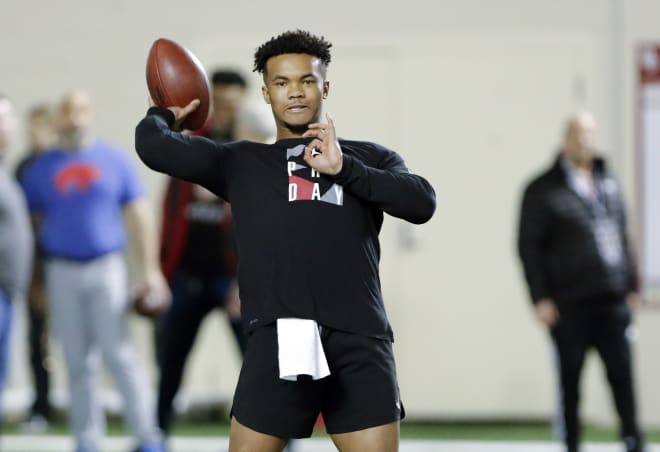 Recruiting: Murray's recruitment was full of intrigue and drama, but it eventually came down to Texas and Texas A&M, with the Aggies landing his commitment. After limited success as a freshman, Murray decided to transfer to Oklahoma and sat behind eventual No. 1 overall pick Baker Mayfield before winning the starting job in Norman.
Buzz: Murray measured in at 5-foot-10 and 207 pounds at the NFL Combine and those numbers seemed to please every NFL executive there, pushing the Oklahoma quarterback into the discussion as the No. 1 overall pick. With the Arizona Cardinals hiring coach Kliff Kingsbury, Murray could be his guy if the franchise could find enough trade value for current quarterback Josh Rosen. Murray did not participate in drills at the combine but he did at his pro day and he delivered a solid performance. The Heisman Trophy winner had one huge season at Oklahoma, where he threw for 4,361 yards with 42 touchdowns and seven interceptions and also rushed for 1,001 yards and 12 TDs. But Murray does have a small resume and his size could be a concern at the NFL level.
Farrell's take: Murray's size will continue to be the question we ask about. It held us back from ranking him as a five-star out of high school and puts him on this list as well. Why? Because he looks like he weighs 180 pounds and stands 5-foot-8 from afar and the fear is that he will be blown up by big defensive linemen. Maybe we are stupid to continue to ask the same question as he's proven us wrong so far, but the quarterback position is tough to project and he certainly has a bust factor.