Five Midwest recruits raising stock with talent on the track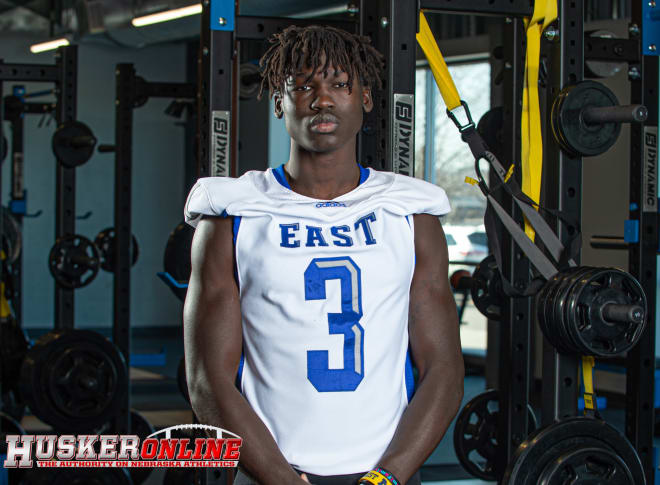 There are countless examples of borderline Division I prospects that have seen their success on the track lead to their college football recruitments taking off. The same can be said with football recruits that had already Power Five offers only to see their track results boost them into a new level of football offers.
There are many factors that lead to an increased level of recruitment for these athletes, but few will deny that showing out on the track can have a positive impact on an individual prospect's college football recruitment. We all know that college coaches crave verified testing results to back up their evaluation, and there isn't a better way to prove you are an elite-level athlete than through your track and field results.
Today, we take a look at five Midwest recruits whose track performances have impacted - or will impact - their football recruitment.
*****
MORE: Recruiting Rumor Mill from RCS in Philadelphia
CLASS OF 2023 RANKINGS: Rivals250 | Team | Position | State
CLASS OF 2024 RANKINGS: Rivals250 | Team | Position | State
TRANSFER PORTAL: Stories/coverage | Message board
RIVALS CAMP SERIES: Info for 2022 series
*****
There is no denying that Malachi Coleman saw his recruiting stock go through the roof prior to his impressive track performance this season, but at the same time we have seen Coleman's offer list grow substantially over the past couple of months. The multisport standout from Lincoln (Neb.) East has been lights out this track season and college football coaches have definitely taken notice. Coleman pretty much has his choice of a college program with offers from the likes of Georgia, Nebraska, Oklahoma, Oregon, Michigan, Ole Miss and many more.
At 6-foot-5 with a frame that can hold well over 200 pounds, Coleman has proven that the raw athleticism we saw on film from his junior year may be even better than we projected. He has blazing personal records of 10.46 seconds in the 100 meters and 21.31 in the 200 meters this season.
Coleman recently told me that his goal is to get down to the 10.3's in the 100 and to break 21 seconds in the 200. Whether he does that or not he has already proven to be among the elite high school track performers this season. For a prospect that has the size to play anything from receiver to defensive end at the next level, his meteoric rise as a football recruit should come as little surprise with track times like this. Coleman is a special athlete and there is no limit to how good he can eventually be.
*****
When we made the trip to see Xavier Nwankpa and Kadyn Proctor this past season, Altoona (Iowa) Southeast Polk head football coach Brad Zelenovich told us about another underclassmen to keep an eye on: Abu Sama III. Sama went on to impress at practice and was one of the best players on the field at the game we attended. While Sama's recruitment hasn't taken off like I thought it would after that trip his performance on the track is turning heads. He recently picked up his first offers from Southern Illinois and Northern Iowa.
Sama has been nothing short of spectacular this track season, and his personal record long jump of 24-feet, 10 inches is also the Iowa state record. That mark is more than 2 feet further the third-best jump in the state of Iowa and puts him at No. 8 in the entire nation this season. When you combine Sama's ability on the football field with his insane level of explosiveness in the long jump it should only be a matter of time before FBS schools come calling.
*****
When you are 6-foot-3 and long you don't necessarily need to be the same speed as smaller wide receivers in order to garner recruiting attention. But when you have a great frame with speed to match you put yourself in a whole different category. That is exactly what Ardell Banks has done this track season. Although he made his pledge to Toledo in early April, that has not stopped teams from shying away when it comes to Banks' recruitment. In fact, Banks picked up two new offers after his commitment and just a couple weeks after he set his personal records in the 100 and 200 meters.
Banks, from Massillon (Ohio) Washington, has put up some blazing times for a prospect with his frame, and he recently ran 10.78 in the 100 and 22.05 in the 200 meters. Size and speed are a dangerous combo, and that is something that Banks definitely brings to the table. I wouldn't be surprised to see some Power Five teams show interest in the coming months.
*****
There must be something in the water in Nebraska, because prior to making this list I wouldn't have known the amount of elite track talent the state has. When you turn on the sophomore film of Carter Nelson you see an extremely raw but talented football player who loves contact and is just scratching the surface of the player he will eventually be. You can definitely tell that Nelson is a good athlete, but unless you looked at his track results it may be hard to gauge how elite of an athlete he actually is.
It may be coincidence that he received his first offer from Iowa State the day after he posted a personal-record high jump of 7-feet-0, but I honestly believe it was the verified measurable that showed an elite level of athleticism which may have been questioned prior to putting up such a mark. Not only does his jump put him in the nation's top five for the event, Nelson has also run 11.05 in the 100 meters and has thrown the discus 175 feet. His discus throw is also one of the top throws in the nation for an underclassmen. Nebraska and Kansas have since offered in the past week and I have a feeling this is just the beginning of Nelson's recruitment. Nelson was a Power Five prospect prior to his track display, but now he is looking like he could be a national prospect in the 2024 class, especially if he continues to develop at this rate.
*****
Ryan Wingo is one of six five-star players that have been announced in the 2024 class. Although his track times are not the sole reason Wingo is so highly recruited, his speed at 6-foot-2 and 195 pounds is part of what makes him such an attractive prospect as a sophomore in high school. There are few athletes that possess Wingo's combination of size and speed at his age. The scary part is that he only appears to be getting bigger and faster. Wingo already has over 30 offers with schools such as Louisville, Oklahoma, Kentucky, Pitt, Miami and Colorado throwing their hat in the ring since his track season began.
Wingo can flat out fly for a player with his size and youth. He has personal records of 10.6 in the 100 meters and 21.46 in the 200 meters this season. I also have a feeling he will break both of those marks as the stakes get higher and the weather gets warmer come state.