Fisher blasts back at Saban; recruits weigh in on fracas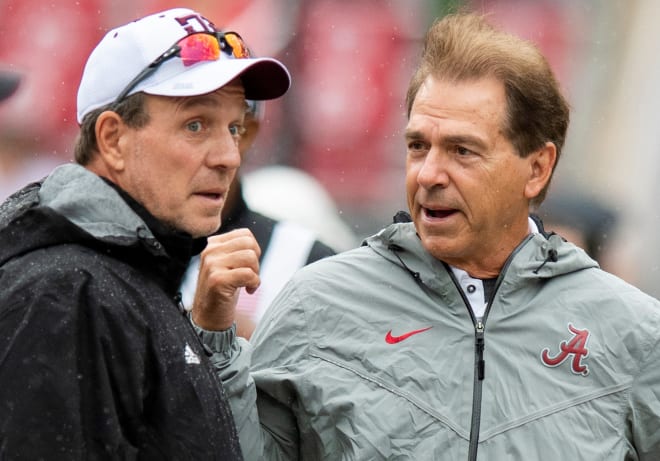 In an impromptu press conference Thursday in College Station, Texas A&M coach Jimbo Fisher offered a full-throated rebuke of Alabama coach Nick Saban's comments about NIL and "buying players" that Saban made Wednesday night.
In stark terms, Fisher, who used to work for Saban, said their relationship is done, that he's not taking his phone calls and so much more.
Fisher called Saban's comments a "shame" and "despicable." He said Saban was a "narcissist" and that "maybe somebody should have slapped him." He implored media members to investigate Saban's "operations and tactics," to dig into wherever he's been and that "you can find out anything."
This was not a press release from an aggrieved coach who felt slandered. This was a complete denunciation of not only what Saban said Wednesday night during a World Games event in Alabama but a condemnation of Saban himself and how he's operated in the coaching profession.
"We build him up to be this czar of football," Fisher said. "Go dig into his past or anybody that's ever coached with him. You can find out anything you want to find out. What he does and how he does it."
And this: "He's the greatest ever, huh? When you have all the advantages, it's easy."
*****
RELATED: Saban takes aim at Texas A&M over NIL
CLASS OF 2023 RANKINGS: Rivals250 | Team | Position | State
CLASS OF 2024 RANKINGS: Rivals250 | Team | Position | State
TRANSFER PORTAL: Stories/coverage | Message board
RIVALS CAMP SERIES: Info for 2022 series
*****
Fisher's comments sparked conversation across the entire college football landscape. It also drew reaction from many elite prospects - since the comments and accusations made by both coaches have recruiting implications as well.
Alabama and Texas A&M are battling for many of the same high-end prospects and many had thoughts about what's unfolding.
"I try not to get to caught up in all the noise," one high-level four-star said. "I figured they are just playing the game how it needs to be played in the media. It's all a chess match as I see it and a battle for recruiting power."
Another four-star being recruited by both the Aggies and the Crimson Tide said: "I feel like the whole game is evolving, recruiting included. If it's legal to get paid now, get paid, simple."
From afar, coaches are following, too, kind of like how you can't turn away from a car wreck. Asked if Saban and Fisher are going to blow each other up over this, one Power Five assistant said, "Not sure, but I love watching."
Two players who could end up in College Station were certainly fired up that their coach had to defend his recruiting strategy amid Saban's accusations.
"It's pointless, but it's building a rivalry on the field that college football needs," one Texas A&M commit said. "I can't wait to play it because it's turning into hate. I love it."
Another A&M pledge said: "That is disrespectful of such a reputable coach to talk bad about another great coach (Fisher) and his program. We have done everything legally and all we care about as recruits is bringing home a natty. I don't know why Saban, who is such a legendary coach, would talk bad about a program his colleague coaches now. Can't wait for the Bama game this fall. I might have to make the trip to Tuscaloosa."
After beating Alabama in College Station last season, Texas A&M visits the Crimson Tide on Oct. 8. Fisher said Thursday he doesn't mind confrontation, that he's lived with it his whole life and he kind of likes it.
"It will be fun, won't it?" Fisher said.