Farrell Freshman All-American team: Offense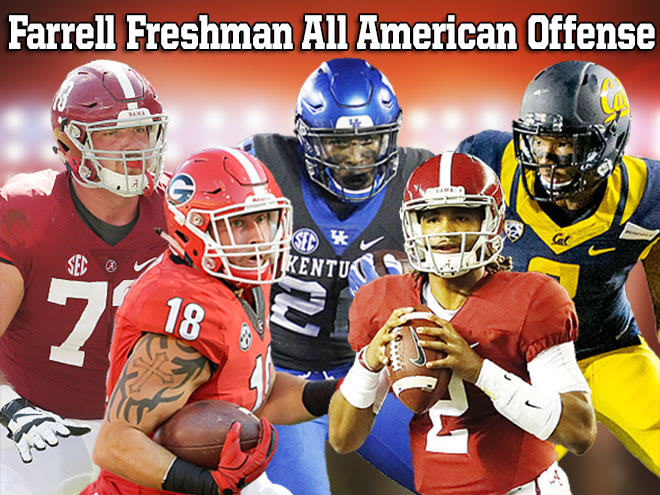 Last week we revealed the final Farrell Freshman 15 for the 2016 season, the top 15 true freshmen in the country, but why stop there?
Here's a look at the Farrell Freshman All-American offensive team, including starters and some players who impressed me who deserve a mention.
Note: The "Others I Liked" section doesn't include every true freshman who had a good season, just a few that deserve a mention.
Mark Pszonak contributed to this report.
MORE: Farrell postseason 50 countdown begins | Clemson's abundance of QB riches
QUARTERBACK
Others I liked: Justin Herbert, Oregon, Shane Buechele, Texas, Jacob Eason, Georgia, Jake Bentley, South Carolina
Farrell's take: Hurts was a surprise earning the starting job in game one and running with it, but as a four-star I guess you could say we expected big things. Buechele and Bentley were also four-stars; Bentley is especially impressive because he was supposed to be a 2017 prospect. Eason was our No. 1 pro-style quarterback, so it's no surprise he emerged as a starter. Herbert, a mid-level three-star, would be the surprise of the group here with Oregon his only FBS offer aside from Nevada.

RUNNING BACK
Others I liked: Trayveon Williams, Texas A&M, Justice Hill, Oklahoma State, Chris Evans, Michigan, Lorenzo Harrison, Maryland
Farrell's take: Snell was a big surprise as a low three-star prospect emerging as the best freshman in the SEC at his position, while Crockett was a four-star and not stunning. Williams was a four-star as well, but Hill, Evans and Harrison were three-stars, like Snell, who excelled. Hill was a mid-level three-star, Harrison was a high three-star and Evans was a high three-star as an athlete, but all of them played liked four-stars as freshmen.

WIDE RECEIVER
Others I liked: Ahmmon Richards, Miami, Donnie Corley, Michigan State, Dimetrios Mason, Missouri, Deshaunte Jones, Iowa State
Farrell's take: This is an interesting group because Robertson and Harry were five-stars expected to be dominant early and Richards and Corley were both four-stars, but Mason was a little regarded two-star and Jones was a low three-star athlete. Mason was a late offer for Mizzou, as he committed the day before Signing Day after the Tigers offered, and Jones was also a late commitment to Iowa State over Cincinnati and Georgia Tech. So as the big names delivered, some sleepers emerged as well.

TIGHT END
Others I liked: Noah Fant, Iowa, Miller Forristall, Alabama
Farrell's Take: Thank goodness for Nauta, because after him, how do you find an elite true freshman tight end? No other, at least according to our research, caught more than nine passes all season long. Nauta, a five-star, is no surprise as the biggest impact player at his position while Fant and Forristall were both high three-stars.

OFFENSIVE LINE
Others I liked: Parker Braun, Georgia Tech, Gus Lavaka, Oregon State, Nate Herbig, Stanford, Coy Cronk, Indiana
Farrell's take: This was a really good year for impact true freshmen linemen, some expected and others unexpected. Based on rankings, Williams and Little were certainly expected to impact as five-stars, while Bredeson and Jordan were four-stars, so neither is a surprise, either. Taylor was a four-star who we expected to be a guard and take some time to get into college shape, so he's been a pleasant surprise. All of the others I liked were either three-stars or two-stars. Lavaka is an older freshman after signing with Hawaii in 2012 and serving a mission; as a low two-star he's the stunner of this group.