Farrell Freshman 15: Counting down Nos. 1-3
Mark Pszonak contributed to this report.
The annual Farrell Freshman 15 mid-season version is out and today we finish off the countdown, led by the best freshman quarterback in the nation.
MIDSEASON FARRELL FRESHMAN 15: Nos. 4-6 | 7-9 | 10-12 | 13-15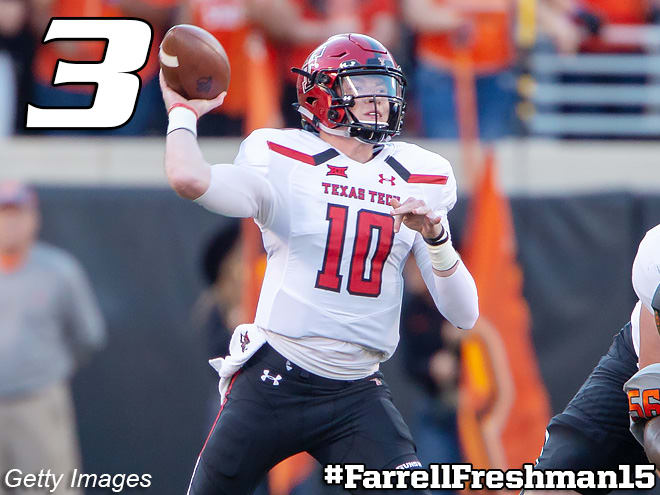 The skinny: Already holding more than a dozen offers, when Bowman received his offer from Texas Tech it only took him a few days to commit to the Red Raiders. Despite missing some game time due to a collapsed lung, Bowman has had a memorable beginning to his collegiate career with 1,680 yards, 11 touchdowns and only three interceptions. Look for him to continue to put up video game numbers in Texas Tech's pass-happy offense.
Farrell's take: Bowman was a mid-level three-star prospect coming out who was not heavily recruited and was considered a system quarterback by some, but he put up massive numbers in high school. He had good size, was hard to tackle and got the ball out quickly and accurately. However, he has surpassed expectations so far despite an injury and has put up great numbers as a true freshman.

The skinny: Sterns initially committed to LSU during his junior season, but then flipped to Texas during the spring. The flip came only a few days after Sterns had taken a visit to Austin to take a closer look at the Longhorns' program. Texas added a great deal of firepower to its secondary in the class of 2018, but it has been Sterns that has quickly risen to the top. Currently with 25 tackles, three interceptions and one pass break-up, he is quickly becoming a leader on the defensive unit.
Farrell's take: Sterns was a five-star prospect and a can't-miss kid. He had adequate size but was very physical and great at closing on the football. He's also that kind of player who is always around the football. So far in his college career, he has shown that ability and he has played beyond his years.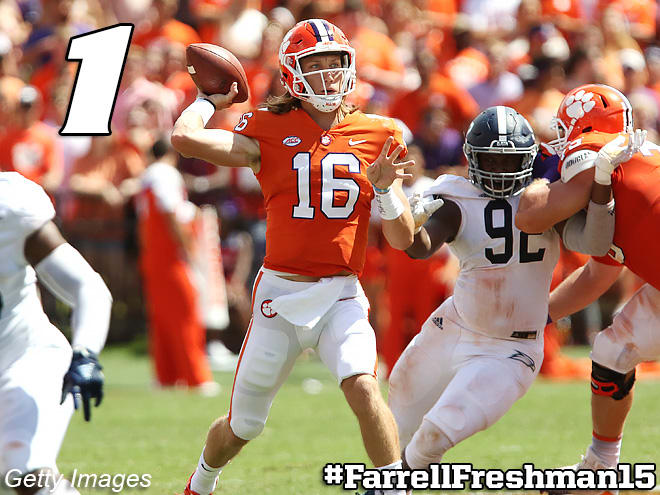 The skinny: Lawrence committed to Clemson in December after his junior season and never wavered on his word. The battle between Lawrence and returning starter Kelly Bryant raged through the off-season, but Bryant was named the starter for the opener. However, after Lawrence impressed in limited action, Clemson decided to give him the opportunity as the starter, which eventually led to Bryant's transfer. Lawrence has not disappointed to date, with 868 yards, 11 touchdowns and only two interceptions for the undefeated Tigers.
Farrell's take: Lawrence is the best quarterback I have ever scouted in my 20 years, and it shows. He has it all – size, arm strength, accuracy, mobility and football sense – that makes him an instant star in college. There was no doubt in my mind he would have a great freshman year and we could be looking at a future Heisman candidate.