Farrell Freshman 15: Countdown continues with Nos. 7-9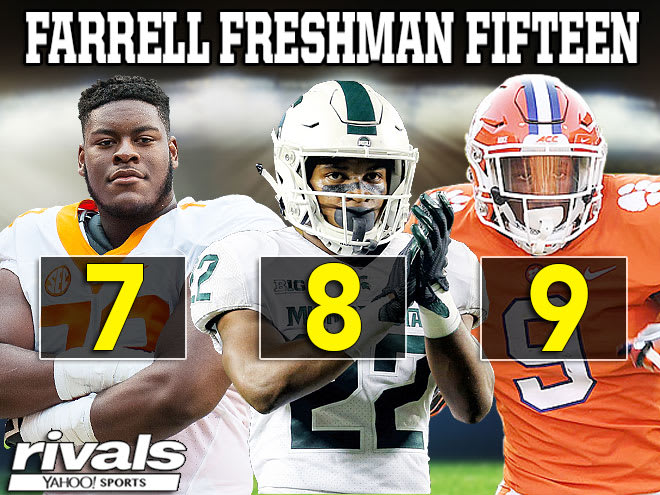 Mark Pszonak contributed to this report.
The college football regular season is over and numerous true freshmen have stood out. The annual postseason Farrell Freshman 15 continues today, led by ACC, Big Ten and SEC stars.
FARRELL FRESHMAN 15: Nos. 10-12 | 13-15 | Postseason top 50 CFB players
9. TRAVIS ETIENNE - CLEMSON
The skinny: Etienne was initially committed to Texas A&M, but re-opened his recruitment two months later. After trimming his list down to Clemson, LSU and Tennessee, and taking official visits to Clemson and Tennessee in January, it was the Tigers that caught his interest the most and led to his commitment a week before National Signing Day. In Death Valley, while he has only received 103 carries, Etienne has rushed for 744 yards and a team-leading 13 touchdowns, while averaging 7.2 yards per carry.
Farrell's take: This is a kid I thought might be underranked because he had size, speed and shiftiness. LSU really coveted him and Clemson did a great job winning this recruiting battle. He's faster than I expected and his burst has improved greatly. As a guy just outside of that four-star ranking, he might make us look bad during his career based on early returns. Etienne has already turned into one of the fastest and most explosive running backs in college football.

8. JOSIAH SCOTT - MICHIGAN STATE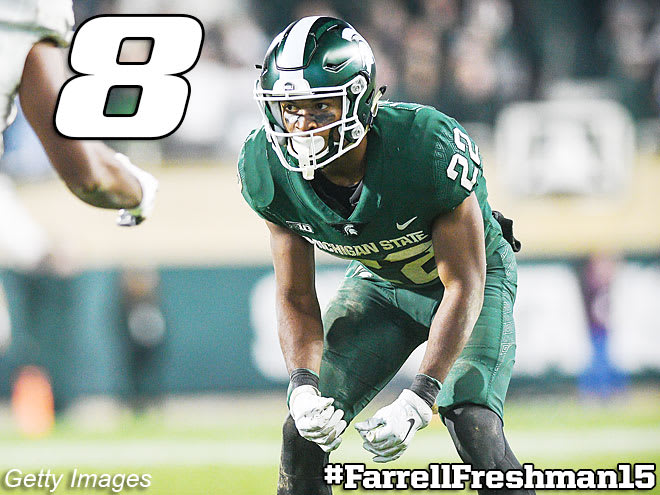 The skinny: Scott announced a top three of Iowa, Pittsburgh and West Virginia, before an offer from Michigan State in July turned everything upside down. The Spartans quickly made up ground on his three favorites and earned his commitment a couple of weeks after offering. Starting 11 games at Michigan State this fall, Scott immediately performed like a veteran while totaling 30 tackles, two interceptions and a team-leading nine pass breakups.
Farrell's take: Scott was a mid-level three-star prospect mainly because he lacked size and strength but he always had good ball skills and excellent instincts. He has bulked up and gotten stronger in college, and was much better at tackling in run support than expected. Scott's pass breakups are not a surprise as he was always good at getting his head around, but his play overall this early is ahead of our schedule.
7. TREY SMITH - TENNESSEE
The skinny: Smith took a late November official visit to Ohio State, but after checking out Tennessee the following weekend, he committed to the Vols soon after. While the Tennessee offensive unit had its fair share of issues this fall, Smith was one of the few bright spots. Despite experiencing some inconsistencies, which can be expected from any true freshman offensive lineman in the SEC, his athleticism and potential was showcased throughout the season at right guard.
Farrell's take: This was one of the more controversial rankings in recent memory because most networks had Smith as a five-star, with one ranking him No. 1 overall. Rivals.com's ranking of No. 49 nationally isn't so bad, but No. 8 at offensive tackle is a bit low clearly, at least so far, as he's been impressive at guard. One of our question marks was whether Smith was a tackle or a guard, but either way he's outplayed his ranking so far. He's been beyond impressive.