Postseason Farrell 50: Heisman winner leads the way for Nos. 1-5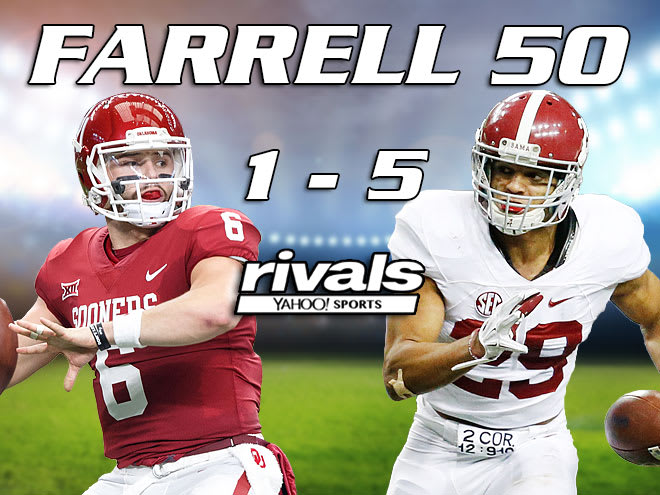 Mark Pszonak contributed to this report.
The regular season has ended so it's time for the final Farrell 50, the top 50 players in college football and how they looked out of high school. Today we continue the countdown with Nos. 1-5.
MORE FINAL FARRELL 50: Nos. 6-10 | 11-15 | 16-20 | 21-25 | 26-30 | 31-35 | 36-40 | 41-45 | 46-50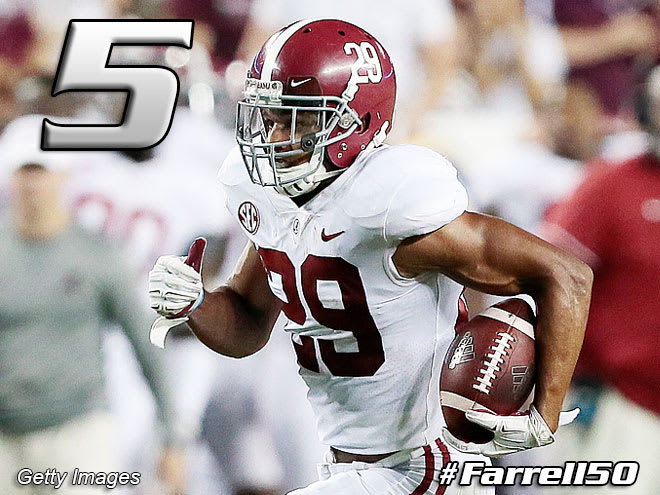 The skinny: Fitzpatrick committed to Alabama over Florida State. While he did take an official visit to Tallahassee after making his commitment, he ultimately signed with the Crimson Tide. Fitzpatrick contributed immediately for the Crimson Tide and has raised his level of play every season after. Now one of the unquestioned leaders of the Alabama defense, Fitzpatrick may not have had as many game-changing plays as he did in 2016, but he still totaled 52 tackles, six tackles for a loss, 1.5 sacks, one interception and one forced fumble while solidifying the unit and helping to lead Alabama back into the College Football Playoffs.
Farrell's take: I've watched Fitzpatrick since he was a freshman in high school. He has always been a five-star talent, but scouting him so much might have led to expectations that were too high. It's why we moved him from cornerback to safety in the end because he struggled in solo coverage against elite wide receivers. So much for that, huh? Fitzpatrick's instant impact as a freshman on the Alabama defense was amazing and he took it to the next level last season. This season he was mentioned as a sleeper Heisman candidate and is the most important player on the Alabama team. He's living up to that five-star status.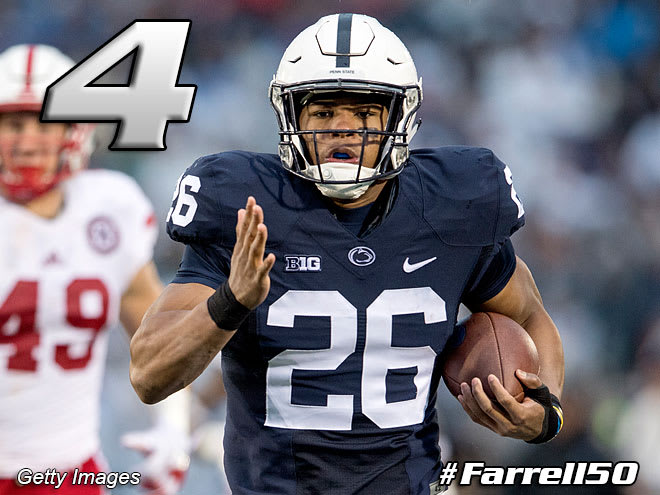 The skinny: Barkley was originally committed to Rutgers, but re-opened his recruitment as additional offers began to pile up. Penn State almost immediately became the favorite as the Nittany Lions made Barkley a recruiting priority, which eventually led to his commitment. At Penn State, Barkley made an immediate impact as a true freshman and has continued to elevate his level of play over his next two seasons. While the second half of his 2017 season dipped a bit from his first half, he still totaled 1,728 yards and 19 touchdowns from the line of scrimmage, plus added two more touchdowns on kickoff returns.
Farrell's take: Barkley was an upright slasher who showed good receiving skills out of high school, so it's not a huge surprise he's made a big impact early his first three years. But to this level? That's a bit of a surprise as he's become the dominant Big Ten back and has been in my top five overall all season long. His lower body strength and power to run through some arm tackles has improved greatly. A very athletic kid, Barkley was a guy who pushed for Rivals100 status but is showing us he should have been ranked higher, much higher.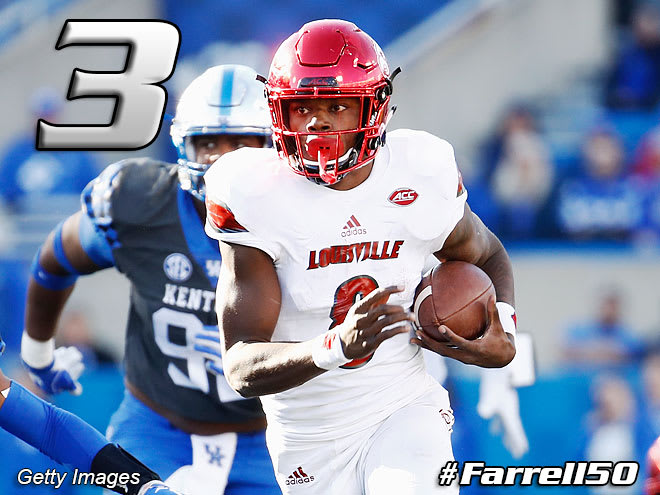 The skinny: Jackson committed to Louisville during the summer after his junior year but still took official visits to Nebraska, Florida and Mississippi State. The biggest push came from Florida, but Jackson decided to stick with his original commitment and signed with the Cardinals. Coming off of a Heisman Trophy-winning sophomore season that saw him throw for 3,543 yards and 30 touchdowns and rush for 1,538 yards and 21 touchdowns, it would have been difficult for Jackson to reach the same levels in 2017. While the Cardinals experienced more struggles on the field this fall, Jackson still showcased all of his abilities by passing for 3,489 yards and 25 touchdowns, while rushing for 1,443 yards and 17 touchdowns.
Farrell's take: Jackson was known for his arm – he has a cannon with that whip delivery – but in high school he did a ton with his legs as well. But there was no way to see how explosive he'd be at the next level. His speed has translated much better to college than I expected, as I've been surprised with his ability to run away from people so easily. Jackson is still a bit raw as a passer, but he is so dominant as a runner that he gets a lot of space when inside or outside the pocket as the entire pass rush is geared toward run containment. He is simply the most dynamic player we've seen in college football in quite some time despite his occasional struggles.

The skinny: Love took a fall official visit to Virginia and then January visits to Stanford and North Carolina before committing to the Cardinal a few days before National Signing Day. While expectations were high for Love this fall, after he patiently waited for Christian McCaffrey to move onto the NFL, not many expected the offensive explosion that occurred in 2017. Rushing for 1,973 yards and 17 touchdowns, while playing in an offense that had a struggling passing game all season, Love earned every yard he gained and as a result was a Heisman Trophy finalist.
Farrell's take: Love showed serious flashes of talent last season filling in for McCaffrey at times but he clearly took it to the next level this year. Love was a four-star out of high school known for his ability in space as well as his receiving ability, so he fits in greatly as a replacement for McCaffrey. He didn't match the overall numbers, no one could, but he had an amazing season and is living up to his ranking and then some.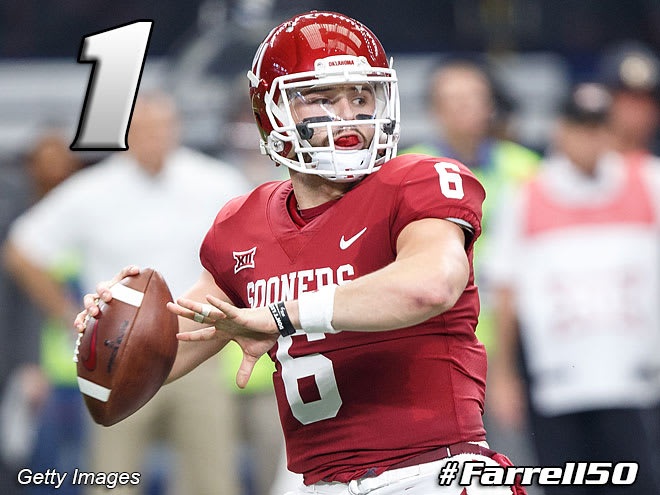 The skinny: Mayfield actually walked on at Texas Tech despite earning offers from Washington State, Rice and Florida Atlantic. Surprisingly, he immediately became the starter for the Red Raiders as a walk-on and earned Big 12 Freshman Offensive Player of the Year honors. However, after the season he decided to transfer to Oklahoma. After sitting out the 2014 season, Mayfield was a Heisman finalist in 2015 and 2016, and won it in 2017 after passing for 4,340 yards and 41 touchdowns, while throwing only five interceptions. More importantly, he also has the Sooners playing in the College Football Playoffs.
Farrell's take: With a gunslinger's mentality, Mayfield had a great high school career, but many felt he was a system kid and he didn't get a ton of offers. That looks crazy now. He's now a Heisman winner and easily the best player in college football this year. I'm happy with his three-star ranking since we saw something none of the local schools did at least (he was a walk-on, after all), but he has clearly outplayed his ranking and his leadership skills are off the charts.