Farrell 50: The nation's top 50 players - Nos. 1-5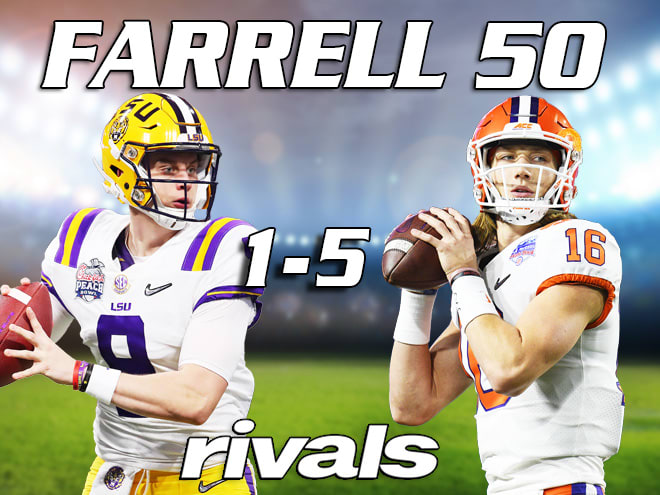 Mark Pszonak contributed to this report.
The college football season is over, save for one kind of big game between LSU and Clemson. So it's time to continue the Farrell 50, the top 50 college football players in the country. Here are Nos. 1-5.
*****
The skinny: Lawrence committed to Clemson in December after his junior season and never wavered on his word.

After supplanting Kelly Bryant at quarterback, Lawrence performed like a veteran throughout his true freshman season, which culminated in a national championship for the Tigers. With expectations of a Heisman Trophy season following Lawrence, he actually had a relatively slow start before regaining his 2018 form. Completing 67.6 percent of his passes for 3,431 yards and 36 touchdowns, he will be leading the Tigers towards a second consecutive national championship on Monday night against LSU.
Farrell's take: Lawrence is the best quarterback I have ever scouted in my 20 years, and it shows, or at least it did his freshman year. He has it all – size, arm strength, accuracy, mobility and football sense – and that made him an instant star in college. There was no doubt in my mind he would have a great freshman year, and his sophomore season has been amazing as well after a slow start.
*****
The skinny: Fields initially committed to Penn State, but then re-opened his process and committed to Georgia. He also considered Florida, Texas A&M and Florida State before committing to the Bulldogs. Seeing minimal action in 12 games as a true freshman, and with the likelihood that he would once again backup Jake Fromm for at least one more season, he decided to transfer to Ohio State.

In Columbus, he quickly became a star and team leader while passing for 3,273 yards, 41 touchdowns and only three interceptions.
Farrell's take: Fields was our No. 2 player in the country coming out, behind only Trevor Lawrence, and he was a very talented and special quarterback. He had good size, excellent mobility and a live arm, and he worked as well in the pocket as he did out of it. His first go-round with Georgia is not indicative of his talent level, and it's clear he has found the right fit at Ohio State. If not for Lawrence, he would have been No. 1 in the country out of high school, with ease.
*****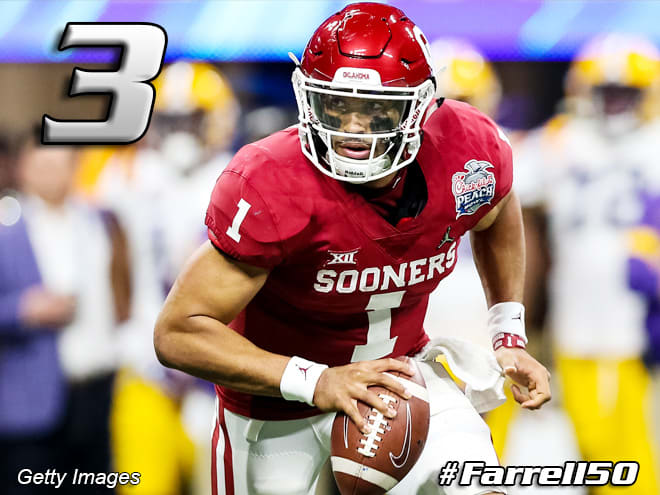 The skinny: Hurts named a top four of Alabama, Texas A&M, Mississippi State and Florida before committing to the Crimson Tide less than a week later in early June. After having success with the Tide, Hurts decided to make a fresh start at Oklahoma after losing the starting job to Tua Tagovailoa.

He quickly proved his next-level talents in Norman this fall, finishing with 3,851 yards and 32 touchdowns through the air and 1,298 yards and 20 touchdowns on the ground.
Farrell's take: Hurts was always known for a big arm, but his touch wasn't consistent. However, he was the kind of kid who seemed very relaxed on and off the field and never shied away from the moment. Hurts was smart with the football and his accuracy improved greatly between his junior and senior seasons of high school. He took his game to the next level at Oklahoma.
*****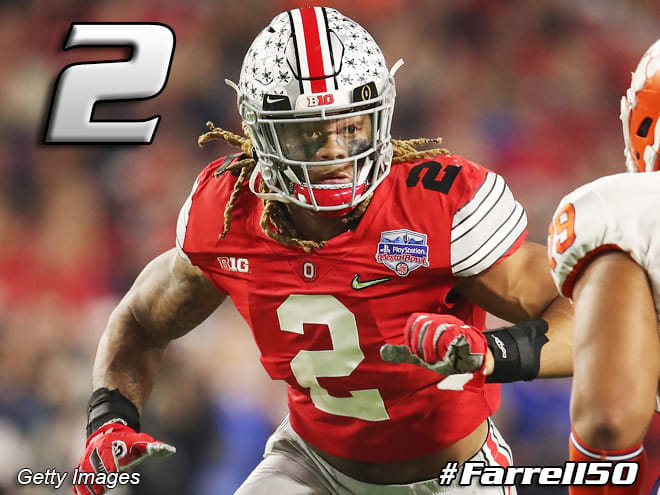 The skinny: The summer before his senior season and shortly after attending the Buckeyes' Friday Night Lights camp, Young committed to Ohio State. Maryland was also considered, but the Buckeyes were always thought to be the favorite.

After a huge sophomore season, with 33 tackles, 14.5 tackles for loss and 9.5 sacks, Young's performance this fall earned him a trip to New York as a Heisman Trophy finalist. One of the top draft prospects this spring, Young totaled 46 tackles, 21 tackles for loss, 16.5 sacks and seven forced fumbles during his final season in Columbus.
Farrell's take: Young was a five-star out of high school and a physical freak, and he's taken that to the next level in college. He's added size without losing speed and he is by far the best and most dominant pass rusher in the country this year. There was no doubt he was going to be special if he stayed healthy, and he's the best NFL prospect in the country aside from Trevor Lawrence, who isn't eligible for the draft yet.
*****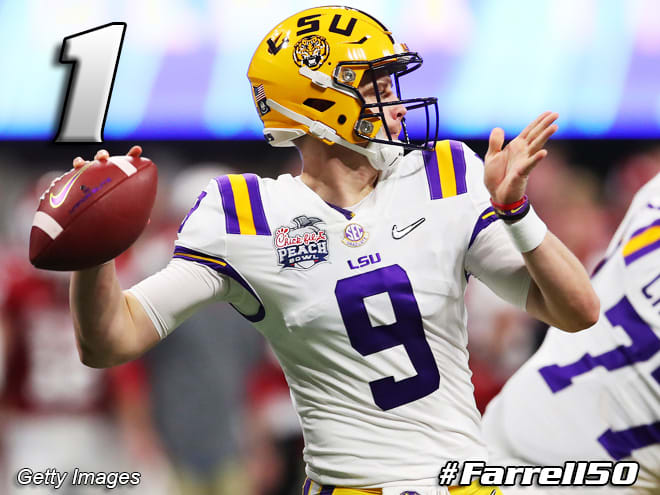 The skinny: Burrow committed to Ohio State during the spring of his junior year over Maryland and Iowa State. He served as a back-up to J.T. Barrett and then lost the starting job to Dwayne Haskins before deciding to transfer to LSU.

Passing for 2,894 yards and 16 touchdowns during his first season as a start in Baton Rouge, expectations were limited coming into 2019. Burrow, however, turned in a season for the ages, having passed for 5,208 yards, 55 touchdowns and just six interceptions while completing 77.6 percent of his attempts heading into the national championship game.
Farrell's take: Burrow was a mid-range three-star out of Ohio who had good size but was erratic with his accuracy and mechanics. He did everything well, but nothing great, so to see him emerge as such a dominant passer all these years later is fun. He's having one of the best seasons in college football history.