Farrell 50: The nation's top players - Nos. 41-45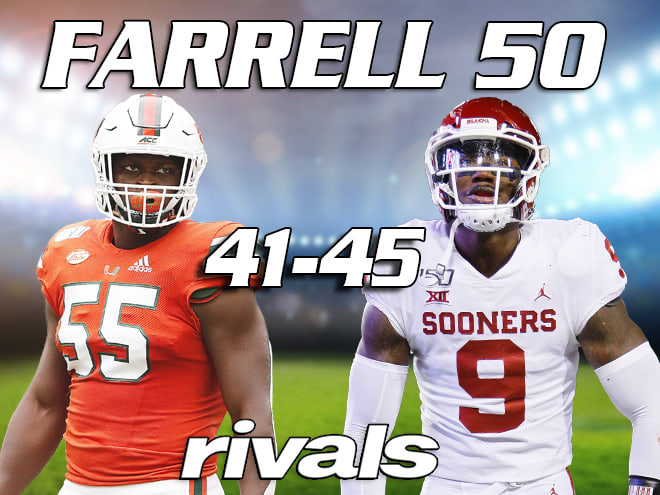 Mark Pszonak contributed to this report.
It's that time of year, the college football season is almost over so it's time for a look at the Farrell 50 — the top 50 players in college football and how the were ranked as recruits. We continue today with Nos. 41-45.
The skinny: Murray trimmed his list of top programs down to Oklahoma, Texas and Texas A&M before committing to the Sooners in August. An unofficial visit to Norman a couple of weeks before his decision put the Sooners over the top.

While the Sooners' defense continued to experience their fair share of struggles, Murray once again shined. Finishing with 102 tackles, 17 tackles for a loss and four sacks in 2019, he recently announced he will forego his final collegiate season for the upcoming NFL Draft.
Farrell's take: Murray was a four-star ranked outside the Rivals250 who had good length but needed to fill out and add size. He was a solid tackler in high school and showed good instincts, but he's become a tackling machine at the college level. He's outplayed his ranking and became one of the Big 12's best defenders.
The skinny: Hudson took official visits to Michigan, Penn State and UCLA before committing to the Wolverines in late January. He also seriously considered Pittsburgh throughout his recruitment.

After a somewhat disappointing 2018 season, Hudson rebounded nicely this fall with 101 tackles, three tackles for a loss, 1.5 sacks and three pass breakups while further establishing as a team leader in Ann Arbor.
Farrell's take: Hudson was a high three-star athlete for us who could play many different positions in college and came on strong near the end of his senior season. His coming out party was at the annual Big 33 game well after our final ranking, where he showed he had just started to tap into his potential. He was always a great athlete. He just never stood out at one position until that Big 33 game and he has taken things to the next level since. He was a tough evaluation because of his versatility.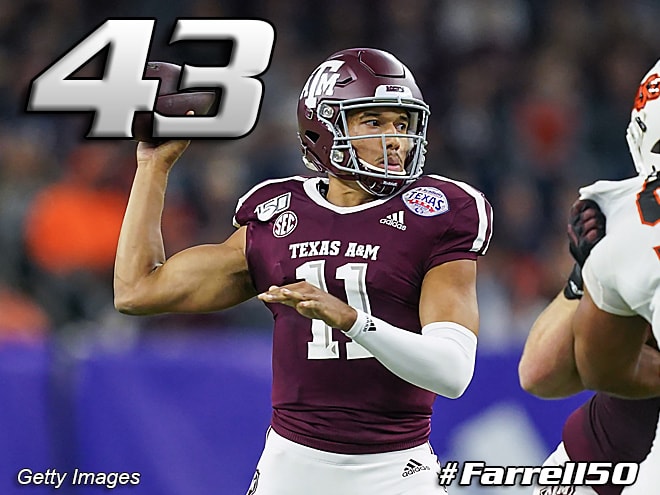 The skinny: Mond originally committed to Baylor, but then re-opened his recruitment and eventually signed with Texas A&M. Auburn proved to be the Aggies' major threat.

Mond began to showcase his potential immediately in 2017 and then took his game to the next level in 2018. While he may not have reached the levels many expected this fall, he still impressed with 2,897 yards and 20 touchdowns through the air, plus eight touchdowns on the ground.
Farrell's take: Mond has been key for Texas A&M and handled the pressure of being thrust into a starting role before he was ready. Mond was a guy I stood on the table for as a five-star with zero agreement from our staff, so if he fails, it's on me for this eval. He reminded me of a young DeShaun Watson with slightly less accuracy but better running ability. So far he has been up and down. There have been many more ups than downs and he's played some of his best football against the best teams, although this past year he fell a bit flat against Clemson and Auburn, which is disappointing. He'll be on early Heisman lists next year but is a long way from being consistent.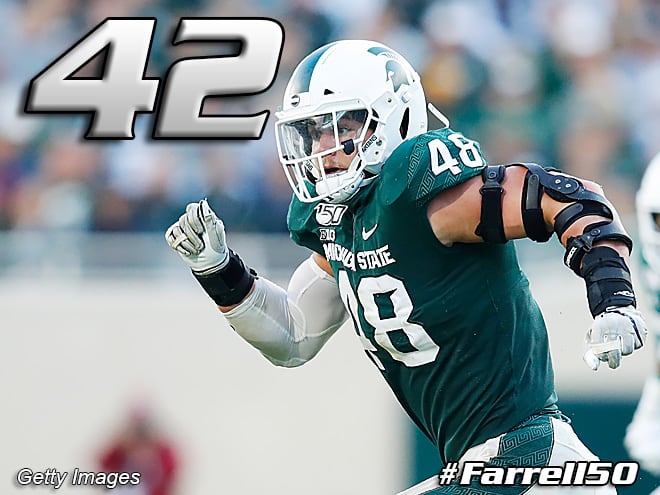 The skinny: Willekes never saw his recruiting process take off, so when Michigan State offered him a walk-on opportunity during an official visit, he grabbed it.

Over the last three seasons, Willekes has established himself as one of the more productive and consistent defensive players in both the Big Ten and the country. He finished off his collegiate career this fall with 78 tackles, 15.5 tackles for a loss, 10 sacks, one forced fumble and two fumble recoveries, one of which was returned for a touchdown.
Farrell's take: Willekes had a very good high school career but never received the FBS offer he wanted, so he walked on at Michigan State. And the Spartans, as they have done before, turned him into a standout player. His motor and desire are off the charts and he's always around the football. He'll join a slew of former Michigan State walk-ons to make it to the NFL.
The skinny: With upwards of 20 offers on the table, Quarterman still quickly committed to the Canes after he earned his offer after an impressive summer camp performance.

Since his arrival on campus in 2016, Quarterman has been extremely productive in Coral Gables. He continued that this fall after surprising some by returning for his senior season. Finishing with 107 tackles, 15.5 tackles for a loss, one sack, five pass breakups, two fumble recoveries and one forced fumble, Quarterman proved to be a shining light in an otherwise disappointing season in Miami.
Farrell's take: Quarterman was a Rivals100 prospect despite his overall lack of length because he was such a violent hitter and worked so well downhill. He was also very athletic in coverage and closed on the receiver quickly. He's been a standout since his freshman year at Miami and he's been the leader of the team's defense. The Canes may be struggling, but Quarterman has still been effective.