Farrell 50: Nos. 41 - 45
It's that time of year. The college football season is almost over, so it's time for a look at the Farrell 50 — the top 50 players in college football and how they were ranked as recruits. We continue today with Nos. 41-45.
Mark Pszonak contributed to this report.
45. LB Nick Bolton, Missouri
The skinny: Bolton took late official visits to Missouri and Kansas before committing to the Tigers on National Signing Day. He continued his top-level play in Columbia this fall, finishing with 95 tackles, eight tackles for a loss, two sacks and five pass breakups. He was named a Butkus Award finalist and recently declared for the 2021 NFL Draft.
Farrell's take: Bolton was a thick and physical three-star get from Texas for Missouri. There were questions about his length but he was a massive hitter. Bolton has played well above his ranking.
44. OL Darian Kinnard, Kentucky
The skinny: Kinnard committed to Kentucky during the spring after his junior season, over offers from Penn State, UCLA, West Virginia, Iowa State and Indiana.

Kinnard, who earned third-team All-American honors this season, has become one of the top offensive linemen in the country.
Farrell's take: Kinnard was a massive tackle from Ohio and another great get for Kentucky from the Buckeye State. He was raw and had average movement, but he's progressed so much and is one of the best offensive linemen in the land.
43. DL Haskell Garrett, Ohio State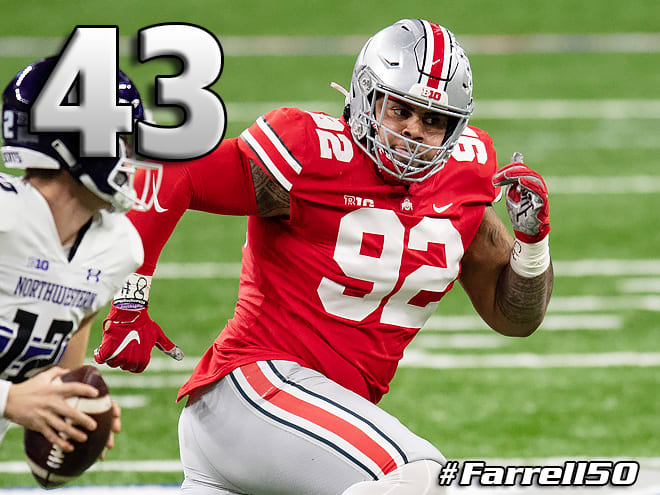 The skinny: Despite not visiting Columbus, Garrett committed to Ohio State soon after receiving an offer during the winter after his junior season. He also considered Notre Dame, Oklahoma, Penn State, Oregon and Texas A&M.

As a senior, Garrett enjoyed his best season in Columbus, totaling 18 tackles, four tackles for a loss, two sacks and one interception, which he returned for a touchdown.
Farrell's take: Garrett was a big Rivals250 get from Nevada for Ohio State. He was known out of high school for his nasty nature and non-stop motor. Garrett takes up so much attention for the Buckeyes he allows others to make plays.
42. OL Robert Hainsey, Notre Dame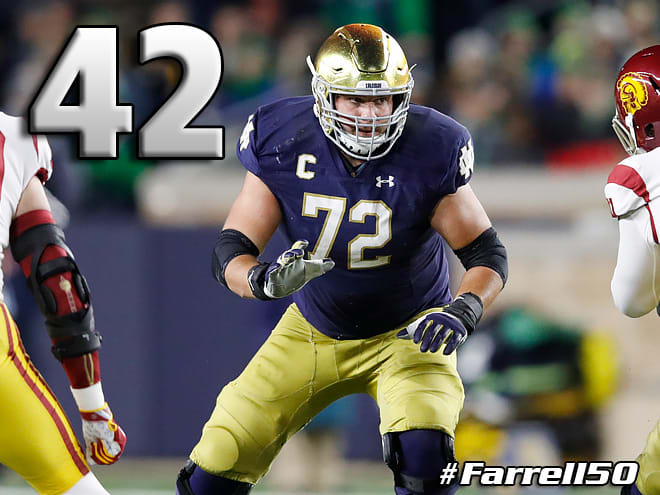 The skinny: Hainsey trimmed his list down to Notre Dame, Michigan and Michigan State before committing to the Irish during the summer leading up to his senior season. He mentioned the history of the program, the coaching staff and the business school as reasons that he committed to Notre Dame.

Hainsey has had his ups and downs in Notre Dame, but reached his expectations this fall with a dominant effort on the offensive line. He earned second-team All-ACC honors.
Farrell's take: Hainsey was a Rivals250 lineman from Pennsylvania who finished his career at IMG Academy and was a key snag for Notre Dame out of high school. He has put it all together and has emerged as one of the most complete linemen in the country.
41. DL Darius Stills, West Virginia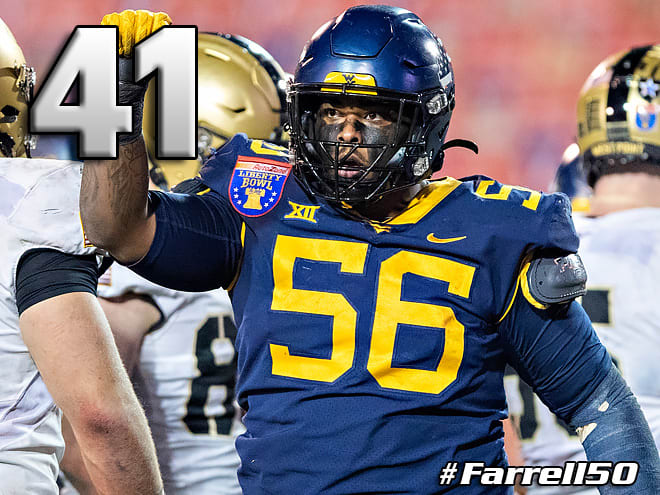 The skinny: Stills committed to the home-state Mountaineers over Oklahoma and Florida. This decision was far from a surprise, as his father played in Morgantown and his brother, Darius Stills, was already on the roster.

Stills continued to be the leader of the West Virginia defense in 2020. Having recently declared for the 2021 NFL Draft, he finished his final season with the Mountaineers with 22 tackles, 7.5 tackles for a loss, 3.5 sacks and one interception, which earned him first-team All-American honors.
Farrell's take: Sills was a big and active defensive tackle coming out of high school who didn't get a ton of recruiting attention because he lived in West Virginia. He stayed home and has become one of the best in the Big 12 with the ability to chase the passer and stuff the run.