{{ timeAgo('2020-06-26 05:48:19 -0500') }}
football
Edit
Fact or Fiction: Will LSU continue to invade the Midwest?
National recruiting director Mike Farrell and national recruiting analyst Adam Gorney tackle three topics daily and determine whether they believe the statements or not.
RELATED: SEC three-stars to watch

1. LSU is going to be a recruiting problem in the Midwest.
Farrell's take: FACT. LSU is now recruiting nationally more than ever before under Ed Orgeron and landing OL Garrett Dellinger from Michigan is a big deal. This was a kid coveted by Michigan, Ohio State, Notre Dame, Penn State and many other elite Midwest teams, yet he chose to play for the reigning national champs and compete in the SEC.
LSU has also landed four-star RB Corey Kiner from Cincinnati this cycle. The Tigers have landed some Midwest players in the past, most notably Spencer Ware, George Brown and Ethan Pocic, but two big names in the same class? That means LSU is hitting the Midwest harder and players are showing more interest. That could be a problem moving forward.
Gorney's take: FICTION. Dellinger is a massive win for LSU over a lot of regional powerhouses in the Midwest. But let's not get carried away. Not too many elite players from the Midwest will be heading to LSU. Ohio State still can pick and choose who it wants out of the region, Penn State and Michigan are recruiting well and by large measure, a lot of the top prospects over the last few cycles have stayed local. LSU has done a nice job with some recruits, but I don't think it will become a "recruiting problem" there.
2. Michigan can be a factor in California.
Farrell's take: FACT. WR Cristian Dixon from Mater Dei is a big deal for Michigan and they should continue hitting California hard. USC doesn't have the stranglehold on players in the state they used to have and programs like Oregon, Ohio State, Oklahoma, Clemson and others are hitting the state hard. Michigan is as well and this commitment will help.

Last year, Michigan landed DB Darian Green-Warren and OT Jeffery Persi and Jim Harbaugh has a big enough name and connections to California to push even harder.
Gorney's take: FACT. Dixon has been trending to Michigan for a while, so that one was not a surprise when he committed on Thursday. Green-Warren and Persi were also mentioned and let's not also forget that Michigan was an inch away from flipping Alabama running back Najee Harris in the final days of his recruitment.

Not only does Harbaugh have a national presence, but he's well-known in California from his time coaching in college and especially with the 49ers. Alabama, Clemson, Ohio State and other national programs have made a mark in the state. There's no reason why Michigan cannot win some recruiting battles.
3. The best pass rusher in college football will be Greg Rousseau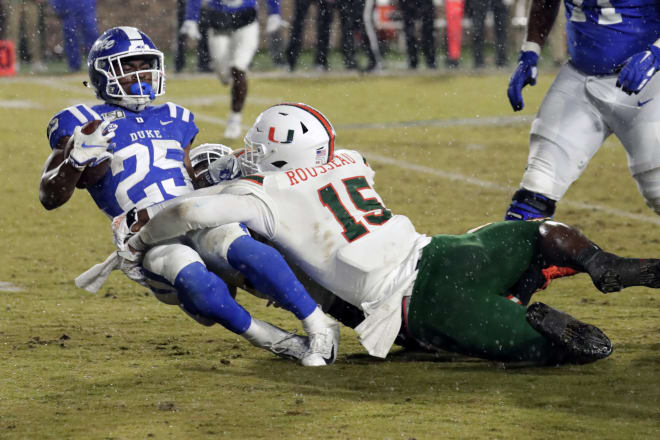 Farrell's take: FACT. And I don't think it will be very close. Rousseau had 15.5 sacks last season and he will get more attention than ever. But with a lot of talent along the defensive line, he will still get his and could surpass 15 sacks again. Kayvon Thibodeaux at Oregon and a few others will push, but Rousseau is the guy to watch off the edge next season in college football. In fact, his teammate Quincy Roche could be the one who pushes him the most nationally. These two are going to be amazing to watch.
Gorney's take: FACT. One of the reasons I'm predicting Miami to be a major surprise not only in the ACC but across college football is Rousseau, who should only build on his dominant season where he had 54 tackles and 19.5 tackles for loss. That's because offensive lines won't be focused only on him with Temple transfer Roche coming in. With the Owls, Roche had 26 sacks over three seasons.

The Hurricanes' defensive line should be outstanding. Thibodeaux could make this argument really interesting though. The former five-star had a tremendous freshman season and could become unstoppable at Oregon this season.