Fact or Fiction: OL Jake Taylor is leaning toward Notre Dame
1. OL Jake Taylor is leaning to Notre Dame.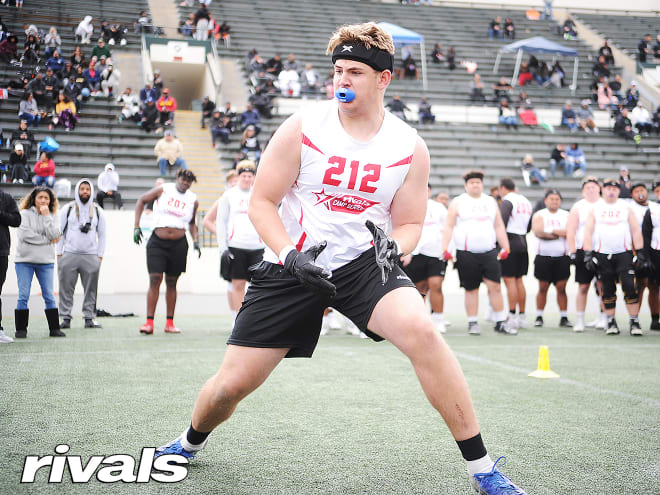 Farrell's take: FACT. It's down to Notre Dame, Oklahoma and Alabama for the four-star OT from Nevada, and all signs point to a Notre Dame commitment down the line. Taylor hails from the same school as ex-Notre Dame star OL Ronnie Stanley and academics are huge with him. Look for him to add to the depth of the Notre Dame offensive line down the road.
Gorney's take: FICTION. Notre Dame makes a lot of sense and the Irish could have the slightest edge, but I wouldn't say he's leaning there right now. Not after that Alabama offer, which Taylor said made a "huge, huge impact" on his recruitment. Former Gorman star running back Demarco Murray is on staff at Oklahoma and the Sooners are recruiting him hard. There's so much to like about Notre Dame and that makes sense, but Taylor plans to visit all three of his favorites before making a decision, so I don't think he's particularly leaning one way right now.
*****
2. Michigan should have hired Tim Banks.  
Farrell's take: FICTION. Tennessee got a good coach in Tim Banks as it hired him away from Penn State and made him its defensive coordinator. But Banks has ties back to Michigan, so many felt he could be an option after Don Brown left, and it would certainly have helped recruiting. But I'm convinced that Mike Macdonald from the Baltimore Ravens is the right fit, and that Jim Harbaugh needed someone with NFL experience and someone he trusted, and Macdonald coached under Jim's brother, John Harbaugh.
Gorney's take: FACT. Macdonald is not a bad hire at all. He has the Harbaugh family trust and that should be fine, but Banks is a quality coach who has extensive ties to Detroit, so recruiting in that area could have been even more dominant if Banks went to the Wolverines. I still don't believe Xs and Os on the defensive side of the ball has been Michigan's issue. It's getting elite talent, and Banks could have been instrumental with in-state recruiting. Macdonald has some college experience but not to this level, so recruiting won't be his forte from day one.
*****
3. Auburn is the right fit for Tyler Shough.  
Farrell's take: FACT. The talented QB who is transferring from Oregon was recruited by Bryan Harsin while he was at Boise State. Harsin is known for developing quarterbacks and the Auburn QB situation isn't a bad one for Shough. Yes, Bo Nix is there, but Harsin might want someone who can push Nix and fits his wide-open offense a bit better. Shough has three years remaining and has also been linked with Washington State, Oregon State, Penn State and others, but Harsin and Auburn are an excellent fit.
Gorney's take: FICTION. Nix could legitimately be at Auburn for two more seasons since he struggled at times with a bad offensive line and an offense that was not exactly going up and down the field under former coach Gus Malzahn. If that's the case, Shough will look for someplace where he could get on the field more quickly. He was committed to North Carolina at one time and Sam Howell will almost definitely leave after this next season. Washington State and Oregon State are looking for a major spark. Harsin is great with quarterbacks but he's already got one, and a few waiting in the wings, so Shough will probably look elsewhere.