{{ timeAgo('2022-09-14 07:26:48 -0500') }}
football
Edit
Fact or Fiction: Michigan stunted UGA's momentum with QB Jadyn Davis
1. This past weekend's visit to Michigan neutralized the momentum Georgia had gained when Jadyn Davis was in Atlanta for the Oregon game.
Friedman's take: FICTION. Michigan strengthened its position in Davis' recruitment but Georgia has helped itself a lot in recent weeks. The trip to Atlanta to see the Bulldogs dismantle Oregon resonated with him. With how explosive Georgia's offense has become, it will be hard for any team to completely halt any momentum they've gained with elite offensive recruits. Michigan remains my FutureCast prediction for Davis but the door is very much open for Georgia or some of his other contenders to make a move.
May's take: FICTION. Georgia and Michigan have both established themselves as favorites in Davis' recruitment. His visit to Georgia's season opener against Oregon showcased the Bulldogs' explosive offensive attack. That, combined with the atmosphere provided by the majority Georgia crowd, gave the Bulldogs some momentum in Davis' recruitment. The visit to Michigan helped the Wolverines as well, but it won't negate the positive feelings generated by the Georgia visit. Both these schools will continue to battle for Davis as his recruitment progresses.
SHARE YOUR THOUGHTS WITH GEORGIA FANS AT UGASPORTS.COM
SHARE YOUR THOUGHTS WITH MICHIGAN FANS AT MAIZEANDBLUEREVIEW.COM
*****
2. N.C. State head coach Dave Doeren leaving for Nebraska would set the Wolfpack program back years.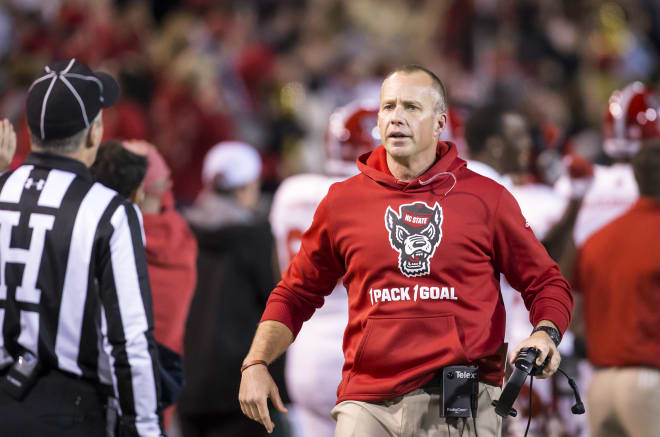 NEBRASKA FIRES FROST: Five candidates that could replace Frost | Recruits react | Huskers that might be headed to the transfer portal | Can Nebraska become a national power again? | Does Mickey Joseph have a legit shot at being named permanent head coach?
Friedman's take: FACT. This is a tough answer because Doeren has done a fantastic job in Raleigh re-building the N.C. State program into a consistent winner with one of the best development track records in the nation. If Doeren were to leave N.C. State, how many members of his current staff would go with him and how many would stay behind? A couple of his current assistant coaches and off-field staff have either coached at Nebraska or worked in that part of the country before so maintaining the continuity of the roster could be tricky for a new coach. If the remaining staff members and the new head coach could prevent a rush to the transfer portal, a setback for the program could be avoided.
That's probably a lot to ask in this era of NIL and the transfer portal so a step backwards as a program is likely but the N.C. State program has the framework and resources to bounce back. Depending on the new hire, the timeline on a return to the program's current state could be as short as one or two years but the wrong hire could inflate that estimate.
Zembal's take: FICTION. In a perfect world, No. 16 N.C. State has a terrific season and Doeren will have his profile raised nationally. That could mean offers from other colleges such as Nebraska, or another contract extension with the Wolfpack. If he were to leave, it would definitely set N.C. State back in the short term, but in terms of long-lasting issues, that only happens when a school hires a poor choice. That story has been proven true when studying N.C. State history, where losing droughts don't last long.
Doeren has a chance to be N.C. State's most successful all-time coach. That also means terrific job stability and he's just 50 years old. Historically, N.C. State has had five coaches since Dick Sheridan was hired in 1986, and amassed 25 bowl appearances during that time period. Every single coach hired since 1986 has won at least nine games in a season. What has been elusive is 10-plus wins, which has only been achieved by Chuck Amato in 2002. That is one of the goals for Doeren this season, and if he achieves it, other college athletic directors will notice.
SHARE YOUR THOUGHTS WITH NC STATE FANS AT THEWOLFPACKCENTRAL.COM
*****
3. If Penn State loses to Auburn, its 2023 recruiting class will fall apart.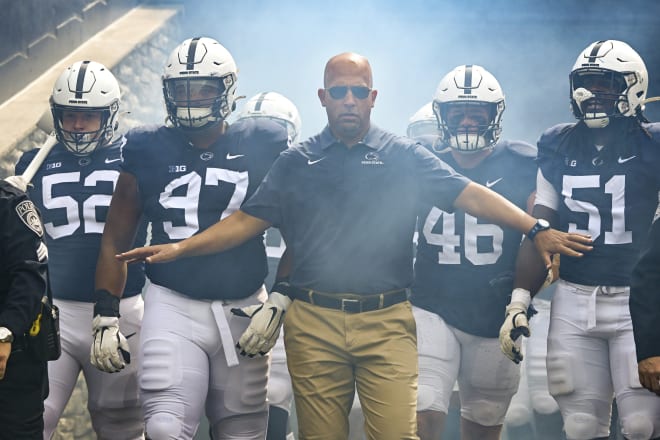 Friedman's take: FICTION. It would be really surprising to see Penn State suffer any major decommitments as a direct result of a loss at Auburn. The Nittany Lions have amassed one of the best recruiting classes this year and are still in contention for a few other important uncommitted prospects. A large portion of Penn State's current commits were just on campus and the players themselves have created a very close bond. With a win at Auburn, Penn State's recruiting class could pick up some momentum and maybe another big commitment or two down the line.
Schnyderite's take: FICTION. One game will not determine whether or not the WeAre23 class will fall apart or not, a large majority of the current Penn State commits have already built a pretty good bond with the staff and each other as well. Heck, nine of them were on campus together this past weekend to check out the Nittany Lions' home opener. This is a pretty tight-knit group overall and it's definitely possible that they could lose one or more prospects from now until signing day, but I don't see one game vs. Auburn having that big of an impact on this class. Now that being said, I think Penn State wins this one by 10+, but that's just me.