Fact or Fiction: Jack Sears made an odd transfer choice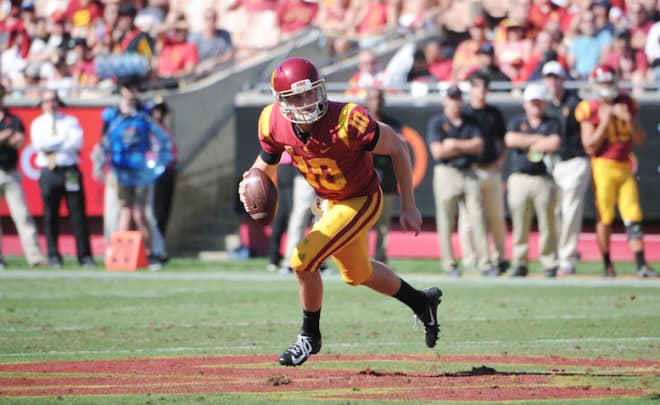 National recruiting director Mike Farrell and national recruiting analyst Adam Gorney tackle three topics daily and determine whether they believe the statements or not.
CLASS OF 2021 RANKINGS: Rivals250 | Position | Team | State
CLASS OF 2022: Top 100
1. Quarterback Jack Sears made an odd transfer choice.
Farrell's take: FACT. I thought Sears would be a hot commodity on the transfer market, so I'm surprised he ended up at Boise State with two years left to play. Why? They have a guy named Hank Bachmeier who just had a very solid year as a true freshman and has a ton of upside. Will Sears even get a chance to start? That's a question I didn't think we would have to answer about the former USC quarterback.
Gorney's take: FACT. Sears was originally headed to San Diego State, but once Rocky Long left, he decided to reopen his recruitment. I still thought playing for the Aztecs was a smart move as he could get early playing time.

It's hard to believe Sears wasn't given some promise that it would be an open quarterback competition heading into this season at Boise State. Bachmeier definitely has the edge, so Sears could find himself back on the bench after three years on the bench at USC since he picked a school with a quarterback already in place that knows the system and has huge potential.
2. Khari Gee will be better than Kaine Williams
Farrell's take: FICTION. Alabama landed Kaine Williams out of Louisiana, a player that LSU had lower on their list at the position according to many. The Tigers countered with safety Khari Gee out of Georgia and it will be interesting to see which turns out to be better. Gee is more natural in coverage but Williams is thicker and more physical. Both will be good but advantage Alabama and Williams.
Gorney's take: FACT. Gee has tremendous length, playmaking ability on the back end, in some ways he's even more versatile and he's a bigger hitter on film. For those reasons, I'll give the slight edge to Gee although I like Williams a lot, too. It's undetermined whether Williams will end up at safety or move down to linebacker and that could be a huge bonus (think Isaiah Simmons) but until he proves he can be more physical and have a bigger impact at the line of scrimmage, I'll give the edge to Gee. He can blitz off the edge, he can pop people across the middle and his length stands out more.
3. Recruitniks are sleeping on Pitt
Farrell's take: FACT. No one really talks about Pitt when talking about recruiting or landing talent compared to the rest of the ACC, but they are currently fourth in the conference for 2021 and have some serious quality in this class. DE Nahki Johnson leads the way but there are some 3 stars with some high ceilings like WR Myles Alston and OL Terrence Enos among others. The last time Pitt recruited are a high four-star level was when Dave Wannstedt was loading up in Western PA but Pitt can certainly keep pace in their division the way they are recruiting now.
Gorney's take: FACT. Getting Johnson locked up so early was huge and then I really like the addition of Enos out of Detroit since he will provide toughness for the Panthers up front.

Pitt is also expected to land four-star DT Elliot Donald, so the Panthers should get two of the top-seven players in the state. That's a big win since national powers keep coming into Pennsylvania for elite talent.

The question I have with Pitt is this: Are the Panthers ever going to get over that 8-win hump? They have not done that since 2009. Pitt has had some nice years, but Pat Narduzzi is 36-29 in five years, a decent record but not one where he could convince even more top in-state stars to join the program. A breakout season is needed for that. It's possible but hasn't been done yet.