Fact or Fiction: Arch Manning should still be No. 1 after loss
Rivals national recruiting director Adam Gorney and national recruiting analyst Nick Harris along with Jeremy Birmingham from DottingTheEyes.com and Julie Boudwin of TigerDetails.com tackle three topics and determine whether they believe each statement is FACT or FICTION.
1. Arch Manning lost in the biggest game so far in his senior season. He's still the No. 1 player in the country.
Gorney's take: FACT. The first question I ask when some say Arch Manning isn't the best prospect in the 2023 class – because he hasn't done national events or he didn't have great junior season stats or whatever else – is, 'OK, then who is the No. 1 player?' That's something I continue to ask and I haven't found a solid answer myself so I'm still very comfortable with Manning in the top spot because he's having a very good start to his senior season as well. The five-star Texas quarterback commit has no elite help around him especially with tight end Will Randle now sidelined with a knee injury. Manning is doing the best he can possibly do. He has all the arm talent and knowledge in the world to be successful and I'm not sold anyone else has clearly stepped up to claim the No. 1 mantle from him yet.
Harris' take: FACT. Any doubts I had about Arch Manning going into Friday night's matchup with Many were curbed, simply put. Manning has zero help with his supporting cast at Newman as he was running for his life on almost every snap with Many's relentless pass rush and it was hard for him to complete passes downfield with Newman's less-than-ideal receiving talent. In spite of the challenges, Manning made impressive throws under pressure and showed off a variety of arm angles on short-to-medium passes. Manning kept Newman in the game and gave the Greenies an opportunity to tie the game late, but Many's pass rush once again made an impact and sealed the win. With expected better protection up front at Texas, I think Manning has the highest ceiling of any prospect in the 2023 class, making him the No. 1 player in my book.
*****
2. Keon Keeley should be on commitment watch to Ohio State after his second visit there so far this season.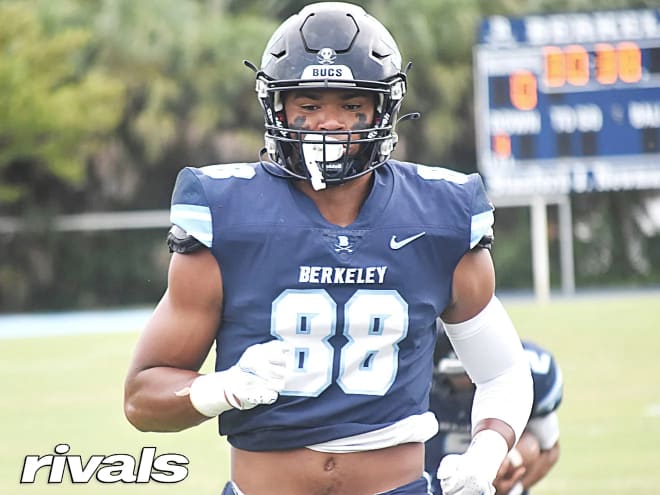 Gorney's take: FICTION. Ohio State has to love where it stands with Keon Keeley especially after he decided to take another visit on his own to Columbus this past weekend after being there for the Notre Dame win. I'll never forget what Keeley's face looked like walking out of the tunnel with assistant coach Larry Johnson to see The Shoe for the first time earlier this season. He's definitely high on the Buckeyes especially after seeing them dismantle Wisconsin on Saturday night.
But this one cannot be called yet. When Keeley decommitted from Notre Dame it looked like he'd be a lock to Alabama and he visits with the Crimson Tide early next month. Nick Saban wants the five-star from Tampa (Fla.) Berkeley Prep in this class and Saban rarely loses on top targets. Ohio State is probably the front-runner right now but it needs to survive that Alabama visit in a few weeks.
Birmingham's take: FICTION. Ohio State may very well be the leader right now for Keeley but the round isn't over and he's certainly not yet in the clubhouse. There's a pretty difficult final stretch to this particular course for Ohio State and it's covered in houndstooth.
Nick Saban doesn't miss often on the players he really wants and it's clear that Alabama really wants Keeley and it will get the last shot with a scheduled official visit on Oct. 8. Keeley isn't a game player though and if he is ready to commit to Ohio State after this weekend's visit — his third since March and second in the last four weeks — he won't hesitate to do it. That said, he's not prone to emotional responses and seems ready to see this through to his official visit with the Crimson Tide.
*****
3. Julian Sayin and DJ Lagway visited LSU this weekend. The Tigers will end up with one of those top 2024 QBs in that recruiting class.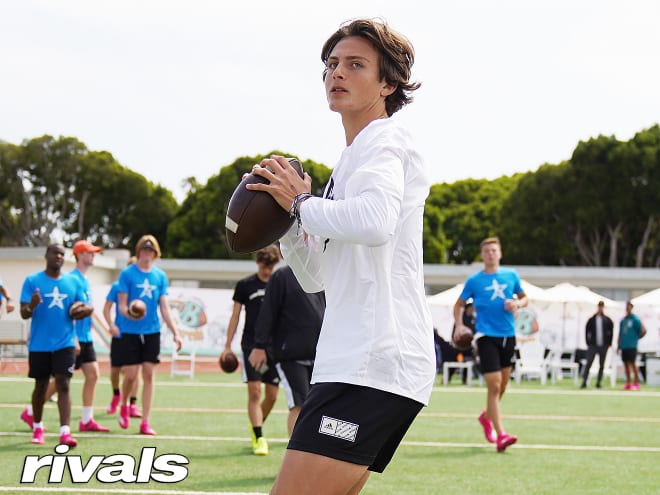 Gorney's take: FICTION. Things could definitely change and I'm not thrilled with picking fiction here but if I had to guess today, DJ Lagway would pick Texas A&M and Julian Sayin would probably go to Georgia. That absolutely could have changed after Sayin's visit to Baton Rouge this weekend and Lagway told me he will be back at LSU for at least one other game this season. As they get more familiar with Brian Kelly and position coach Joe Sloan, that should only help the Tigers but I would say LSU is sitting in second place for both quarterbacks right now. That could definitely change though.
Boudwin's take: FACT. LSU and its revamped coaching staff have put a lot of time and energy into building its 2024 class and it always starts with the quarterback. DJ Lagway was recruited by the former LSU staff and the trend continued once Brian Kelly took over. The four-star has a good relationship with many on the coaching staff and the Tigers could end up being in his final group. California five-star Julian Sayin wants to play in the SEC and sounds as though he's down to the Tigers, Georgia and perhaps Alabama. There's been a lot of positive chatter surrounding Sayin and the Bulldogs but this trip to Baton Rouge could have been everything LSU needed to flip that trend. Things are on the right track for the Tigers and the five-star.