Film Room: Evaluating Texas Tech's recent commitments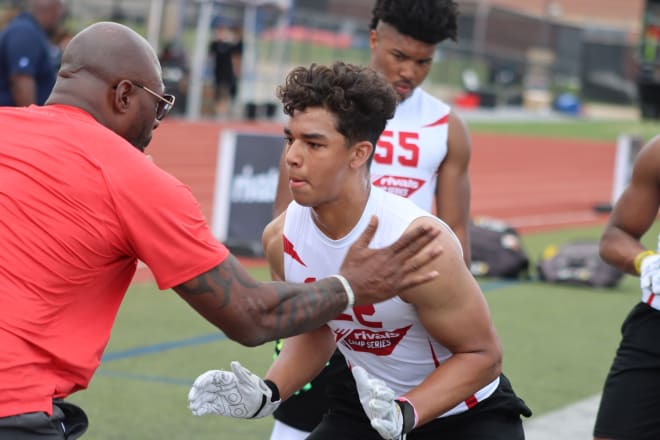 Joey McGuire and his new staff at Texas Tech have been busy on the recruiting trail reeling in commitments from prospects across the state of Texas and in neighboring states as the Red Raiders currently sit right back at the No. 1 spot in the 2023 Rivals team rankings.
In the last ten days, Texas Tech has landed five commitments to boost its total to a nation-leading 20. Here is what each of those five could bring to Lubbock upon signing.
El Paso (Texas) Canutillo running back LJ Martin announced his commitment on Friday to Texas Tech as he will stay in West Texas to play his college ball. The stocky back from the 915 shows great balance on tape, and was massively productive during his junior season rushing for 2,737 yards and 29 touchdowns while also tallying 376 yards receiving and another six touchdowns.
While his top-end speed remains a question mark, Martin's big frame allows for some positional versatility both out of the backfield and lined up out wide. Depending on how he develops before arriving in Lubbock, his potential could be best seen at receiver, especially in Zach Kittley's offense.
A long, lanky receiver with the ability to go up and grab it, El Paso (Texas) Parkland receiver Demarion Crest will provide some bailout ability for quarterbacks at the next level with his ability to adjust and find the ball.
His progression in the speed department has been most notable as he has improved his 200-meter time by nearly two seconds in the 2022 track season with a 22.38 personal record. While his route-running and releases may need polishing at the next level, the potential remains high.
Corpus Christi (Texas) Flour Bluff offensive lineman Dylan Shaw had one of the more intriguing tapes of any 2023 offensive line prospect in the state from a season ago as he showed a real bruising ability at 6-foot-4, 300 pounds. With a solid senior season, there is a real potential for him to earn a fourth star.
While Shaw's competition on the coastal bend might not stack up well with other areas of the state, Shaw has been doing what he is supposed to be doing against that level of competition and will need strong camp performances to prove his worth against stiffer competition.
A large, crafty defensive tackle with a strong upper-half, Manor (Texas) three-star Jayden Cofield was a big win for Texas Tech over TCU and others. His large physical set isn't a sacrifice to his athleticism as he is seen at the high school level moving around the defensive line to attack opposing offenses in different ways.
While his physical set definitely stands out, a college weight program may be able to help make him more explosive, lean and more reliable as games go on and stamina wears down.
While Natchitoches (La.) Central defensive tackle Tre'Darius Brown may be more of a project take at this point in the cycle, the Louisiana product also provides a large body on the interior defensive line that can wreak havoc with a strong upper half.
Speed, athleticism and less reliance on his brute strength could make him a truly special player in Lubbock as his senior season development will tell a lot about the direction he is heading.