Early Signing Period: Biggest surprises from the first day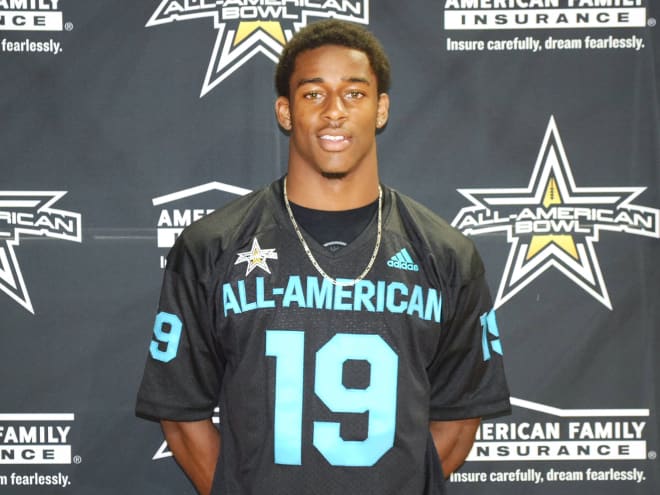 EARLY SHOCK WAVES 
One of the biggest pieces of news to drop Wednesday came shortly after 8 a.m. on the East Coast, when Michigan announced it had received a letter of intent from five-star Tulsa (Okla.) Booker T. Washington safety Daxton Hill. Just 11 days earlier, Hill had left the Wolverines at the altar, flipping his commitment to Alabama after being pledged to the Wolverines for the previous three months.
Speculation that Michigan may still have a shot at Hill began almost immediately after he announced he was committing to Alabama on Dec. 8. There was some discussion that Hill would forego the Early Signing Period and take his recruitment into January, and that seemed to be Michigan's best chance at getting the five-star back into the fold. Sending his letter of intent to the football offices in Ann Arbor early on Wednesday was not expected, however, and when the news dropped, it sent shock waves through the college football recruiting world. Those ripples would be extended throughout the day as additional news items of surprise landed.

MAJOR QUARTERBACK FLIPS
A pair of four-star quarterbacks switched schools. Mack Brown convincing Rivals100 quarterback Sam Howell to stay at home and renounce his commitment to Florida State was not particularly surprising, but Oak Park, Mich., quarterback Dwan Mathis signing with Georgia instead of Ohio State, where he had been committed since the summer, was not on anyone's radar 24 hours earlier.
Officially, Georgia is the fourth school Mathis committed to in the recruiting process, with pledges to Iowa State and Michigan State going by the wayside earlier. Maybe we should have seen a flip coming, but this situation only gained steam in the wake of the news that Justin Fields' intends to transfer from Georgia. In the end, it's an interesting swap of young quarterback talent, if the Fields-Ohio State merger does come to fruition.
Ohio State also lost four-star defensive back Jordan Battle to Alabama early on Wednesday, but that flip was expected in the wake of Urban Meyer's announced retirement. There were eight other commitment flips between Power Five schools, including four-star cornerback Gregory Brooks Jr. going from Mississippi State to Arkansas, four-star defensive end Derick Hunter going from Florida State to Texas A&M and three-star running back Aaron Young going from Michigan State to Rutgers.
SURPRISE DECISIONS 
When it comes to surprise announcements, few can match that of Ft. Lauderdale, Fla., offensive lineman Kaleb Boateng. With the days to the Early Signing Period drawing closer, Boateng had narrowed down his choices to the local school, Florida Atlantic, and a pair of schools - Arizona and Maryland - he had previously officially visited. On Wednesday, Boateng finally revealed his choice and it was … Clemson!?! The Tigers made a late offer to Boateng on Tuesday night, but the three-star lineman never revealed that fact until his signing was made public Wednesday.
The class of 2019's highest-ranked uncommitted prospect heading into Wednesday was running back Trey Sanders. In recent days a strong Georgia vibe had been surfacing in regards to Sanders' recruitment, but when the decision was rendered it was Alabama that came away with the No. 2-ranked prospect in the class.
Meanwhile, JUCO cornerback Kelvin Clemons announced on Sunday his decision would come down to Kentucky and South Florida - and he signed with Minnesota on Wednesday. Other big signings that at least had some doubt surrounding them until the decision was announced included five-star linebacker Nakobe Dean picking Georgia and five-star defensive end Zach Harrison staying at home and signing with Ohio State.
PROSPECTS WHO DID NOT SIGN
There are still two more days left in the Early Signing Period, but several prospects expected to put pen to paper on Wednesday either postponed those plans until later in the week or decided to hold off until the February Signing Period.
After official visits to Baylor, Illinois, Minnesota and Texas, Houston-area offensive tackle Isaiah Hookfin announced early Wednesday afternoon that he would be signing his letter of intent at 3 p.m. local time. That time came and went, however, with Hookfin declaring later in that hour he had decided to sign at a later date.
Other prospects who were expected to sign on Wednesday but did not included Minnesota defensive tackle commit Kristian Williams, Michigan safety commit Quinten Johnson, Nebraska running back commit Dedrick Mills and Michigan State athlete commit Alante Brown.
SWINNEY SURPRISE
We close with a surprising bit of news from the signing day press conference of Clemson head coach Dabo Swinney, who announced that his program would not be hosting spring official visits for the foreseeable future.
"If a guy won't come here unofficially, on their own, he's not coming here for four years. I want guys that have a little pain to get here," Swinney said, according to ClemsonSportsTalk.com.
Now, Clemson recruits prospects from across the country, many of whom come from families without the funds to be able to visit every school that offers them on their own dime. An Early Signing Period without a spring official visit period means prospects will have to use all - or at least some - of their official visits during weekends their high school team also plays its games, along with the added responsibilities of school and social functions.
The spring official visit period was necessary in conjunction with an Early Signing Period to alleviate those pressures on prospective student-athletes. Swinney's decision will inflict the pain he desires, but I am not so sure it will produce the results he expects.