Daniel Kaelin is staying home, commits to Nebraska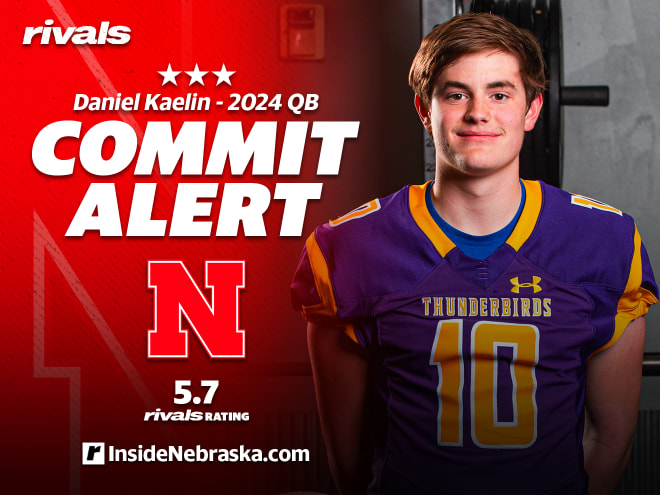 Nebraska landed their quarterback of the future when Daniel Kaelin announced his pledge to the Huskers via Twitter post this afternoon. The Bellevue (Neb.) West signal caller committed to Missouri in March prior to re-opening his recruitment yesterday and promptly announcing his decision to stay home and play for the Huskers today.
Prior to announcing his decision, Kaelin caught up with Rivals break down his commitment to Nebraska.
Kaelin on what it means to stay home and play for the Huskers:
"Nebraska is the school I have envisioned myself playing for ever since I started playing football when I was 8 years old. Growing up in this state, you can't hide from Husker football and the fans. The statewide support is as good as it gets and I can't wait to have them behind me."
On coaches, players and recruits he connected with at Nebraska:
"I connected most with the coaching staff. I've been in contact with coach (Matt) Rhule, coach (Marcus) Satterfield and coach (Adam) DiMichele the most. I have a ton of confidence in those guys and the offense they will be running. Being an in state recruit - I know a multitude of guys who are already on the team along with many of their top targets - So, that was big as well."
On why he chose Nebraska in the end:
"Knowing that I will be closer to my family and support system was a big factor for me. University of Nebraska is the school I dreamed of playing at since I was young. I truly believe the new staff will be able to propel the program forward at a fast rate. It just means more to me knowing that I'm playing for my home state."
On recruits he is targeting to join him in Lincoln:
"There's going to be a number of guys I will be helping to recruit, but some guys I already know of right now are - Carter Nelson, Grant Brix, Isaiah McMorris, Gatlin Bair, Jacory Barney and Caleb Pyfrom."
Kaelin's message to the Nebraska fans:
"My message to Nebraska fans is that I am excited to be a part of the deep and rich tradition at the University of Nebraska. I will put everything I have into this program and its success."