Comparing top 2022 prospects to college, NFL stars: Nos. 11-20
The class of 2022 player rankings were recently released and it got us interested in comparing these stars of tomorrow to college and NFL standouts of today. We are breaking them down 10 at a time this week, and today we review Nos. 11-20.
No. 20 Jeadyn Lukus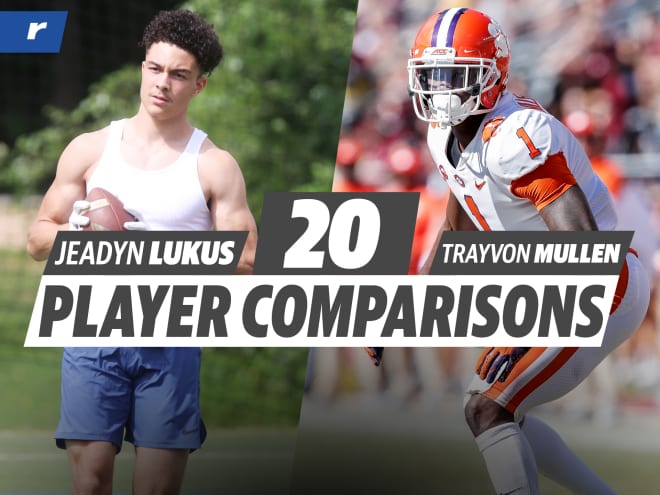 Overview: Clemson could be the front-runner for Lukus but Georgia, Alabama, South Carolina, Ohio State and others are all involved.

Lukus has phenomenal size at 6-foot-2 and 170 where he has length and the ability to tip or intercept passes shorter corners wouldn't be able to get to but he's also surprisingly physical at the line of scrimmage and through routes. He's also great coming up and making a play on anything stretched to the outside and is not afraid to be physical.
Comparison: Trayvon Mullen, Clemson
Farrell's take: Lucas is a long, thin corner with good length and a frame to fill out. He's a physical and scrappy corner, so he reminds me of Mullen, who was a fierce competitor.
*****
No. 19 Jacoby Mathews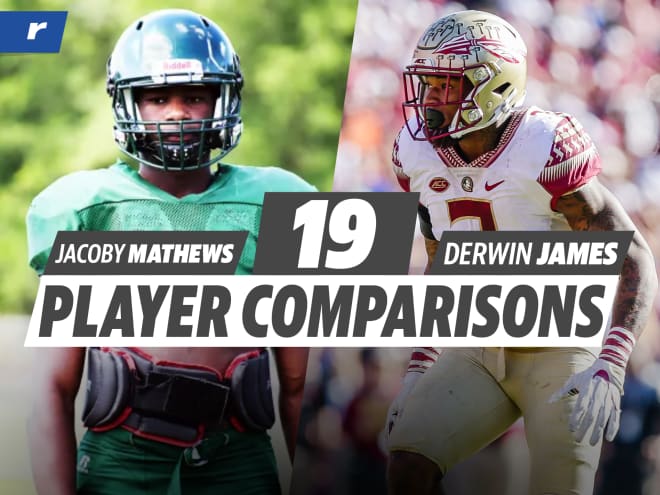 Overview: LSU is the favorite for Mathews but Mississippi State, Alabama, Ohio State and others are involved.

The first thing that stands out about Mathews is his athleticism wherever he's playing on the field. He can star at cornerback, safety and because he's more fluid and agile than everyone else on the field, he makes plays at receiver, too. Defensive back is probably his best spot and once he gets more technically sound coupled with that athleticism, he has star qualities.
Comparison: Derwin James, Florida State
Farrell's take: This is high praise from me and perhaps a bit of a reach as James was the best safety I've ever seen at the high school level, but Matthews has similar size and the ability to play multiple positions.
*****
No. 18 Travis Hunter
Overview: The Florida State commit is always around the ball and he does an excellent job of reading routes, trusting himself and then attacking the ball to make plays. Hunter will need to add a decent amount of weight to play at the highest levels of the ACC since he's only 160 pounds, but from a playmaking and technical standpoint, Hunter is ahead of the game.
Comparison: Tre'Davious White, LSU
Farrell's take: Hunter is smooth and wastes little effort and is a patient corner who breaks on the ball at the right time. White was more dynamic in the return game but they have similar skills as corners.
*****
No. 17 Dani Dennis-Sutton
Overview: Penn State could be the team to beat but with nearly 30 offers, Dennis-Sutton is not ready to narrow down his list just yet.

Along the defensive line, Dennis-Sutton is explosive and incredibly fast off the snap. He does a good job of making interior offensive linemen whiff and he also has the athleticism to stand up and play in space. At 6-foot-6 and 240 pounds, the high four-star prospect plays often at defensive tackle, but he could easily move outside as well and use that devastating speed off the edge.
Comparison: Drake Jackson, USC
Farrell's take: I'll go recent here as Jackson is a good example of what we could see from Dennis-Sutton. Jackson could play all over the line of scrimmage and was an athletic big body who emerged as a threat in the Pac-12 early. Dennis-Sutton is a bit more raw at the same stage, but the upside is there.
*****
No. 16 Gabe Powers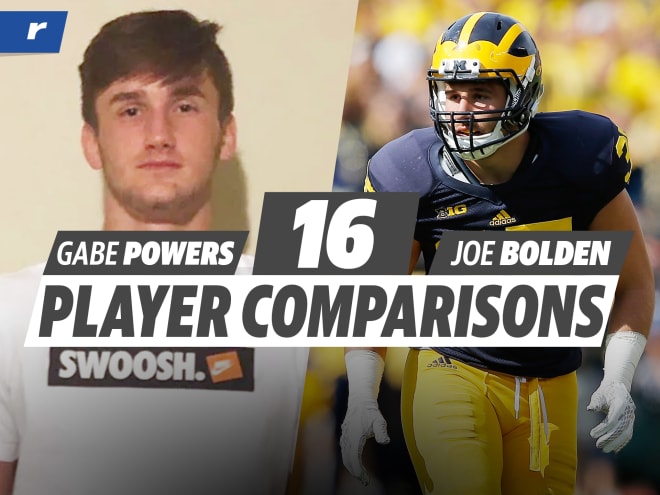 Overview: Powers is an outstanding outside linebacker with excellent length, he plays physically and he times up plays to disrupt or blow things up in the backfield time and time again. The Ohio State commit is also fast pursuing the football, looking to make tackles on almost every play and at 6-foot-4 and 215 pounds, there's no question he might grow into a rush end in some situations, which would be perfectly suitable for his skill set.
Comparison: Joe Bolden, Michigan
Farrell's take: I like Powers better than Bolden at the same stage, but both were tall and athletic linebackers who worked well downhill. Powers is more of a natural pass rusher.
*****
No. 15 Keithian Alexander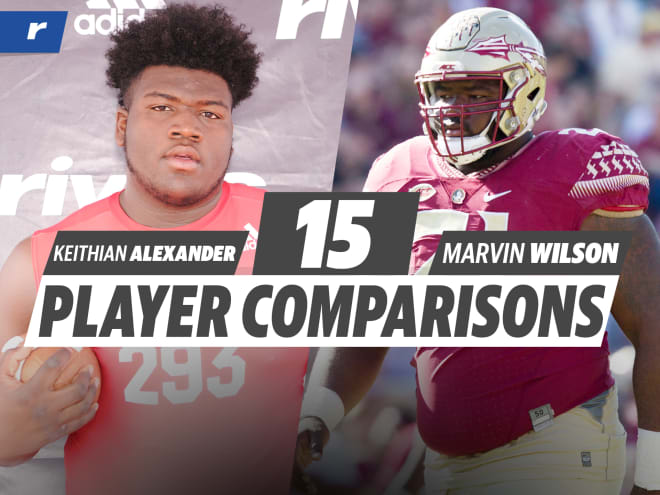 Overview: Texas A&M could have the early edge for Alexander but Oklahoma, Texas, LSU, Georgia, Ohio State and others will be involved for Alexander, who goes by the nickname Bear.

It's a fitting moniker since Alexander is already 6-foot-4 and 330 pounds but he doesn't just take up space in the middle. For someone so young and so big, Alexander carries the weight well, shoots gaps, has counter moves and relentlessly pursues the ball. As the 2022 rankings flesh out even more, he could be in the conversation for five-star status.
Comparison: Marvin Wilson, Florida State
Farrell's take: The motor is similar as Wilson was non stop and had a great work ethic. Alexander could push way up the rankings.
*****
No. 14 Shawn Murphy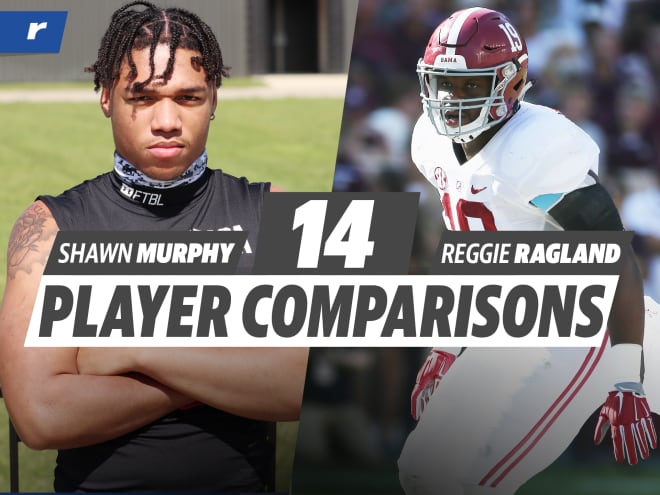 Overview: This could end up being an Ohio State/Penn State battle for Murphy, but Clemson, Alabama, Georgia, LSU and others are also involved.

Murphy continues to add muscle to his lengthy frame and he is filling out nicely while keeping his speed, explosiveness and playmaking ability to track plays down, get into the backfield and play in space. The five-star linebacker also isn't afraid to hit, seeks contact in open space and has the speed to make plays all over the field.
Comparison: Reggie Ragland, Alabama
Farrell's take: Murphy is a big linebacker who projects as an inside thumper to me but can also drop in coverage. Both players covered a ton of ground and play sideline to sideline.
*****
No. 13 Will Johnson
Overview: Michigan, Notre Dame, Ohio State, Penn State, LSU and many others remain involved with Johnson, who has nearly 30 offers.

The five-star cornerback already has elite size at 6-foot-3 and 190 pounds, he's filled out and looks college-ready right now. Even at that size, Johnson is smooth, he can turn and run or he can come up and make plays.
Comparison: Eli Apple, Ohio State
Farrell's take: Apple may not be a success story in the NFL but he was a big, multi-talented corner out of high school who had a great college career and became a first-rounder. I could see the same with Johnson.
*****
No. 12 Tyre West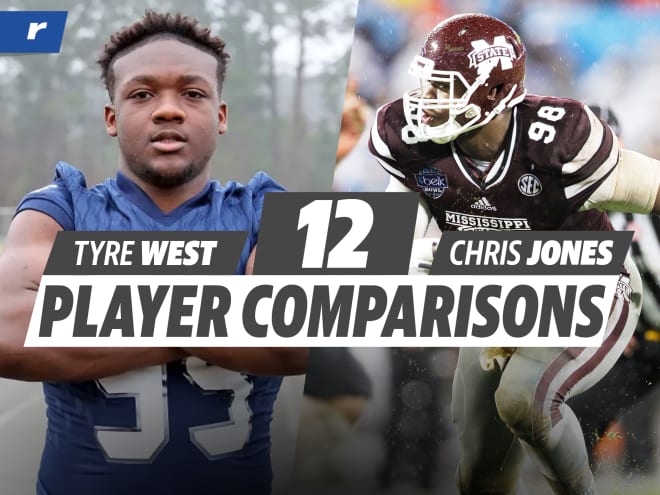 Overview: Georgia could be tough to beat for West but Auburn, Florida and others are going to keep trying to land the five-star defensive end.

West has all the tools to be special coming off the edge, he possesses brute strength to bull rush offensive tackles and he loves to launch himself into the ball carrier for dramatic tackles at the end of plays. It wouldn't be shocking if he grew into a defensive tackle and that versatility along the defensive line makes him more attractive.
Comparison: Chris Jones, Mississippi State
Farrell's take: Jones was an athletic rush end in high school with great size who made the transition to elite defensive tackle and played with impressive leverage. West should be a similar prospect at the next level.
No. 11 Zach Rice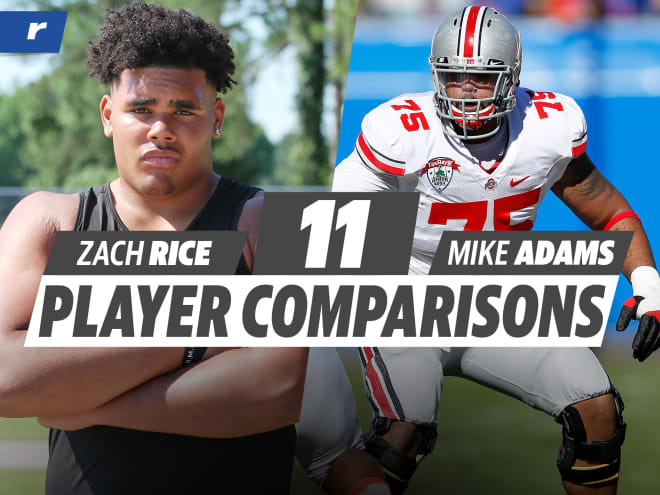 Overview: Notre Dame, Georgia, Alabama, Tennessee, Ohio State, LSU and others are high on a wide-ranging list but watch out for Clemson if it offers.

Rice is everything you're looking for in today's offensive tackle - athletic, fierce, always looking to knock somebody down and grind them down over the course of a game. He is someone who can pull, get to the second level and he's always keeping his eyes moving to engage again. At 6-foot-6, 285 pounds, Rice is comfortable in that massive frame and he could easily add even more weight.
Comparison: Mike Adams, Ohio State
Farrell's take: Adams had as high a ceiling as anyone coming out of high school and was a physical specimen. He still had success in college and beyond and Rice could be a superstar if he stays focused.