Commitment breakdown: Rivals250 OL Sam Pendleton picks Notre Dame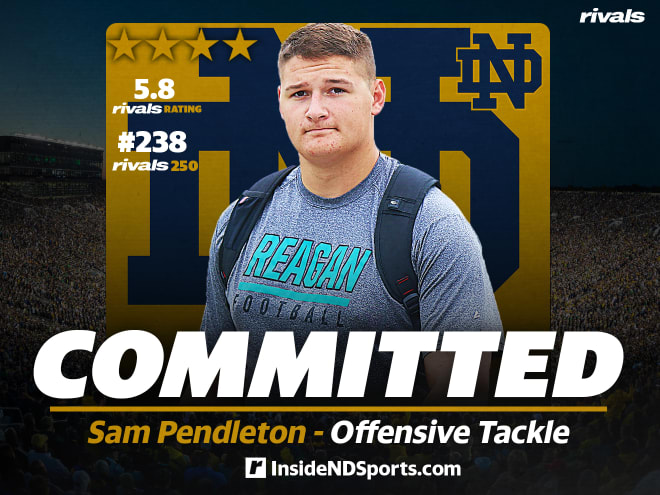 Notre Dame is poised for an impressive haul on the offensive line in their 2023 recruiting class and they just landed a big piece of the puzzle in Sam Pendleton. The Rivals250 prospect out of Pfafftown (N.C.) Ronald Reagan chose the Fighting Irish over teams like Michigan, Florida, and N.C. State.
WHAT THE FIGHTING IRISH ARE GETTING...
Pendleton is a mauler on the offensive line and running backs will love running behind him at the next level. He does a great job driving his feet on contact and muscling defensive linemen out of the way. Pendleton could play tackle or guard at the next level but he'll need to improve as a pass blocker. He has all the tools to be effective against even the most talented pass rushers but he doesn't have a ton of experience against that level of talent so there will be a learning curve once he gets on the college practice field. Physically, Pendleton doesn't have a long way to go before he'll fit in with the rest of the college linemen so that should help him see the field fairly quickly.
WHY IT'S BIG FOR NOTRE DAME...
Marcus Freeman and his staff currently have the No. 2 recruiting class and ranks second in average stars per commit. That's really impressive considering Pendleton is their first offensive line commit in this class. Over the years, Notre Dame has established themselves as major producer of offensive line talent for the NFL and, with Harry Hiestand on staff again, many recruits are in play for the Fighting Irish. Hiestand's resume played a big role in Pendleton's commitment and he should thrive under the offensive line coach's tutelage. Look for Pendleton to work hard to recruit fellow North Carolina native and four-star offensive line prospect Sullivan Absher.