Commitment breakdown: QB Cameron Edge reclassifies to 2022, commits to UMD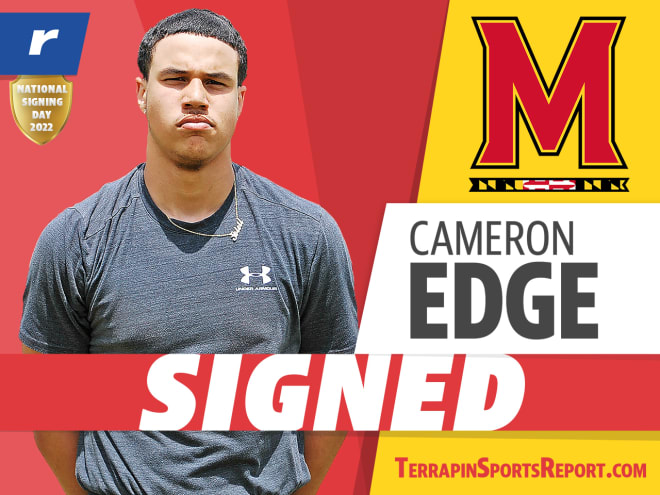 The fairly new trend of players reclassifying to get to the school of their choice a year early seems like it's here to stay. Maryland now joins the growing list of teams benefitting from the increasing popularity of this trend. The Terps picked up a commitment from quarterback Cameron Edge, a Delaware native that played his freshman and sophomore seasons at Hyattsville (Md.) DeMatha and his junior season at Smyrna, Del.
Edge's recruitment began early with offers from teams like Penn State, Oregon, Tennessee, LSU, and many others but the pandemic disrupted his momentum. After a forgettable sophomore season, Edge bounced back with an impressive junior campaign where he threw for nearly 3,000 yards and 27 touchdowns against just two interceptions.
Maryland, Virginia Tech, South Carolina, and a handful of other teams were heavily pursuing Edge but he was ready academically to begin his college career this year so, after an official visit to Maryland this past weekend, he decided to pull the trigger and commitment to Maryland as a member of the 2022 recruiting class.
WHAT THE TERPS ARE GETTING...
Edge is a strong-armed quarterback with good size and mobility in and out of the pocket. When he can see the field, Edge has show outstanding accuracy with his throws. Edge hasn't had a problem completing passes to every corner of the field when he's able to set his feet and deliver the pass. As a sophomore, Edge's decision-making was a bit questionable but we saw drastic improvement in this area during his junior season. Pressure from the defensive line or blitzers can still caused ill-advised passes from Edge. He benefitted from a fairly basic offensive system and sub-par competition this past season so there will be an adjustment period once he gets to the college level.
WHY IT'S BIG FOR MARYLAND...
Maryland's 2022 class is getting a big boost from Edge, their second scholarship quarterback in this class along with Jayden Sauray. The Terps are loading up on offensive linemen to help protect him and there are a few impressive offensive playmakers that should help Edge put a lot of points on the board. Edge will benefit from time learning behind Taulia Tagovailoa and being able to absorb the playbook. Maryland currently holds a commitment from 2023 quarterback Robert Long too, so Mike Locksley's quarterback room should be stocked for the next couple years.