Commitment breakdown: Notre Dame lands 4-star Holden Staes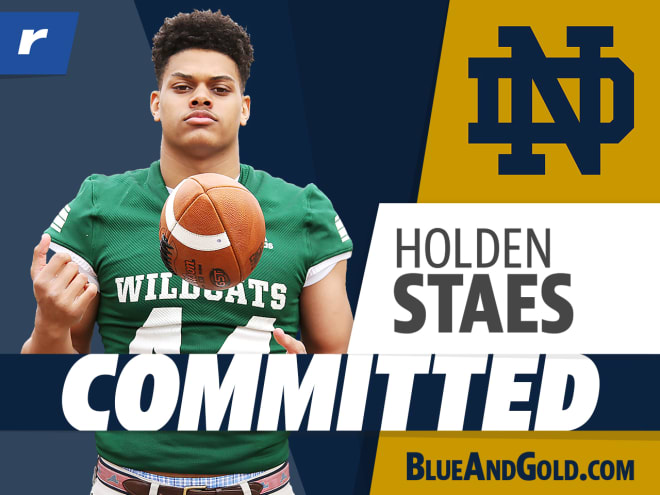 Notre Dame lost a commitment from tight end Jack Nickel back in mid-April but it didn't take the Fighting Irish long to find a replacement for the Georgia native. In fact, Notre Dame didn't have to look far from Nickel to find Holden Staes. The four-star tight end out of Atlanta (Ga.) Westminster announced his commitment to Notre Dame on Saturday night, picking the Fighting Irish over Georgia, LSU, and Texas.
WHAT THE FIGHTING IRISH ARE GETTING
Notre Dame does a fantastic job recruiting and producing excellent tight ends and Staes could be the next one up. He catches the ball away from his body all the time and has a job of success on jump balls. Staes wins a large percentage of his contested catches because of his strong hands and long arms. He isn't the biggest tight end Notre Dame has ever had but he has a great frame and plenty of room to fill out, which should help him as a run blocker. Staes is a great athlete and is pretty dangerous in the open field when he has room to run after the catch. He is very difficult for defenders to bring down once he gets a head of steam.
WHY IT'S BIG FOR NOTRE DAME
Staes is a great fit in Notre Dame's offense. His athleticism gives the Notre Dame coaching staff the ability to move him around formations and create mismatches. Staes, a former Penn State commit, looks like a solid replacement for Tommy Tremble. The Fighting Irish have been taking two tight ends per class for the last few years and Staes fills that need for the 2022 class.