Commitment Breakdown: Michigan lands Rivals100 TE Brady Prieskorn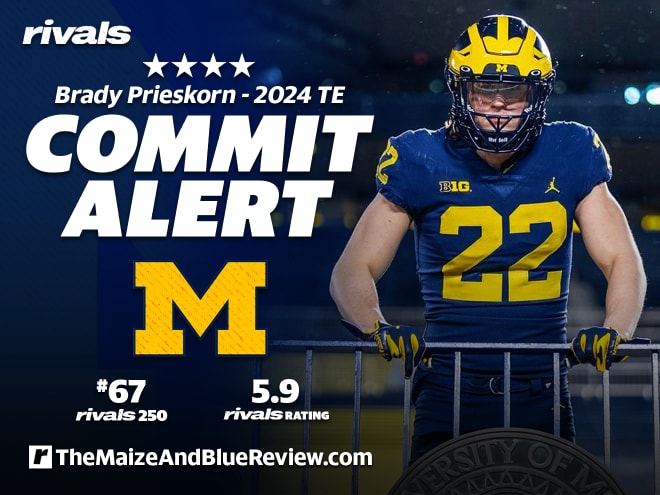 The No. 67 recruit in the 2024 class, tight end Brady Prieskorn, is staying home to play for Michigan in college. The four-star released a top eight of Ohio State, Michigan, Alabama, Ole Miss, Tennessee, Penn State, Georgia and Miami prior to announcing his pledge to the Wolverines on Tuesday afternoon.
Prieskorn is the thirteenth addition to a Wolverine class that already ranked No. 4 overall prior to today's announcement. He joins four-star defensive back Jacob Oden as the Wolverine's second in-state commit in the 2024 class.
WHAT THE WOLVERINES ARE GETTING:
With the athleticism to create mismatches in the pass game and the frame to bulk up and play as an in-line tight end - Prieskorn is the complete package at position of high value for the Michigan offense. While most of his snaps come flexed out where he excels as receiver, and is a lethal red zone target, he has also proven to be a willing blocker who should thrive once established in the Michigan strength program.
As good as Prieskorn is right now - his best football is in front of him and his floor is arguably as high as his ceiling. While the blocking part of his game will take some time to develop at the college level, his skill-set could enable him to contribute as a big receiving target and goal line threat early in his college career. Should he reach his max potential, Prieskorn could develop into a multi-tool weapon for the Wolverines and have a chance to become early round draft pick down the road.
WHY THIS IS BIG FOR MICHIGAN:
Whenever a top 100 recruit from your own backyard stays home - it is a big win in and of itself. This is especially the case when the recruit plays a position of high schematic value as is the case with Michigan and its tight ends.
While Michigan has been lights out with their recruiting efforts during the 2024 recruiting cycle, Prieskorn is only the second in-state commit and with any luck his pledge could be a jolt of momentum for the Wolverines recruiting efforts within Michigan.
With two highly rated recruits already in the boat, Michigan's tight end room looks to be in good hands for years to come as both Brady Prieskorn and Hogan Hansen have star potential.