Commitment breakdown: Four-star Andrew Depaepe picks Michigan State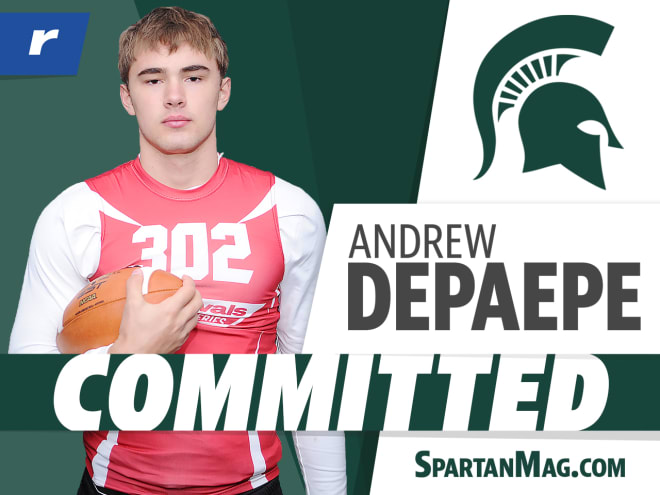 One of the nation's top underclassmen defensive end recruits, Andrew Depaepe, will be headed north to play for the Michigan State Spartans in college. The Pleasant Valley (IA) standout already had double digit offers which spanned over the Big Ten, Big 12 and Pac 12 when he made his decision to commit to the Spartans this evening.
What the Spartans are getting:
Andrew Depaepe is a long and athletic defensive end prospect who has a frame with serious room for growth. His ability to both get after the passer and hold the edge will make him a potential four-down player at the next level, and will also allow him the flexibility to kick inside and provide an interior pass rush in obvious pass situations. These attributes will only be enhanced with continued growth in a college meal and weight program. Depaepe is already a four-star, but in terms of long term potential, he is only scratching the surface of what he can eventually be in a couple of years. A lot of prospects with his frame and skill-set are very raw when they get to the college level, but for a prospect with his upside, he is pretty polished and plays with good technique. The combination of skill and size should enable him to carve out an early role in his college career, and all of that goes without even mentioning that he still has another year of high school football in front of him.
Why it is big for Michigan State:
Michigan State made huge moves in coach Mel Tucker's first year and they are quietly building a special roster in East Lansing. While the recruiting classes may not be rated at the very top right now, you can see the vision the coaching staff has for their roster. I would not be shocked if we look back in a couple of years and say that these early classes were underrated. Depaepe fits right in the mold of what we have seen coming in since Tucker's arrival, long and athletic players with future NFL size. This is another great addition to the Spartan's roster and a huge recruiting win. Any time you can pull a top tier recruit out of a conference foe's backyard, it has to make you excited as a Michigan State fan.