Commitment Analysis: Gamecocks beat Tigers, Cats and Vols for Robinson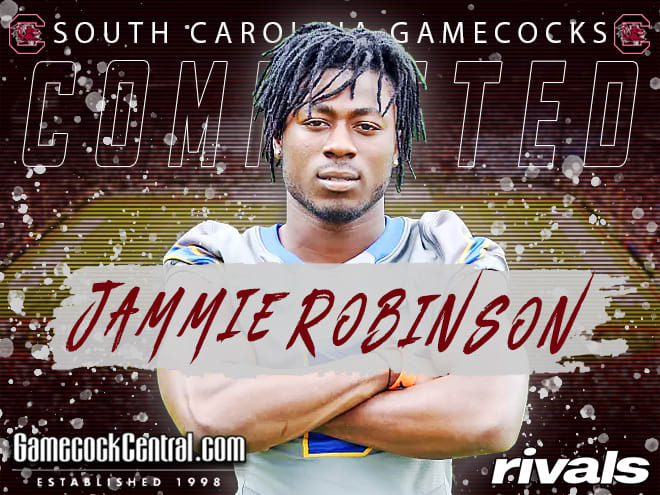 Jammie Robinson was on the verge of committing to South Carolina over a year ago, during his junior year. He was a major target for the Gamecocks very early and those relationships paid off in the end.
Kentucky was in this, Auburn made some noise late and Tennessee hung around, but South Carolina was the most consistent for the longest time and Will Muschamp, Travaris Robinson and that staff in Columbia received good news Wednesday.

Below we take a look why it is big for the Gamecocks and who it hurts the most.
WHY IT'S BIG FOR SOUTH CAROLINA: South Carolina recruited Robinson hard for almost two years. He was an early target for that staff and the consistency was so important here. They never wavered, they never slowed things down, but they kept their foot on the gas and they finished first at the finish line.
As a player, Robinson has that dog in him. Anyone that has seen him play, says that. He is a tough, gritty player that plays with an edge. He has real confidence in his game and he is an athlete that has played all over the field in high school. On the next level, he is likely a safety or STAR in the secondary. He may not have elite size and length, but he plays big. He has great instincts, his ball skills are a strength and he never shies away from contact. Robinson is a player who could contribute early.
WHY IT HURTS KENTUCKY THE MOST: The Vols were never fully invested and Auburn was hot and cold in this race, so Kentucky is the one who put the most into it, and at one time, almost pulled this off. If Robinson would have signed in December, Kentucky had a real chance to sign him. The staff stayed after him and kept in touch until the last few days, so Kentucky put in the effort to fall just short in this race.