College Fantasy Football: The five best WRs through Week 3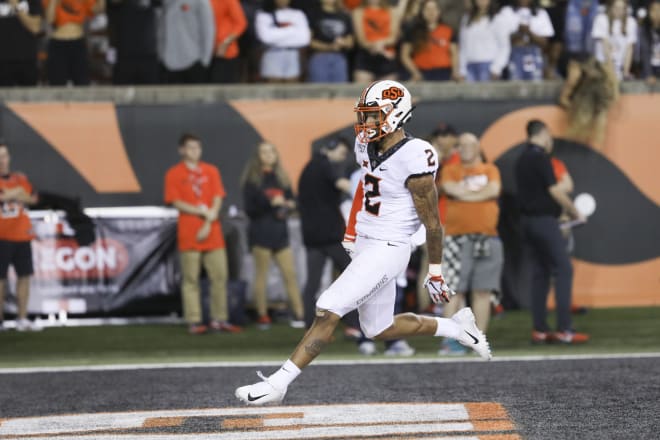 *****
New quarterback Spencer Sanders has developed great chemistry with Wallace and it's allowed him to be the best receiver in fantasy leagues. Wallace has only three more catches than teammate Dillon Stoner, with 15, but he has six touchdown catches to propel him to the top of the fantasy rankings. Stoner has still not caught a touchdown pass. The schedule gets tougher moving forward with Texas and Kansas State in the next two games, but Wallace will remain priority No. 1 in Oklahoma State's passing attack.
*****
Hodgins has been putting up incredible numbers through three games this season and he is clearly the favorite target in Oregon State's offense. He has 23 catches – the next receiver on the team has nine – for 347 yards and five touchdowns. The Pac-12 schedule is coming up and that could make things more difficult, but the Beavers could get into some shootouts and Hodgins could benefit.
*****
There might still be questions whether LSU's new offense is for real - and while people question it the Tigers' receivers are putting up major stats. Who would have thought two LSU receivers would have been in the top five of fantasy points a few weeks into the season? But here we are. Jefferson has 19 catches for 374 yards and four touchdowns as he's averaging nearly 20 yards per catch. There are a ton of weapons on the LSU offense, but it's actually helping Jefferson since he can't be double-teamed.
*****
A former five-star receiver, Marshall is starting to show why he deserved that ranking, as LSU is getting him the ball more often and it's paying off. Marshall has 16 catches and six of those have gone for touchdowns so far this season. He's a big target and, again, the Tigers have opened up their offense, quarterback Joe Burrow is having a phenomenal start to the season and Marshall could be a steal, since he's owned in only 55 percent of leagues.
*****
Alabama is averaging more than 50 points per game, and while the Crimson Tide have arguably the best receiving trio in college football, Jeudy is still the favorite of quarterback Tua Tagovailoa. He has 24 catches for 308 yards and four touchdowns so far this season, and what's great about Alabama is that the team is going to bring its 'A' game every weekend and there's no doubt the Tide are getting the ball to Jeudy in the offense.
*****
ONE SURPRISING MISS  
I thought with Stanley Morgan moving on that JD Spielman was going to have a blockbuster season for Nebraska's offense, and it just hasn't panned out that way yet. Through three games, Spielman has 11 catches for 224 yards but only one touchdown so far in wins over South Alabama and Northern Illinois and a loss to Colorado. Nebraska has rushed for eight touchdowns so far, and the Huskers have thrown for only four TDs. This was a missed opportunity early on for Spielman, especially as the Big Ten schedule looms.