Clowney leads S.C. to big Shrine Bowl win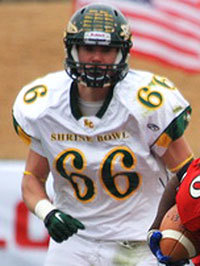 Clowney's stat line from a 42-10 South Carolina Sandlapper drubbing of the North Carolina Tar Heel team - 5 tackles (2 solo, 3 assists), 3 sacks for a loss of 15 yards, 2 tackles for a loss of 17 yards and 2 quarterback hurries - doesn't exactly tell the entire story. Of course they are impressive and show his dominance in the game, but he could have been credited with at least a half-sack on two other occasions, he flushed the quarterback two other times that led to sacks and he also drew an amazing five offensive holding penalties. Basically, on nearly every snap he took in the game, Clowney was a factor. However, the 6-foot-6, 247-pounder felt it was just another performance on his part.
"I thought I played well," he said. "But I wasn't 100 percent, my shoulder was bothering me a bit and I couldn't do everything I wanted to do out there. I was also a little rusty because I just did a lot of standing around this week in practice which was frustrating. But they wanted to make sure I was healthy enough to play in the game so whatever it takes."
Clowney was lined up against the North Carolina left tackle on every snap he played and while he drew the five holding calls, he and everyone else felt it could have been more.
"Oh, at least nine or 10 times, maybe more," said Clowney when asked how many times he felt he was held in the game. "It was bad. I was getting grabbed pretty good out there and I think they could have called a lot more holding. I'm used to getting held in games, but this was bad."
"If he's the top player in the country, then I'm not far behind," said James following at least a 20-second pause after being asked the question.
Huh? Come again? What about all those holding calls, sacks, tackles for a loss and quarterback hurries?
"I did what I had to do to help my team," said James. "Playing against someone like him just makes you better and now I have a good idea of how college will be."
Certainly it's unfair to call out James for being abused by arguably the best high school prospect in decades, but make no mistake about it - James is very far behind Clowney as was everyone else on the field. Inexplicably, the North Carolina coaching staff didn't put a tight end over Clowney, didn't chip him with a running back and rarely double-teamed him with the left guard.
When asked about James, Clowney was his typical honest self not pulling any punches.
"I've never had anyone play that bad against me," he said. "But he'll be alright."
QUARTERBACK PLAY
Of the four, it was clear that Golson had the best game. He completed 9 of his 15 attempts for 79 yards and had a couple nice runs as well. Most importantly he didn't turn the ball over and also connected on a touchdown pass. However, the others didn't fare as well.
"No, I wasn't injured, I'm healthy," said the 6-foot-3, 218-pounder. "They just didn't want to play me I guess. It was supposed to be Vad in the first quarter, me in the second quarter and so on, but that didn't happen. But it's all good and I had a lot of fun and week and today. I would have liked to get more snaps, but that's the way it goes. I still had fun."
TOUCHDOWN MAKERS
"This was a good experience," said Adams. "I'm so used to playing quarterback that this week in practice and in the game playing tight end was fun. I give the credit to our great receivers and running backs who really opened things up for me. It was good to come out and perform because I always hear things about playing 1A football and all of that and people question whether I can play tight end in college, so this was nice."
OTHER OFFENSIVE STANDOUTS
"I credit our offensive line for really opening up holes for me," he said. "I'm short already so I try to get even lower and make myself hard to find and hit and it worked today. I think it was a good game and it was an honor to be here."
DEFENSIVE STARS
Townsend had two tackles as well as a sack and a tackle for a loss on the day and Backus had his interception for a score as well as three tackles.
DISAPPEARING ACTS
QUIET HEROES
[rl]