Breaking down top WRs still available in 2021 class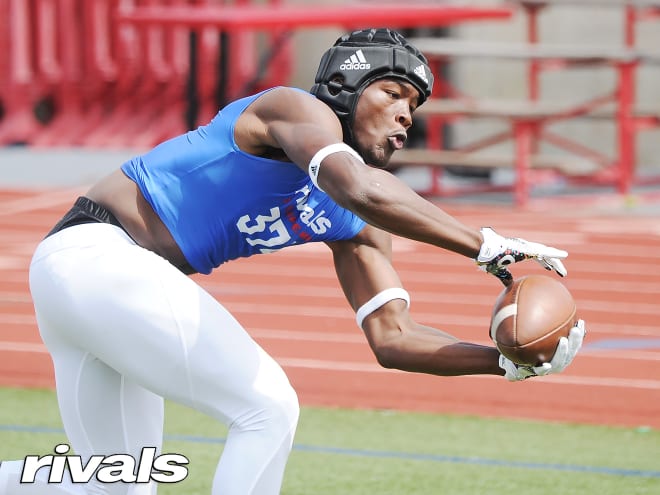 No position group has more uncommitted four-star prospects than wide receiver following the Early Signing Period. That early period is now closed, and the Late Signing Period will not open until Feb. 3. Here are the top ten wide receivers in the 2021 class who are still available following the Early Signing Period.
MORE: Top available 2021 QBs | RBs

One of 12 Rivals100 prospects who did not sign in the early period, Davis rescinded his commitment to USC earlier this month after being committed to the Trojans since May. The USC commitment was his third of the process, after previously being committed to SMU and Texas. On Tuesday, Davis announced a Top 3 that consisted of Florida, Kansas and Oklahoma State, though if any of his previous interests come back into the mix it would not be a surprise.
Thomas' recruitment has been a difficult one to decipher. What does seem apparent is that Thomas is likely to end up at one of Alabama, Georgia, LSU or Texas A&M. Early in the process, Alabama was considered the team to beat. Then, the home-state LSU Tigers started gaining momentum over the summer, only to have Alabama re-emerge and Texas A&M to put in a strong bid late. Since he did not sign in the early period, the speculation over Thomas' destination will continue.
Rucker made multiple commitments to Florida, the first one coming in the fall of his sophomore year. He eventually did stick with the commitment he made last February, but when the Early Signing Period arrived Rucker, did not have a letter of intent to sign from Florida. There are some academic questions Rucker has to clear up, but it is looking less and less likely Rucker ends up a part of this 2021 Florida recruiting class. Other schools that could be destinations include LSU and Ole Miss.
Hill's was one of the anticipated commitments going into the Early Signing Period, but in the midst of preparing for a state championship, the Rivals250 prospect decided to postpone those plans and wait until the late period to sign. Had he made his decision last week, the choice was expected to come down to Alabama, Florida or Florida State, with the Seminoles the Rivals FutureCast favorite to ultimately secure his services.
It has been a quiet recruitment as of late for Barnes, who did not sign in the early period. Back in the spring, the Nashville WR had a top five of Florida, LSU, Ole Miss, Tennessee and Texas A&M. Georgia offered in June and got a strong, initial look, but as spots filled up, Barnes choices have evolved. There has been some buzz about Cincinnati recently, while schools like Georgia, Ole Miss and TCU could still be in-play as well.
The recruiting process kicked off early for Coombs and he built a nice offer sheet by the time his junior season rolled around. However, he missed the commitment wave when the COVID-19 pandemic forced a lot of early decisions last spring, and many of those early offers evaporated. Maryland and Tennessee were a couple schools that were discussed early, and Cincinnati had been mentioned as recently as a few months ago.
Getting in and out of Hawaii has been more difficult than any other state during the coronavirus pandemic, making it difficult for Mokiao-Atimalala to visit the campuses of his top schools. He is a prospect for whom the elimination of official visits was particularly detrimental. He determined several weeks back he would wait for the Late Signing Period. Earlier this month Mokiao-Atimalala named a top six of Hawaii, Maryland, Nebraska, UCF, UCLA and USC.
Coleman was committed to Kansas for several months earlier this year, but de-committed from the Jayhawks in October. He quickly picked up eight new offers, including Tennessee, Texas, TCU and USC in the aftermath of that de-commitment. A two-sport star, Coleman holds both basketball and football offers from several schools. He named a joint football and basketball top eight of Florida A&M, Grambling State, Jackson State, Michigan State, Ole Miss, Texas, USC and Virginia Tech earlier this week and plans to sign in football's late signing period.
A one-time UAB commitment, Bennett opened his recruitment in November and decided at that point he would wait to sign in the late period so he could evaluate his options. Among the schools that have been in contact with Bennett since he de-committed are Indiana, Kentucky, Tennessee and Texas A&M. He recently identified Indiana as the school that has been recruiting him the hardest since he re-opened his recruitment.
Following a strong senior season for Euclid High, Scott decided to re-open his recruitment in November after being committed to Kentucky since May. He initially planned to sign in the early period, but changed his plans when several new schools showed interest.
Scott's teammate, Michael Gravely, just signed with Michigan State, which offered Scott early in the process. So, keep an eye on the Spartans here. Other programs in-play include Boston College, Houston, Iowa State, Wake Forest and West Virginia.