Breakdown: Alabama vs. LSU
Thereisnodoubtaboutit,thebiggestmatch-uponthisweekend'scollege
footballschedulewill
beplayedinTuscaloosa,Ala.TheAlabamaCrimsonTideandtheLSUTigersenterthe
weekendastopfiveprogramsandfightingforwhatcouldbetheonlySEC
spotintheCollegeFootballPlayoff.Itisalsoamatch-upofnational
recruitingtitans,whofaceoffwithoneanothertimeandtimeagainonthe
recruitingtrail.
Belowisananalysisofthecurrentrostersofeachsquadandhowtheplayersrankedwhentheyweresigned.
Alabamavs.
LSU
AlabamaClickHeretoviewthisLink.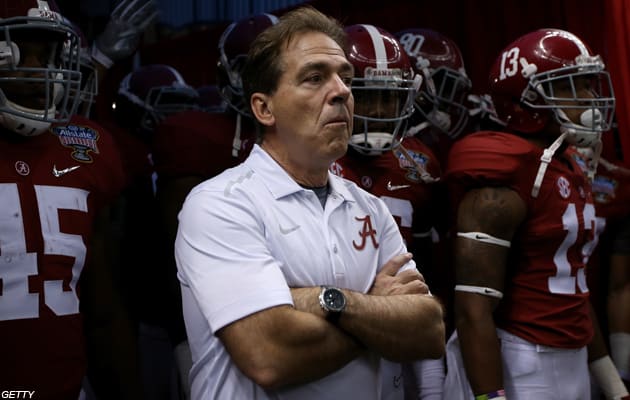 NickSaban
AVG.RR
AVG.STARS
RANKINGPOINTS
FIVE-STARS
RIVALS100
RIVALS250
5.83
3.8
11,551
14
33
53
Top-rankedsignee:DEDa'ShawnHand--Handwasranked
theNo.1overallplayerinthe2014recruitingclass.HechosetheCrimsonTide
overMichiganandFlorida.Herecordedseventacklesandtwosacksasatruefreshman,andhasrecordedseventacklesand2.5sacksthrougheightgamesin
2015.
Five-stars:The14five-starsonAlabama'srosterdonotjust
claimarosterspot.Theseguysaregettingafterit.FreshmenCalvinRidleyand
MinkahFitzpatrickhavebeentwoofthetopfreshmeninthecountry.
CameronRobinsonstartsatlefttackleandReubenFosteristiedforthirdontheteam
intackles(39)andtacklesforloss(5).JonathanAllenleadstheteaminsacks
(5)andtacklesforloss(8).A'ShawnRobinsonandMarlonHumphreyhavebeen
veryactiveonthedefensiveside,andO.J.Howardhasrecorded290yardson26
receptionsfromhistightendposition.
Highest-rankedpositiongroup:DefensiveBack--LSUmaybe
knownasDBU,butAlabama'sgroupentersthegamewiththemostrecruiting
pointsofanypositiongrouponeitherteam(2,422).Thegroupincludesthree
formerfive-starprospectsinMarlonHumphrey,MinkahFitzpatrickand
TonyBrown.EddieJacksonistheonlystarterwhocheckedinbelowthe5.9four-star
ranking.Jacksonwasrankeda5.7three-staratwidereceiver.Alabama's
linebackergroupwastheonlyotherpositiongrouponeitherteamtohaveover
2,000recruitingpoints.
Classof2016recruitingranking:No.12overall,1,846
recruitingpoints,3.59averagestarranking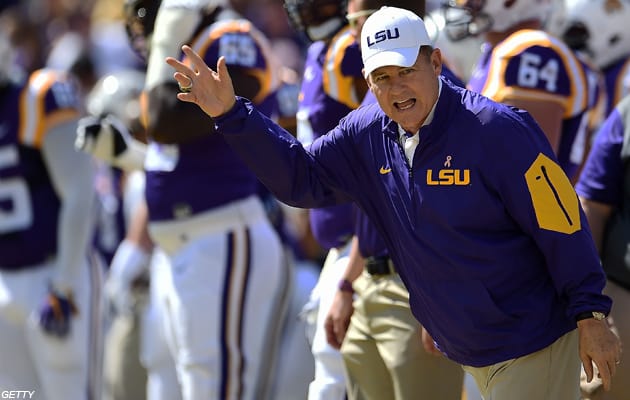 Les Miles
AVG. RR
AVG. STARS
RANKING POINTS
FIVE-STARS
RIVALS100
RIVALS250
5.76
3.56
8,901
8
17
40
was ranked No. 4 overall in the 2014 recruiting class. He chose LSU over Alabama
at the Under Armour All-American game. He is the current favorite to claim the
Heisman Trophy, and he has rushed for 1,352 yards and 15 touchdowns on 176
carries in 2015. He rushed for 1,034 yards and 10 touchdowns on 187 carries as a
true freshman in 2014.
Five-Stars: Fournette is not the only former five-star putting
reception (18.9) and TD receptions (5). Dupre is second on the team with 21
rushed for 316 yards and two touchdowns on 34 carries. On defense,
Highest-ranked position group: Offensive line -- LSU's running
game has gotten the attention in 2015, but the offensive line group is composed
prospect. The Tigers offensive line narrowly beat out the wide receiver/tight
end group, which had 1,679 total recruiting points.
Class of 2016 recruiting ranking: No. 1 overall, 2,357 recruiting points, 3.53 average star ranking
Where do they come from?
It is not surprising to note that each team calls on its home state as its No. 1 source of players. It is interesting, however, that while the Tide often dip into Louisiana, the Tigers stays clear of Alabama. Here is a breakdown of four states that produce the most players that will be in action on Saturday.
Alabama vs. LSU Recruiting Battles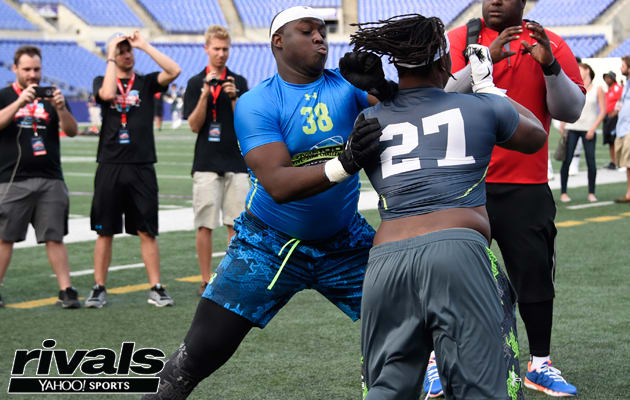 Gregory Little
COMMITTED
strong run at the Texas prospect before he chose the Crimson Tide in the spring.
UNCOMMITTED
taken his official visit to LSU and he will visit Alabama over the weekend. He
plans to make his choice shortly after his trip to Tuscaloosa. The Tide and
Tigers are not the only ones in the race, but both are fighting hard for his
had Alabama and LSU high on his list from the beginning. Both are in his top
whenever he makes his choice.
would fit well at either program and both were among his first scholarship
offers. Both figure to be among his choices when he makes his decision.
is Alabama. The Crimson Tide seem to have a strong position with the linebacker
right now, but the Tigers are in the mix.
heavy hitting linebacker, but the Tigers are in the mix and he has an official
visit scheduled for November.
2017 recruiting class and he has taken unofficial visits to both LSU and Alabama
during the 2015 season.
have been on Moses from the very beginning, and both remain in constant contact.
He has taken multiple visits to both schools over the years.