Big 12 spotlight: Ranking the wide receiver commits
For years, the Big 12 has been associated with high-flying offenses, and as the conference continues to produce eye-popping point totals, so does the race to continue finding playmakers in the passing game. Here is a look at where conference teams stack up at wide receiver on the recruiting trail so far this fall.
RELATED: Ranking the Pac-12 QB commits
1. TEXAS
The Longhorns top the list after pulling in commitments from the state's top two players at the position in Eagles and Woodard. Both are not without their flaws, but both are effective and reliable pass-catchers with great physical potential to hit another gear once they get fully entrenched in the program. There has been some rumblings in recent weeks that Moore's commitment might not be on as solid footing as the other two, but there are still some intriguing in-state slot receiver prospects that Texas could focus on should things turn that way. Regardless, reeling in Eagles and Woodard was a major coup in Tom Herman's efforts to revitalize the program.
2. TEXAS TECH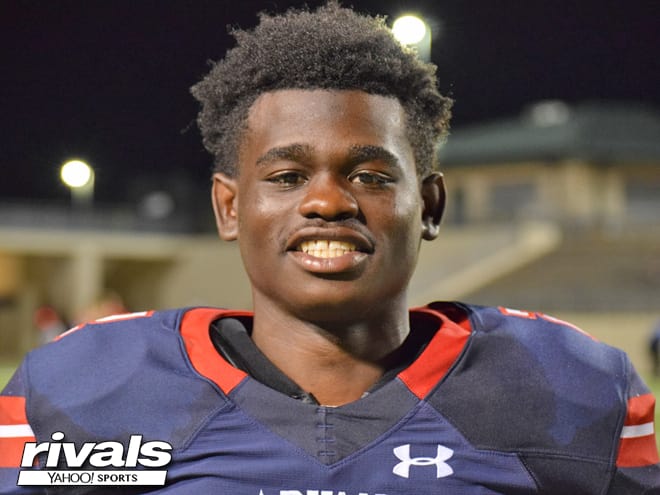 Should all these players stick with the Red Raiders, the upside with this group is tremendous. Douglas has shown this season that he's much closer to a four-star talent than three. Fulcher could be a major steal for Tech as a relatively unheralded player with great physical measurables that can produce from anywhere he's lined up. Galban is going to be a Steady Eddy for his quarterback down the road and Carter has game-breaking speed. Add all these elements to a passing attack that has traditionally been one of the best in college football under Kliff Kingsbury, and the Red Raiders could be holding onto a very special group.

3. OKLAHOMA STATE
For all the success that the Cowboys have had over the past few seasons with James Washington, the focus of this recruiting class has been on bigger perimeter pass-catchers like Moore and Shepherd. Despite standing at six-feet-5-inches, Moore is quicker and more explosive than most other lankier receivers that compare to him. Shepherd is more of the traditional long-bodied receiver in that he's not as agile as Moore, but can easily create separation on longer routes downfield. Lemons may not have some of the more distinctive attributes that Moore or Shepherd do, but should be able to carve out a role in a pass-oriented offense such as Oklahoma State's.
4. OKLAHOMA
Similar to Tech, Oklahoma has a few prospects whose upside could make this a better group than it appears at face value. Robinson showed during this offseason especially, that he has the potential to make any defender miss while running routes or with the ball in his hands. While Taylor had his share of other SEC offers, Johnson has been more of a lesser-known quantity to the masses and has seen his opportunities so far this season be somewhat hit-or-miss. Still, the Sooners seem to have a good handle on what to do with their young pass-catchers when considering the early success that CeeDee Lamb and Marquise Brown have had this season.

5. TCU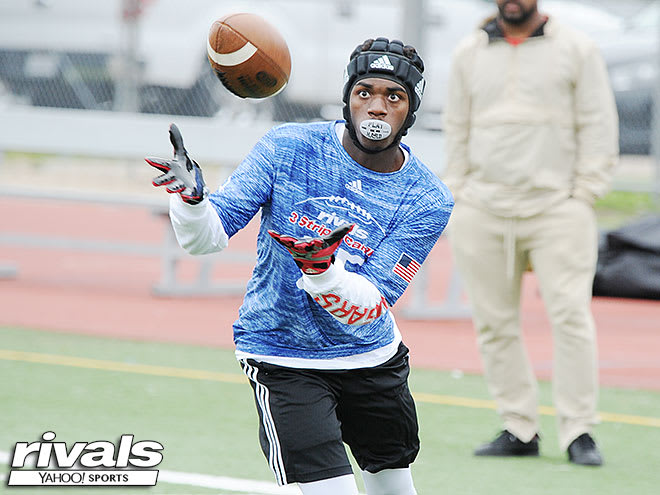 The Horned Frogs have put together a deep recruiting class together overall and its pass-catchers are a big part of that. Jackson is a solid, well-rounded receiver that is capable of doing all the little things that coaches look for in a reliable chain-mover. Hunt is a more explosive player that should easily be able to find opportunities with to capitalize on his breakaway speed in TCU's offense. Van Wagoner is an intriguing perimeter receiver that should be considered the most likely to be the downfield threat of the trio. Depending on whether or not Taye Barber's future is on offense, TCU should be looking to add one more splash commitment to the position.

6. BAYLOR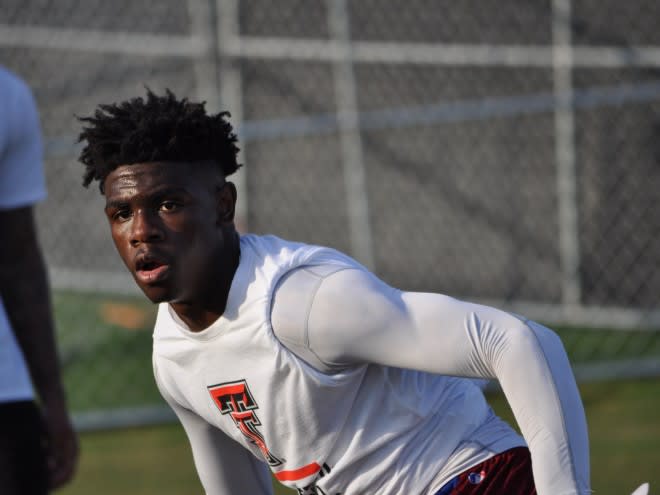 Barnes and Milton are similar players, with Barnes perhaps being the longer of the two. Milton has great burst, however, and is a sneaky threat to get behind the defense and downfield. Gleeson has a reputation as one of the state's top speedsters and is a home run threat when the circumstances are right. Barnes, however, has a chance to prove he should be the focal point of the entire Bears offense at some point, as he's also arguably the most athletic of the bunch. Should things stay as is, Barnes offers the most potential to seize a significant role on the team.
7. WEST VIRGINIA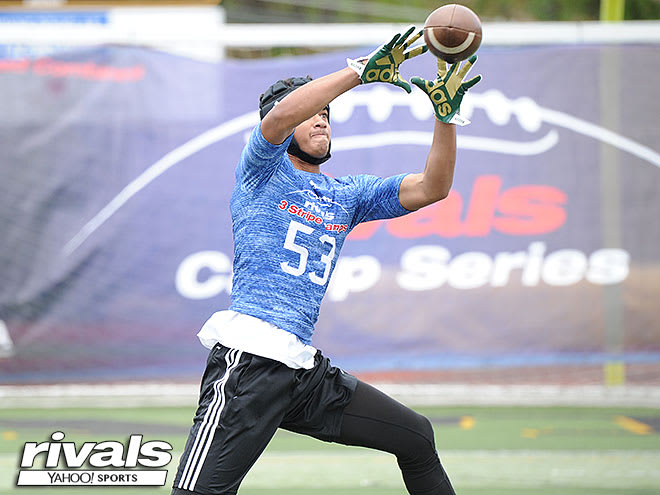 Unsurprisingly, the Mountaineers have done a nice job this season reloading a bit at the wide receiver position, helped by the strong play of quarterback Will Grier. The receivers committed to West Virginia in 2018 aren't necessarily the big-time names one would point to as the next cast of elite receivers to the program, but considering the perennial success the team has had in the passing game, writing off any group of Morgantown-bound receivers would be foolish. James plays faster than his reported testing times would suggest and is a classic climb-the-ladder receiver when he's just thrown a ball to go up and get. Davis and Fields are more conventional consistent producers and should provide more depth to a traditionally strong unit.

8. IOWA STATE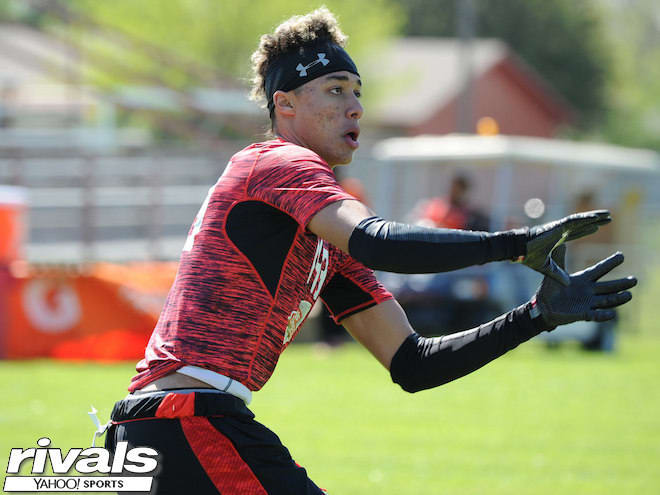 The Cyclones have already matched their win total from last season and the optimism around the job that head coach Matt Campbell has been able to do seems warranted. Iowa State's receiver group took a knock when Galban flipped to TCU, but should still finish with a respectable group by National Signing Day. Shaw is the clear headline name as the only four-star prospect committed to Iowa State at all this season, but Schleker brings a little bit of that lightning in a bottle quality to the table, and at the least will be the type of player that needles opposing defenses.
9. KANSAS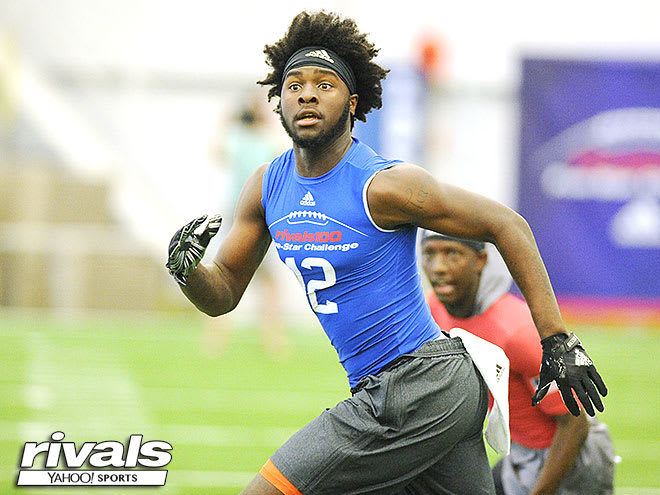 Perhaps the most surprising thing about this list is that the Jayhawks are the only team that has a five-star wide receiver recruit committed to their class. The downside is that he's the only receiver currently committed to Kansas. Many still expect that there is a lot of work to do to hold on to Jason, but he hasn't exactly given serious indication that he's eager to commit elsewhere at this point, either. For all the talent that Jason has individually, Kansas is still going to need to get more talent around him because he's going to be the focus of defensive gameplans from the moment he takes the field. Hunt was committed to Kansas at one point, if the Jayhawks could find a player in his mold to compliment Jason, their spot on this list will quickly make a positive move.

10. KANSAS STATE
OK, wide receiver isn't exactly the top priority to Kansas State, generally speaking. On top of that, Lane isn't a name that evokes a big response from many outside of Georgia, however he plays for a Grayson program known for churning out top talent. Kansas State's recruiting class isn't as full as most in the rest of the conference, but it's hard to argue with the way the staff gets the most out of all of its players.