Big 12 Breakdown: Visit season
Now that football season is under way, recruits are starting to get more serious about taking official visits. The schools in the Big 12 don't have a large number of players signed up for those big trips quite yet, but a few, like Oklahoma, are already starting to schedule some critical weekends. Here is a team-by-team look at key official visitors for each school.

RELATED: Key weekend at Oklahoma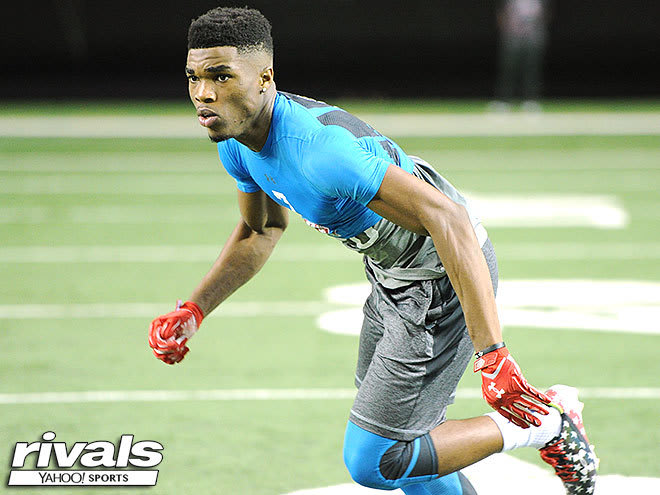 BAYLOR
Baylor doesn't currently have any players committed to taking officials, but the two players the Bears do have in the class, Jalen Pitre and Noah Daniels, aren't put off by the program's situation. Both should be expected on campus at some point.

IOWA STATE
The Cyclones have a couple of players signed up for visits on Sept. 23 in three-star Pennsylvania linebacker Kenny Robinson and Texas athlete Jaylen Dixon. Dixon opened the season with an incredible performance on national television and Robinson would help to build on the Cyclones' Top-25 recruiting class right now. Cornerback Quran Hafiz is already committed and scheduled to visit on Oct. 29.

KANSAS
The Jayhawks don't currently have anyone slated to visit in the coming weeks but just hosted Mississippi linebacker Javaris Russell. Russell also holds offers from Cal, Memphis, Missouri and Mississippi State, but Kansas looks to be in certain need of thumpers after giving up 329 rushing yards to Ohio in last week's loss and 170 the week before in a win over Rhode Island.

KANSAS STATE
The Wildcats have an opportunity to give their 2017 class a shot in the arm starting this weekend, when they will host Texas OLB Dimitri Moore. Moore is a big, fast linebacker that can deliver a nasty pop. Houston-area defensive back Sam Barnes is set to make an appearance on Oct. 7. Barnes doesn't have a great deal of experience as a corner, but is big and uses his size well. Evan Fields could be K-State's top target in the secondary, and he'll visit on Nov. 5.

OKLAHOMA
The Sooners are hosting a major group on what is decidedly the most impressive and largest guest list of the week -- and possibly the season -- this weekend. In addition to having commits like Chris Robison, Charleston Rambo, Robert Barnes and Tyrese Robinson on hand, Marvin Wilson, Jeffrey Okudah and Adrian Ealy will be there as well. With a huge atmosphere in a newly renovated stadium, a win over Ohio State could provide a major boost in the Sooners' efforts with adding more big names to an already impressive commitment list.
OKLAHOMA STATE
Quarterback commit Jelani Woods was just on campus this past week and reported enjoying the visit despite the surprising end result to the Cowboys' game against Central Michigan. OSU doesn't have any other visits locked in at the moment but does have a big class of commits. Oct. 1 could end up being a big visit weekend with the Texas Longhorns in town -- it would provide a good rub for Oklahoma State with its Texas recruits.

TEXAS
LSU commitment Kary Vincent has confirmed his wishes to take an official visit to Texas, but he hasn't said which weekend that could be. He would instantly be the best and most dynamic defensive player in Texas' class. Dylan Moses has had a commitment set for Oct. 15 for some time, but Texas and the other schools in Moses' top-three will really need some magic to jump ahead of presumed leader LSU.

TCU
Josh Thompson's flirtation with TCU continues despite having flipped to Texas over the summer. He'll be on campus along with current commitments Shawn Robinson and Wes Harris. Rivals250 linebacker Breon Dixon has plans to visit at the end of September and would give the Horned Frogs a top linebacker in the class regardless of whether Baron Browning chooses his hometown school, but that is expected to happen at some point as well.

TEXAS TECH
The Red Raiders are also light on official visits this season, but they are hosting a large group of recruits this weekend on unofficial visits. Tech's marquee commitment, Jack Anderson, was in Lubbock last weekend despite the team playing in Tempe, Arizona. Anderson is back on campus this weekend to see if Texas Tech can rebound against Louisiana Tech, along with at least six other commits.
WEST VIRGINIA
Tevin Bush could possibly be one of the more dynamic players in West Virginia's 2017 class, and he's scheduled to visit on Oct. 22. Bush is an all-purpose back but easily could plug in anywhere on offense with his quickness and athleticism. The Mountaineers will also hope to steal a commitment away from Washington State when Texas WR Tyquez Hampton visits at some point in December.