Big 12 Blitz: Buffs stampede back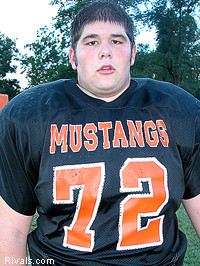 Why do people doubt Gary Barnett and the Colorado Buffaloes?
Just when everybody wrote Barnett and the Buffs off for dead, CU won the Big 12 North Championship last year and took another step toward proving once again that it's the team to beat in the division with a 41-20 thumping of Texas A&M last weekend in Boulder, Colo.
The victory itself was impressive enough, but the way that CU put on a show for a very excited group of recruits left little doubt the Buffs are once again a force to be reckoned with on the field and in the recruiting wars.
"The field is beautiful there," Oakland McClymonds four-star defensive tackle
Derrick Hill
said after the visit to CU.
"I told them when I was there that I haven't seen a more beautiful field than you guys have. I saw the game, and that's what I wasn't expecting. I wasn't expecting the game to go that good. It was a good experience to see the team go out and win that game so easily."
CU also impressed Cal commit
Keith Browner
, a four-star defensive end from Los Angeles Dorsey.
"Basically the crowd and the stadium were overwhelming," Browner said. "I loved how they run behind the buffalo (Ralphie). It was pretty amazing. I was pretty close. I had to back up a little bit because he was running pretty fast."
Moreno Valley (Calif.) Rancho Verde safety
Jonathan Hawkins
said he, too, was blown away by his CU visit.
"They basically just blew me away with the campus, the fans and the interaction between the players, Hawkins said. "It was just a wonderful experience."
While Oklahoma receiver commitment
Jeremy Maclin
reportedly did not make it to Boulder for his visit, CU didn't leave the weekend empty-handed.
The Buffs landed a pledge from Hawkins' teammate,
Deandre Reed
, a two-star weakside defensive end/outside linebacker. Reed, who is 6-foot-3 ½ and 205 pounds, was also offered by Arizona, but decided to end the process over on Sunday after reflecting on the visit.
"The CU coaches were excited," Reed said. "I got to talk to all the coaches. I talked to coach Cabral, then he gave the phone to coach Barnett, then coach Barnett gave the phone to coach Hankwitz, then to coach Inge, and I talked to coach Cabral again. It felt pretty good."
Instant impact for NU
There was a time that Nebraska fans would freak at the idea of recruiting junior college players. Doing so was something that was rarely done under Tom Osborne and Frank Solich, but Bill Callahan subscribes to a different theory and that has attracted many of the nation's top junior college recruits to Lincoln.
The stampede continued this past weekend when NU landed three very talented junior college prospects.
Steve Allen
, a 6-foot-2, 230-pound inside linebacker from Fresno City College, picked the Huskers over the weekend, turning down offers from teams like Florida, Michigan State and UCF. He was joined by teammate
Andre Jones
, a 6-foot, 192-pound corner, and defensive tackle
Brandon Johnson
of Compton (Calif.) Community College.
Jones might be the biggest pickup in the bunch. He is an elite prospect and is considered by most junior college experts as one of the best players available out West. He turned down offers from Arkansas, Oregon, Oregon State, Southern Cal, Utah, Washington and Washington State.
Closing the borders
To get to the level that Gary Pinkel wants to be in the Big 12, he knows that keeping the top talent at home is priority No. 1. After dominating Missouri the entire time he's been there in Columbia last season there were signs of cracks forming in the wall that kept other schools out.
MU saw two of the state's elite prospects head elsewhere, including missing out on
Chris Brooks
, who switched from MU to Nebraska late in the recruiting process.
Brown is scheduled to visit on December 10 and is also set up to trip to Illinois, Nebraska and Oklahoma. Maclin is a more interesting situation. The four-star receiver has had two official visits scheduled on consecutive weekends, but he failed to show up on either one of them. He did take an unofficial visit to MU earlier this fall, so there is legitimate interest in the Tigers on Maclin's part.
Clayborn is set to be in Columbia the first weekend in December, and the further he gets away from visits to both Texas Tech and Nebraska, the better MU's chances are with him.
Red River rout impresses recruits
It's not like Texas needed much else to go right for itself on the recruiting trail as UT has already assembled one of the nation's top classes. Even though UT has 24 commits, there are still a few players to be added to the class and the feedback from players after this past weekend's thumping of rival Oklahoma it looks like the Horns are going to close strong.
"At first, I wasn't really into them that much," four-star running back
Mon Williams
said. "The way they have played this season has made me look at them more."
Four-star defensive end
Ugo Chinasa
said he couldn't believe the way UT played on defense and he could see himself someday out on the field for the Horns.
"I'm trying to keep a level head about all this," he said. "But when you watch an aggressive defensive like that and see them flying around and making plays, you can't help but get excited and think about what it would be like to be on the field, too."
Etc.
Baylor looks like its found itself one heck of a hidden gem in Corsicana, Texas, running back
Jay Finley
. In last week's game against Athens, he had 121 yards rushing on 20 carries… Kansas fans screaming for something positive from the quarterback spot this season have reason to hope for the future.
Todd Reesing
has had a monster season and could be an immediate impact player for the Hawks… Kansas State looks like it's using the November 18th weekend for its first big official visit weekend of the year. Look for many of the Jayhawk Conference's top players to be in Manhattan for an official visit… ISU linebacker commitment
Kris Means
has helped his team to a perfect 5-0 star and he's already racked up around 50 tackles… Word from sources is that Oklahoma State's changes at keeping running back
Michael Goodson
are getting thinner and thinner every day. There is a good shot that he now could end up in College Station or at Southern Cal.
More Recruiting Blitzes:
http://rivals100.rivals.com/content.asp?SID=880&CID=465128">SEC: Bama building an OL