Battle at the Beach: West Coast recruiting takeaways
ST. BROWN KEEPING SAME LIST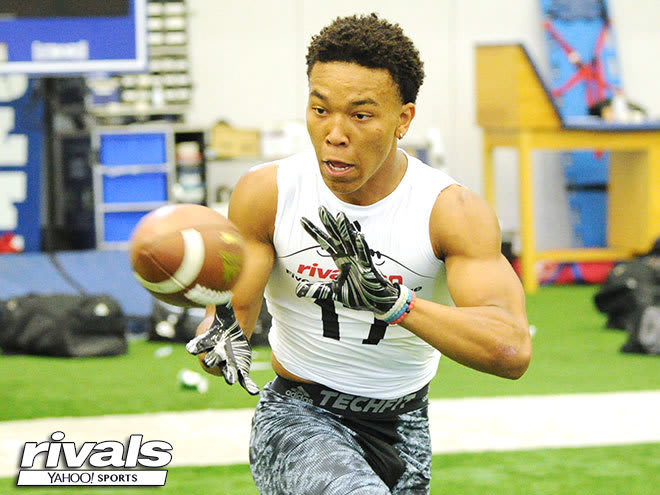 Amon-Ra St. Brown was not swayed by any recruiting pitches by other prospects the Rivals100 Five-Star Challenge presented by adidas and The Opening this summer and is really still focused on the same core group of schools.
That means USC, Stanford, Notre Dame, Michigan, Ohio State and UCLA look the best to the Santa Ana (Calif.) Mater Dei receiver, who has been unstoppable this offseason.
My gut feeling is that Stanford and USC probably have an edge for St. Brown, but it still seems early in his recruitment. I also think it would help the Trojans if they could settle their quarterback situation in this class.
More on that later.

DANIELS SERIOUS ABOUT USC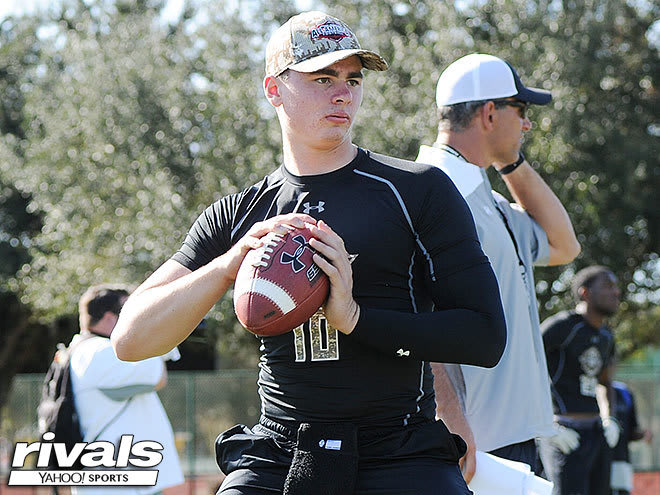 I had a good discussion with Steve Daniels, the father of 2019 five-star quarterback JT Daniels, and it's clear to me that after a recent visit USC is being seriously considered in his son's recruitment.
The first thing to know is that Daniels is only focused on pro-style offenses because it's what he's most comfortable running. And because he's such a talented prospect – he's ahead of UCLA quarterback Josh Rosen at the same stage – there have to be NFL considerations involved as well.
Even if Sam Darnold comes back after this season, who knows how this year will turn out, it shouldn't affect the Santa Ana (Calif.) Mater Dei superstar because he's just entering his junior season.
A pro-style system is important, and Daniels is also focused on a program where he can throw to talented receivers, be protected by an outstanding offensive line and play for national titles. USC and Stanford are definitely up there, Washington continues to intrigue him and an upcoming visit to Michigan could be big. Notre Dame has also been high on Daniels' watch list.

CORRAL TO DECIDE SOON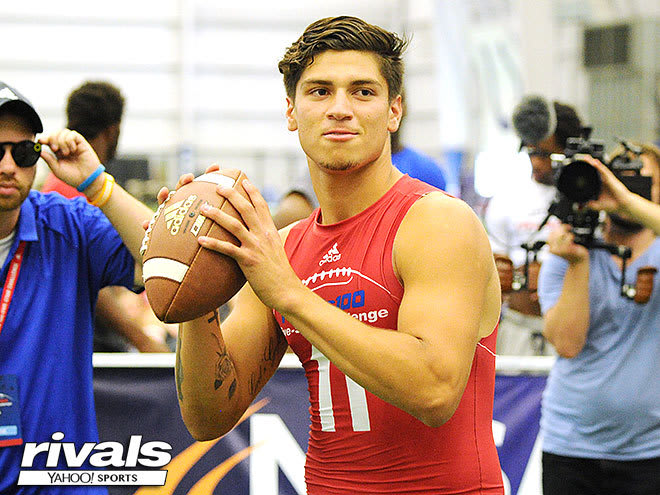 Long Beach (Calif.) Poly was not in the tournament, but five-star quarterback Matt Corral was still a point of discussion with a few sources on the sidelines as everyone braved the 90-plus degree heat.
According to some sources, Corral is looking to commit a few weeks before his senior season starts. That bodes well for Georgia, with Florida and Alabama also being seriously considered. A late trip to Florida State is possible but unlikely to really change the scope of Corral's recruitment.
The really interesting part here is that fellow five-star quarterback Justin Fields is also looking at those SEC schools, and there could be a little this-for-that going on, meaning if Corral commits to Georgia soon, that could bode well for the Gators with Fields and vice versa.
However it works out, it looks like Corral is closer than Fields to making a decision. Either way, SEC East teams could load up at quarterback.

WOODBEY WORKING FIVE-STARS
Ohio State pledge Jaiden Woodbey has tinkered with the idea of taking some official visits, but as the summer winds down it sounds like he's more committed to the Buckeyes than ever.
The four-star defensive back, who had at least one nice interception during the tournament, said he still might visit USC, Nebraska and Oklahoma, but he recently returned from The Opening where he was trying to recruit top Ohio State targets.
His focus was mainly on two five-stars: Houston Lamar CB Anthony Cook and Clemmons (N.C.) West Forsyth defensive end K.J. Henry. I asked Woodbey directly if he thought they were going to Ohio State. He smiled and didn't really answer directly. Something might be cooking there.

THIBODEAUX LOOKING AT SEC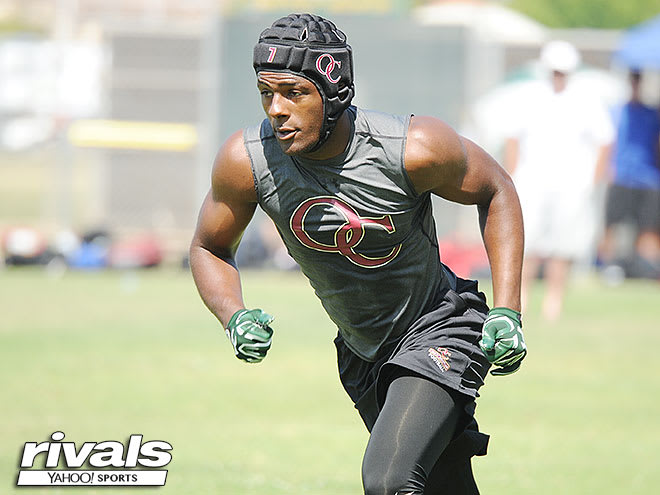 The sense I'm getting from 2019 five-star defensive end Kayvon Thibodeaux is that he's seriously considering USC – he took a few trips over there this camp season – and if not the Trojans he'll end up in the SEC.
However, and this is important, the recent transfer from Los Angeles Dorsey to Westlake Village (Calif.) Oaks Christian is taking the recruiting process slowly and won't plan any more visits until after his junior season.
Thibodeaux loved a recent trip to LSU and he wants to get back down south to see Alabama, possibly Georgia, Texas A&M and then head to Oregon and Washington as well.
For those who have never seen Thibodeaux in person, he looks like a prototypical SEC hybrid defensive end/outside linebacker who can play in space but is probably best setting the edge and making plays closer to the line of scrimmage. He's a special recruit and a lot of powerhouse programs are trying to land him.

ADDISON SETTING OFFICIAL TRIPS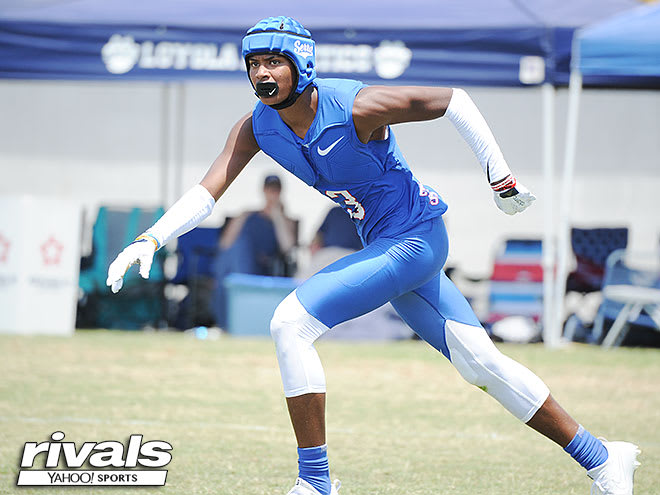 Over the last few months, four-star Bryan Addison (who could continue to climb up the rankings charts after another strong performance) has altered his official visit schedule. It now looks like two – for sure – will get trips.
The rangy four-star athlete from Gardena (Calif.) Serra said he will definitely take trips to Nebraska and Washington in his senior season, although I still get the sense that UCLA is going to be really tough to beat in his recruitment.
It seems like UCLA, Washington and USC are the three main standouts and then Addison is going to take a bunch of trips to see which other programs will be in that main group. Alabama and North Carolina are showing new interest.

WHITE STAYING PATIENT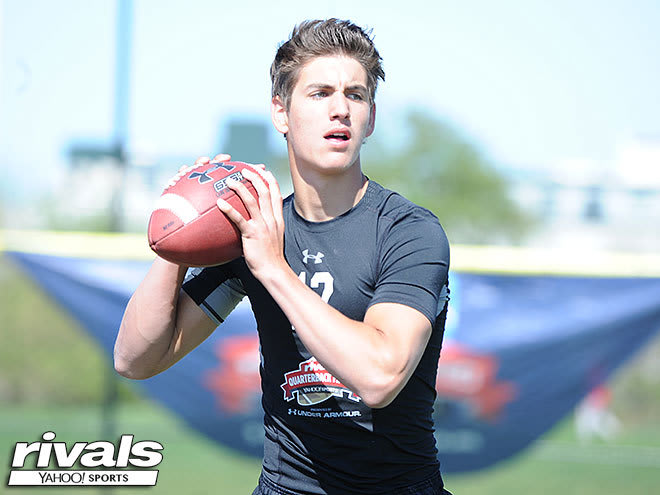 Brevin White is staying patient and in some respects waiting to see where five-star quarterback Justin Fields commits, because it can open up some more possibilities in his recruitment.
The four-star quarterback from Lancaster (Calif.) Paraclete gave me the feeling that USC is waiting on Fields' decision – the Trojans are involved but probably a dark horse at this point – and then could offer him after a solid showing at a recent camp there.
An offer from the Trojans would definitely be big. White is also hearing a lot more from Auburn, and he could visit there later this month. Penn State – where Fields had been committed – is also poking around more.
It seems like White is waiting for Fields to make his choice and then he could be next up on a lot of recruiting boards.
A surprise school – Memphis – is also in the mix. The four-star quarterback has a lot of respect for coach Mike Norvell and the Tigers' offense. It doesn't hurt that former QB Paxton Lynch was a first-round NFL Draft pick as well.