Auburn could be on verge of big recruiting push in Georgia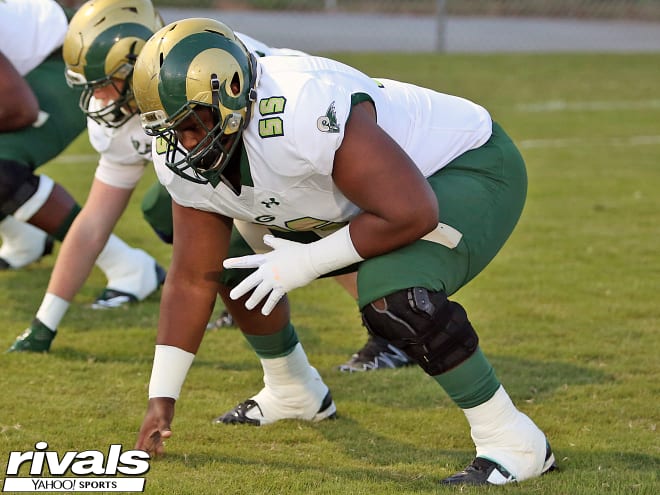 Gus Malzahn is famous for saying "boom" whether it's when his offense makes a big play or when he gets recruiting news that gets him excited.
He let a boom out Tuesday after Jakai Clark committed to Auburn and more booms from the Peach State could be on the way.
Clark is a 6-foot-2, 306-pound center out of Loganville (Ga.) Grayson and Malzahn and his staff hope they aren't done there as Auburn is in the thick of the race for two of Clark's teammates, linebacker Owen Pappoe and offensive tackle Wanya Morris. The pair spent multiple days on the Plains last week before taking an official visit to LSU over the weekend. They are expected to announce their commitments in May, with Georgia being Auburn's biggest competition for Pappoe and Tennessee being the other main contender for Morris.
It looked to be all Georgia with Pappoe up until the last month or so. Auburn has really made this a tight race, and some even feel the Tigers have become the team to beat. Tennessee had the edge for Morris too, but this one has gotten interesting as well.
Kenyon Jackson and Kenyatta Watson are two other four-star prospects from Grayson that Auburn is in on. The Tigers have turned it up a little with Watson knowing he is leaning toward Notre Dame and Texas. Right now, Auburn is on the outside looking in there. He will likely decide around the same time as Pappoe and Morris.
Jackson will visit Texas officially at the end of April. He has his eye on Texas A&M, too. Jackson had a strong connection with Jimbo Fisher when Fisher was at Florida State, so keep an eye on the Aggies here.
It doesn't stop there.
Auburn recently had Jashawn Sheffield and Jaylon Simpson, two four-star athletes out of Saint Simons Island (Ga.) Frederica Academy on campus for what was apparently a game-changing visit.
The Tigers are now the team to beat for both and word from a close source is that one's mind is already completely made up. A decision by one, if not both, could happen within the next month.
There could be many others mentioned, but here are five more to watch.
Justin Eboigbe is a strongside end out of Forest Park (Ga.) and he has taken a couple of visits to Auburn in 2018. He may be from the Peach State, but his favorite school growing up was Auburn.
Tyler Fromm is an athletic tight end from Warner Robins (Ga.) who was back on the Plains Saturday for the program's spring game. He is the younger brother of Georgia starting quarterback Jake Fromm, so he knows what Auburn and SEC football is all about. The Tigers could be the team to beat here.
Ramel Keyton is a Rivals250 wide receiver out of Marietta (Ga.) that is high on Auburn. He was the spring game Saturday and the Tigers have been high on his list for some time. Their biggest competition at this time could be Tennessee, but he is another one to track.
Jammie Robinson of Cordele (Ga.) Crisp County is a former teammate of Markaviest Bryant, an Auburn defensive end. South Carolina may be the favorite, but Auburn is right there with Georgia and a few others close to the top of his list.
Colby Wooden is a teammate of Booth's at Archer and he has become a priority for Auburn on the defensive line. Wooden is an edge rusher with length and constant motor that schools love and he was on the Plains Friday and Saturday.
And if you want to look ahead to 2020, Kobe Hudson of Lagrange (Ga.) Troup County will announce his decision later this month and it will be Alabama, Auburn, Florida State or Georgia. Auburn has been trending, so keep an eye on that one.
Things could be about to get very exciting for Tiger fans on the Peach State recruiting trail.