Ask Farrell: How will WR Hunter Renfrow's NFL career play out?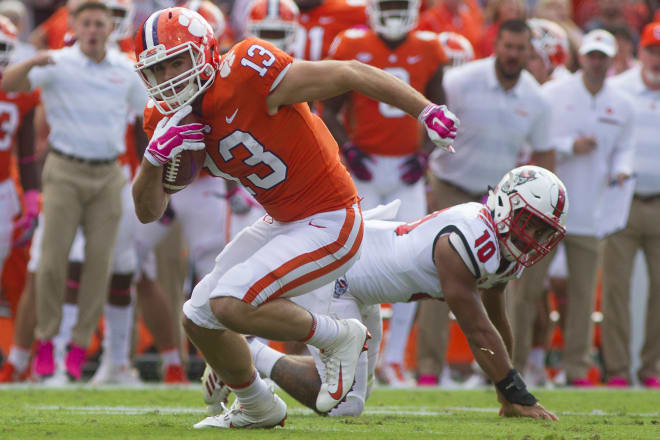 MORE ASK FARRELL: Is it time for a change in OL rankings? | Will Lincoln Riley ever make the jump to the NFL?
Hunter Renfrow measured in at 5-foot-10 and 184 pounds at the NFL combine. Nothing special.
The Clemson wide receiver ran 4.59 in the 40-yard dash. He had only seven reps on the bench press, a 35-inch vertical leap and went 116 inches on the broad jump. A lot of pedestrian numbers there.
But Renfrow finished tied for first in the 60-yard shuttle and he finished third in the three-cone drill, which tests change-of-direction speed, and he was No. 11 in the 20-yard shuttle. That three-cone drill time could be most important because Renfrow is not known as a burner and he's certainly not a physical specimen, but he got open all the time at Clemson and now he could be a steal in this NFL Draft for that same reason.
"Renfrow is a third-down specialist, obviously," ESPN NFL Draft analyst Mel Kiper, Jr., said recently. "The way he gets separation, you see a little (Wes) Welker, (Danny) Amendola in him at times. Keep in mind Welker and Amendola didn't get drafted coming out of college, both coming out of Texas Tech. You look at Adam Humphries, who carved a niche in Tampa after coming out of Clemson. There is going to be a spot on a roster for Hunter Renfrow, and it wouldn't surprise me if he became, like I say, that combo Humphries/Welker/Amendola type in the NFL."
In four years at Clemson, Renfrow caught 186 passes for 2,133 yards and 15 touchdowns. This past season as the Tigers blitzed their way to another national championship, Renfrow had only 49 receptions and one TD. He was third in catches, fourth in receiving yards and six players at Clemson had more receiving TDs.
FARRELL'S TAKE 
We ask Rivals.com National Recruiting Director Mike Farrell if he believes Renfrow will be a receiver in the mold of Welker, Amendola, Julian Edelman and others in the league. Or was Renfrow a quality receiver at Clemson who probably won't have a similar impact in the NFL, making those comparisons are unfair?
"I can see Renfrow going in the late rounds of the NFL Draft and having a long NFL career. He's such a great route runner and has such reliable hands that he will find a home someplace. Comparing him to Welker, Amendola and Edelman might be a bit much, but I can see similarities in their games. Sometimes it's not about testing and all that and it comes down to how good a football player is. And Renfrow is a really good football player."