Ask Farrell: Change needed in OL rankings?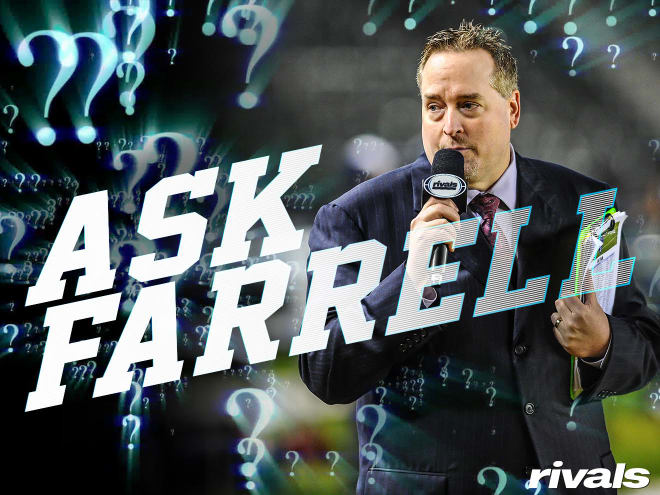 MORE ASK FARRELL: Will Lincoln Riley ever make the jump to the NFL?
When it came to the 40-yard dash at the NFL Scouting Combine, three of the top four performers among the offensive linemen could be early draft picks with at least two of them – NC State's Garrett Bradbury and Washington State's Andre Dillard – going in the first round.
Texas A&M's Erik McCoy led all offensive linemen running a 4.89 and Boston College's Chris Lindstrom, who could go early in the draft as well, was second at 4.91.
As high school prospects, though, three of those four players were hardly complete prospects. Bradbury, who could be the first offensive lineman drafted, was a 6-foot-3, 240-pound tight end. Lindstrom was a 6-foot-4, 236-pound prospect. Dillard was a 6-foot-5, 240-pound recruit. Only McCoy was filled out at 6-foot-5 and 305 pounds.
That seems to be the case for other top performers among offensive linemen in other events at the combine. Wake Forest's Phillip Haynes was ranked as a 6-foot-7, 260-pound defensive end. Arkansas' Hjalte Froholdt was a four-star defensive tackle.
Many of the top offensive line prospects in the NFL Draft were pretty much ready-made coming out of high school such as Alabama's Jonah Williams, Ole Miss' Greg Little and Oklahoma's Cody Ford. Many others were not and could still be taken even earlier.
We ask Rivals.com National Recruiting Director Mike Farrell if there needs to be a change in philosophy when ranking offensive linemen based off how NFL teams view those positions?
FARRELL'S TAKE
"People think that the quarterback position is the toughest to evaluate and I tend to agree but offensive line is a close second. That's because so many guys tend to develop too early and cap out or are so far from developing we just can't see it coming. Lane Johnson is one of the best offensive linemen in the NFL and he was a quarterback out of high school so how can we account for that?
"I don't think we can honestly change our evaluation process at offensive line because guys like Dillard, Bradbury and Lindstrom are just impossible to project. But I do know I'll take a longer look at a kid who is 250 or 260 pounds these days than I will a 360-pounder who has to lose weight at the next level. It's easier to put it on than take it off."