Ask Farrell: Can Texas end its slump vs. Oklahoma State?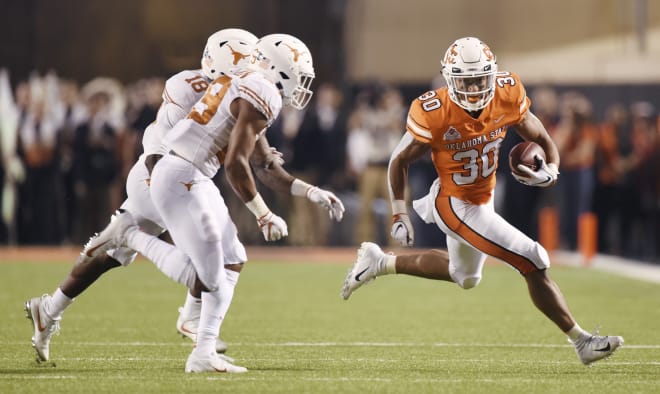 MORE ASK FARRELL: Will Michigan-Wisconsin winner challenge Ohio State?
One game not a lot of people outside Stillwater and Austin are talking about this weekend is the Oklahoma State-Texas matchup.
Everybody is discussing Notre Dame-Georgia, and Auburn-Texas A&M seems top of mind. Even the Tennessee-Florida rivalry game and especially the Michigan-Wisconsin matchup are of interest.
But Oklahoma State has won five straight games over Texas in Austin, the longest streak by any program against the Longhorns, and the Cowboys have beaten Texas four straight times.
And this Oklahoma State team is no pushover.
Quarterback Spencer Sanders has been outstanding as a pass threat but also running the ball and escaping pressure when needed. Running back Chuba Hubbard and wide receiver Tylan Wallace have been two of the most dynamic players in all of college football.
Texas is coming off a blowout win over Rice but is still smarting after losing to LSU two weeks ago in a thriller. The Longhorns are currently 2-1 and for a team that has quarterback Sam Ehlinger, a bevy of offensive weapons and a lot of talented defensive playmakers, a 2-2 start would be more than disappointing.
The Longhorns have only had one 10-win season since 2009, but a big win over Georgia in the Sugar Bowl and a 10-4 finish last year pushed the excitement level pretty high entering this year.
Another loss to Oklahoma State, especially another one in Austin, would throw a lot of cold water on that excitement.
FARRELL'S TAKE 
We ask Rivals National Recruiting Director Mike Farrell if he sees Texas getting over this Oklahoma State hump and garnering another win, or if the struggles will continue and what that would say about a disappointing start to Texas' season under coach Tom Herman.
"I think this will be a close game and Okahoma State always gives Texas fits under Mike Gundy, especially in Austin, but I think the Longhorns pull this one out. Both offenses will put up points and each have excellent weapons at quarterback, running back and wide receiver, but this will come down to the trenches and I like Texas better there. Especially along the defensive line I think Texas has a clear edge and the Longhorns will pressure Sanders much more than Oklahoma State will get to Ehlinger.

"A loss would be brutal for Texas, but this team knows what it is playing for and it will be up to the task. A high-scoring, 41-30 win for Texas."