Army Bowl: Three hot teams from Tuesday's action
WASHINGTON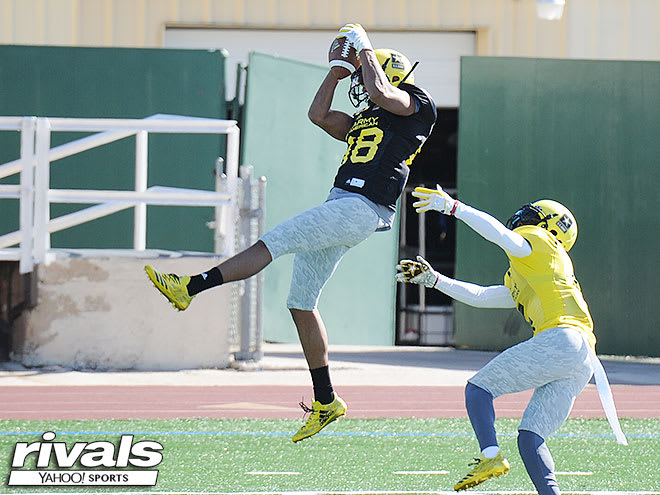 There was not a more violent defensive lineman on Tuesday than Marlon Tuipulotu. Even though the future Husky was wearing a different jersey number than the one listed on the roster, he was easy to pick out because he dominated the one-on-one session against the East squad. Tuipulotu may not be the tallest defensive tackle prospect around, but he brings versatility because of his athleticism and his motor is always running.
Ty Jones had a strong first day of practice showing off his length and catch radius and continued that into the morning of Day 2. He wasn't as strong in one-on-ones, but finished the day making several catches in 7-on-7. Over the first two days, Jones has had the most consistent pair hands on the West squad.
Salvon Ahmed stepped up as a defensive back playing closer to the line of scrimmage in 7-on-7 work highlighted by making a nice deflection that was nearly picked off in the end zone behind him. He's been a good worker throughout the first two days and has been very instinctual in pass coverage. Ariel Ngata also continued a solid start to the week in this morning's session, and several times flashed his speed to keep runs from escaping to the edge in team run-drills.

MICHIGAN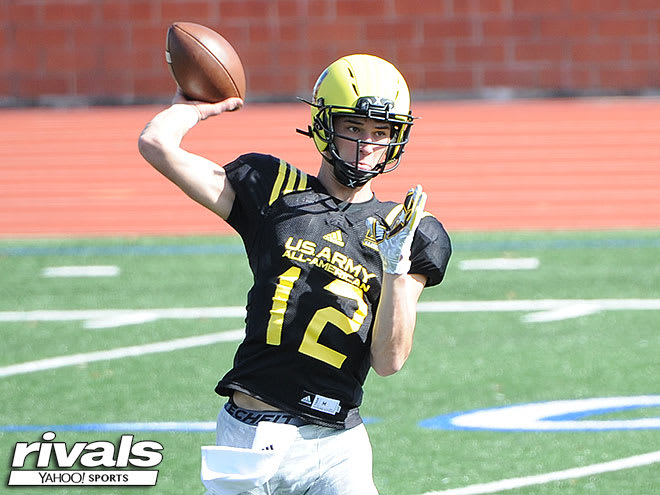 Rivals100 quarterback Dylan McCaffrey made his first appearance of the week after missing Monday's practice. Not surprisingly he had some rust to shake off, but two of his future wide receiver targets – five-star Donovan Peoples-Jones and four-star Tarik Black – were starting to round into form.
Black has been a go-to deep option for the East team early in the week, and he has shown the ability to make the tough catches in traffic. Peoples-Jones, meanwhile, has a very well-rounded game. He was particularly impressive in one-on-ones against the West defensive backs, which could portend success on Saturday… or a game plan designed to stop him.
Other Michigan commits in San Antonio include cornerback Ambry Thomas and defensive end Deron Irving-Bey. They are also still in the hunt for uncommitted prospects Willie Gay, Aubrey Solomon, Jay Tufele, Chuck Filiaga, Oliver Martin and No. 1 overall, running back Najee Harris.
STANFORD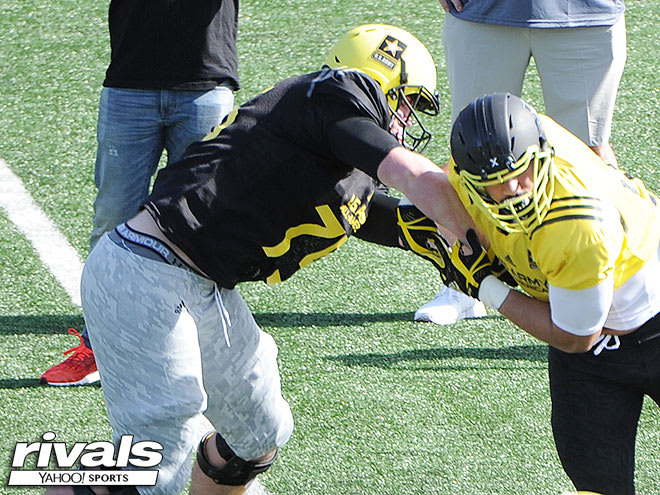 There is a legitimate discussion that can be had about Walker Little playing just as well as the third-ranked player in the nation, West teammate Foster Sarell. The possibility of both lining up for Stanford's offensive line next season has to be something on the minds of Cardinal fans this week. Little is able to reset and react so quickly to pass rushers that even the talented edge-rushers he's been working against on the West team have rarely seen the field behind him after the ball is snapped. He can absorb rushers as easily as he guides them around the pocket and has been effective on nearly every play he's been a part of.
Colby Parkinson is a little bit of a 'tweener at the moment as one of the biggest receivers on the field for either team, but of the understanding that he'll likely continue to grow into a receiving tight end at Stanford. He's still been a regular name called in pass sets, finding space and receptions in team scrimmages and 7-on-7 play. He doesn't always meet the ball with his hands in the air, but is so big that he just has a natural physical advantage on most defenders.