Army All-American Combine: Top performers
SAN ANTONIO – One year ago Carterville, Ill., tight end Luke Ford came to the U.S. Army All-American Combine with zero offers and little fanfare. His performance that day catapulted the now four-star prospect into more than two dozen offers and a spot in Saturday's 2018 U.S. Army All-American Bowl.
Nearly 800 kids from Hawaii to Rhode Island took part in this year's Army Combine, and perhaps one of the standouts listed below is in for a Luke Ford-type rise over the next year.
MORE: 2019 Rival250 | Army Bowl in-game commitment predictions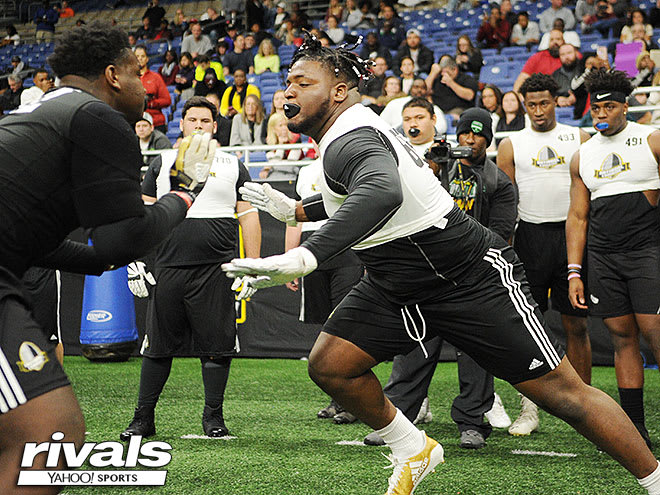 Even though he is just a sophomore, Jackson looks as if he could be in college right now. The LSU commit was the most dominant lineman at the combine and could do pretty much anything he wanted. Jackson won with power, technique and speed at various times throughout the day.

Jackson was the most dominant lineman, but Clay was a close second. He won nearly every rep he took and he wasn't a one-trick pony. Clay, who holds offers from Georgia, and Oklahoma State, has the power, speed and hand technique to give any offensive tackle problems off the edge. He can win with inside or outside moves, and still has plenty of room to fill out his lean frame.

Wright, the top-rated offensive lineman in the Rivals100, looked leaner but still showed off impressive power. The five-star, who has built strong relationships with Virginia Tech, North Carolina and Ohio State, has great lateral agility and made sure to keep himself between the defender and the quarterback. Wright did a good job of getting into his pass set quickly but needs to be careful he doesn't allow the inside rush to beat him.

Hicks was the most complete defensive lineman at the combine. He has great size, speed and strength but the most impressive thing about him was the many moves he used to win reps. It seemed as if Hicks always had a plan going into each rep and had a backup plan if his first move didn't work. Oklahoma, Oklahoma State, Ohio State and Notre Dame have done a great job recruiting Hicks so far.

While there were more contested battles at other positions, the top running back was pretty clear by day's end. A three-star prospect with offers from Illinois, Kentucky, Louisville and others, Gary made it look almost too easy in winning rep-after-rep, almost as if he was hardly trying. A powerfully built 5-foot-8 and 210 pounds, Gary changes direction in an instant and gets to top speed quickly while also proving to be a natural pass catcher.

Ndoma-Ogar was as solid as an offensive lineman could be. He might have been the strongest offensive lineman at the combine and it showed when he was able to really get his hands on the defender he was facing. The way Ndoma-Ogar was able to use his leverage and anchor down gave many defenders problems. It seems like Oklahoma may be in the best position with him so far.

Marks took a ton of reps and won the large majority of them. He isn't the biggest offensive lineman but he is very strong and moves his feet well. Bigger defensive linemen tried to push Marks around but he anchored well and handled bull rushes with ease.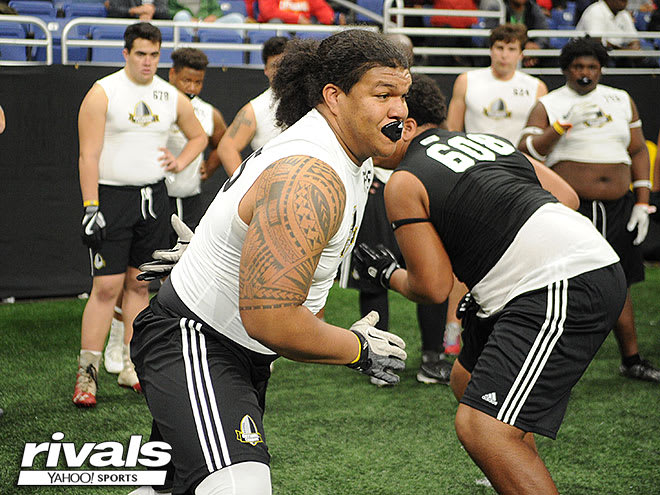 Harris was a ball of energy and made sure he took a lot of reps. He showed great power and knocked over a few offensive linemen with his punch. Harris had a few good battles and offensive linemen had to try to hold onto his tattered jersey to slow him down. Harris holds offers from Georgia, N.C. State, North Carolina and a few others.

Liufau made the most of his long flight from Hawaii for this year's Army Combine, immediately standing out with his range and athleticism from the linebacker position. After starting out as a defensive back earlier in his career, Liufau has outgrown that position and now looks very comfortable at outside linebacker. He has plenty of room to add more weight on his 6-foot-3 frame. Hawaii and Utah State are in early with offers to Liufau.

There wasn't a defensive end quicker than McCollum in the entire combine. He was in the backfield before most offensive linemen were even out of their stances. McCollum has the look of a great hybrid defensive end/outside linebacker but he needs to add good weight to his frame. Duke is the biggest school to offer McCollum so far.

Beamon has done a great job of getting in better shape while filling out his frame with good weight. The North Carolina commit looked quicker and more powerful off the line and that combination gave offensive linemen problems all day.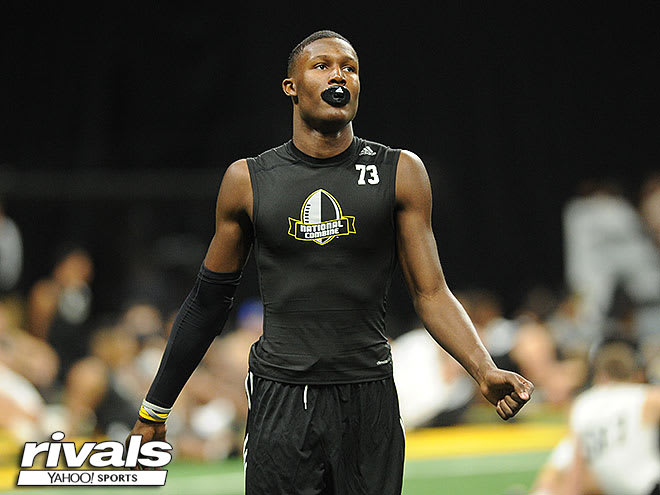 It was not an overly impressive group of wide receivers at this year's Army Combine, but Jakes gets our nod as the top overall performer from the bunch. Receivers with his height are highly coveted if they can create separation from defensive backs, and Jakes proved throughout the afternoon he was more than capable while also displaying an impressive set of hands and good change of direction. Kent State is in early with a scholarship offer, but more will come.
Listed as an athlete, Richardson is actually a very polished quarterback considering he is just coming off his sophomore year of high school. He spins a beautiful football and showed really nice touch on short and intermediate throws. His arm strength will benefit from added weight and strength, but there is plenty of room on his 6-foot-3 frame to do that and it's easy to see why Louisville and others have offered him early.

As a sophomore on varsity this past season, Black came away with two interceptions and has started to generate some Division I interest already from schools such as North Texas and Missouri State. That interest should grow if Friday's performance at the Army Combine is any indication. Black proved to be a sticky cover corner who always seemed to get his hands on the football. He also came away with a nice interception after tracking the ball impressively off a tip.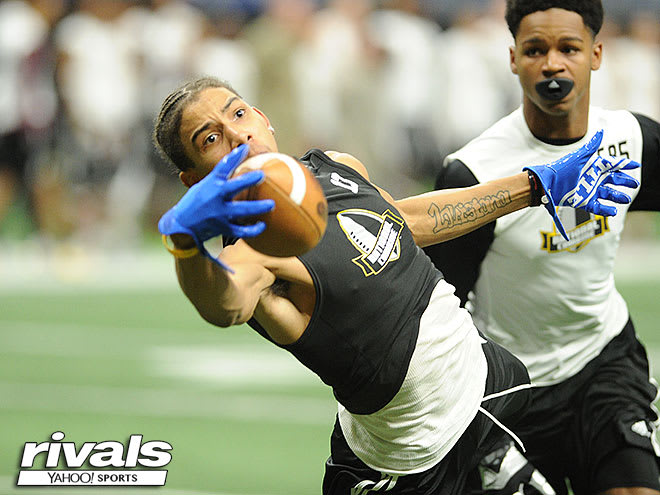 Andrus was not a prospect we were familiar with coming into Friday's Army Combine, but he kept making us take notice by winning rep-after-rep impressively. Although his height and weight look pedestrian for the wide receiver position, Andrus plays longer than his size would suggest and he possesses strong hands. The question projecting to the next level will be about speed, but he had enough of it to separate consistently against the Army Combine DBs.