Army Bowl: In-game commitment predictions
The contenders: USC, Notre Dame, Stanford
Breakdown: The top-rated receiver in the 2018 class is ready to make his commitment and his final three is no surprise. Michigan, Ohio State and UCLA had also been hanging on but St. Brown started to seriously focus on his three favorites in recent months. USC has been a front-runner for a long time and having Mater Dei QB JT Daniels reclassify to the 2018 class cannot hurt. The five-star has visited Notre Dame and Stanford numerous times especially because his brothers, Equanimeous and Osiris, play at those schools.
The pick: USC

The contenders: Oklahoma, UCLA, Clemson, Florida State, Nebraska, Alabama
Breakdown: The five-star cornerback had been committed to Nebraska for a while but after a visit to Oklahoma, Radley-Hiles backed off his pledge and reopened his recruitment. A visit to UCLA impressed him but the IMG standout had limited time with coach Chip Kelly. Other top programs got involved later on. Radley-Hiles did have a strong trip to Florida State and others have seriously been in the mix as well. His close friend, four-star RB T.J. Pledger, is committed to the Sooners. Radley-Hiles could take a look at Arizona if Marcel Yates is hired, but that would probably be a stretch.
The pick: Oklahoma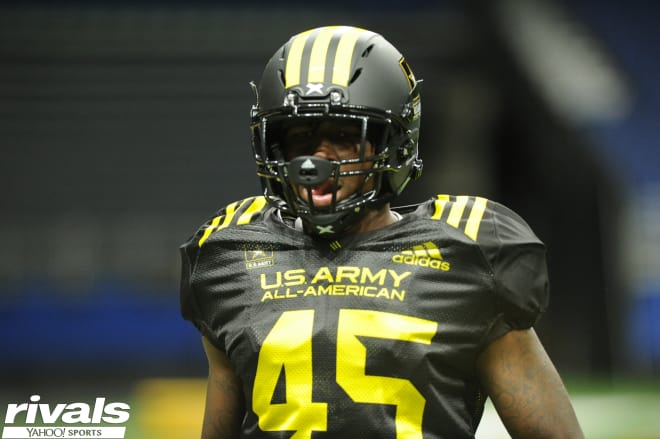 The contenders: Alabama, Tennessee
Breakdown: The Crimson Tide seemed to have a big edge for Peterson's commitment. He's visited Tuscaloosa numerous times and looked to be nearly locked up. Then Alabama defensive coordinator Jeremy Pruitt took the Tennessee job and the Vols emerged as a major contender even though he hasn't visited Knoxville yet. This one is almost too close to call but Tennessee seems to be emerging as the choice because of Peterson's relationship with that coaching staff.
The pick: Tennessee

The contenders: Stanford, UCLA, Notre Dame
Breakdown: Murray saw his recruitment take off in recent months and many top-end programs got involved as the four-star offensive guard had a strong senior season. He took visits to all three programs and really got a feel for each, liked different things about all three programs and is ready to make his decision. Arizona, Utah and others had been involved but Murray has turned his focus to these three leading up to his pledge.
The pick: UCLA

Breakdown: Moore was a longtime Texas commit but backed off that pledge leading up to the early signing period and now has Purdue and the Longhorns as his top two. Could a prediction be this easy or is there a surprise in store? Moore is an undersized but speedy receiver who could be dynamic in Purdue coach Jeff Brohm's offense. The Boilermakers have to be the favorite leading up to Saturday's decision.
The pick: Purdue