All-Farrell Five-Star Challenge team: Defense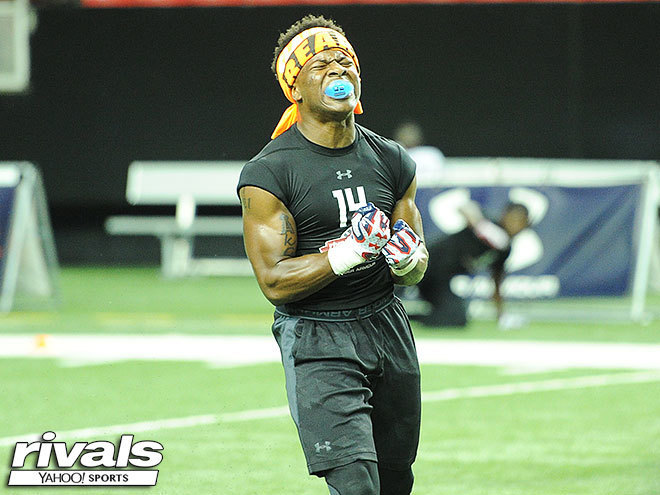 ATLANTA -- With the Rivals100 Five-Star Challenge presented By Under Armour a resounding success as always, it's time to name the best of the best on offense and defense. In fact, we thought it would be cool to make up a team, the All-Farrell Team, on each side of the ball based on the performance of the players in the morning and evening sessions. Here is the defense.
RELATED: All-Farrell Offense | Farrell Awards | Media Day | Interviews | Rosters | Full Coverage
DEFENSIVE LINE
Wilson had the toughest day we've seen so far as he struggled a bit with too much bull-rushing and was stoned a few times, something that never happened before. However, he took more reps than anyone, carried his injury-depleted team and his motor is non-stop. Both the OL and DL coaches were adamant he was the best and he took home Defensive Line MVP honors.
Shelvin made his own case for MVP honors with a wide array of interior pass rushing moves and agility that shouldn't be there for a 350+ pound prospect. He's a ball of terror and he could bull rush anyone into the backfield, but he uses his hands so well he doesn't have to.
Lawler looks small next to the other defensive linemen in this group and he's a hybrid guy to me or perhaps an outside edge rusher who will add weight and size over time. One thing is for sure -- he's fast as can be and reminds me of Jonathon Cooper from last year.
Herring makes this list because he showed a good combination of power for his size along with some quickness and the ability to get off first contact. He's not the fastest end, but he's sneaky strong and he shows good balance.
Just missed – Jaelan Phillips
Phillips' ceiling is as high as anyone's, but he's never put his hand down so he rushed as a standup outside edge guy which limited his effectiveness. That being said, he still moves linemen regularly when he gets into them and he flattens well around the corner.
LINEBACKER
Phillips took home the LB MVP award mainly for his work in the morning session, a much harder assignment for linebackers trying to cover some very elite running backs. He is patient, he closes well and tries to play the ball consistently. No one really did much at linebacker in the evening session except run down plays and disrupt passing lanes, but he did that well also.
Cowan looks the part off the bus and he played with a ton of energy and passion in both sessions. He's huge, so a hybrid role could be in his future, but he moves well for a linebacker and he could stay standing up full time.
Like Cowan, Browning is another big linebacker and he's a bit more instinctive although not quite as long. He closed very well in the one-on-ones and in 7-on-7, showed toughness coming back from an injury and was never lost in coverage. Handling the elite running backs at the event wasn't going to happen for someone so big, but he handled himself very well and made plays.
Hunter isn't as big, thick or long on the hoof as Jacob Phillips, Cowan or Browning, but he's a bit more athletic and reacts a bit quicker. However, he needs to work on his instincts and getting his head around in coverage as well as the depth of his drops. He has a ton of potential and can cover a lot of ground.
Just missed – Matthew Bauer
Bauer, a 2018 prospect, was up and down and struggled a bit in the one-on-one session, but no linebacker made more plays in 7-on-7 at linebacker, where he had two picks and at least one pass breakup. He's a big, long kid who uses his size well.
DEFENSIVE BACK
Wade struggled in the morning one-on-ones, which was puzzling because he's usually excellent there. He was off his game, giving too much space when playing off and not effectively jamming when being aggressive. But in 7-on-7 he simply dominated and earned DB MVP honors for the event. He had double-digit pass break-ups, an interception and an energy that was infectious for his team.
Samuel made a strong case for the MVP award because he was steady through both sessions. He's a blanket, plain and simple, with amazing instincts and closing speed off the charts. He's not that big, but he plays big, which is key, and his ball skills are excellent. For a 2018 prospect, he had an amazing day.
Okudah is that rare kid with a safety build and mentality that can cover outside. He was running with wide receivers step for step in the morning and started off the first game of 7-on-7 with four pass break-ups and a pick. After that, his side was avoided quite a bit. He lived up to his five-star status.
Graham was very good in the morning, a smaller cornerback who drapes himself on his opponents without illegal contact, had fluid hips and knows when to flip them and when to hold his water. In the evening, he didn't have as much of an impact, but was still steady and rarely got beaten.
Bandy is smaller and not as long as Samuel and Graham, but he can certainly cover and he's more aggressive. He loves taking on bigger receivers, loves getting physical at the line of scrimmage and is aggressive with the ball in the air.
Just missed – AJ Terrell
Terrell was up and down in the morning session, at times allowing two or three steps because of delayed reaction time, but made up for it with his elite speed and length. In the evening, he was avoided for the most part and his size and speed swallowed up opponents. He's a big, rare athlete still refining his corner skills.