All-American Bowl: Winners and losers from Saturday
SAN ANTONIO - The annual All-American Bowl was played Saturday in San Antonio, with stars from around the country gathering to compete in the nation's top football all-star game. With a number of high-profile prospects making commitments and several standout performances, we look back at the game and name our winners and losers.
WINNERS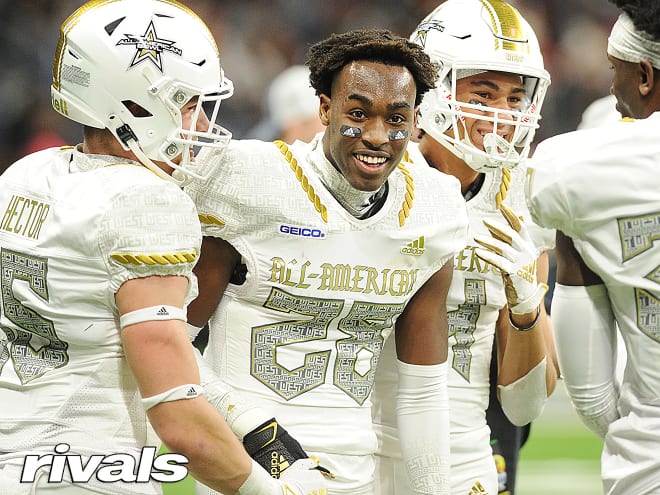 Alabama
As usual the Crimson Tide were represented by several players at the all-star event, but this year featured not only future Alabama QB Bryce Young lighting up the scoreboard, but also future Tide defense end terrorizing opposing offensive linemen. Whether Tua Tagovailoa stays in school or goes to the NFL Draft, Tide fans had to be salivating watching Young pick apart the East defense for 164 yards and two touchdowns on just nine attempts. The same can be said about Anderson, who two tackles for loss, including a sack, as well as one forced fumble. The pair has a chance to be the stars of their respective offensive and defensive units down the road in Tuscaloosa.
Clemson's Defense
Clemson has made quite a name for itself when it comes to producing defensive linemen over the the past decade and it appears that tradition is likely to continue, thanks to the likes of Bryan Bresee and Myles Murphy. The pair impressed once again at a marquee event on Saturday, with Bresee coming off the ball so fast at times that people in the press box were openly wondering if he knew the offensive snap count. Bresee flashed his athleticism while playing offense as well and finished the game with four yards rushing, along with a sack and several quarterback pressures. Murphy showed off his pass rush acumen during the week as well, and should make quite a tandem with Bresee for the Tigers in the future.
Stanford
Stanford had a down year on the field in 2019 but it appears as if help is on the way for the Cardinal if Saturday's game was any indication. Running back signee Casey Filkins was the only running back to score a touchdown in the game, his future lead blocker, five-star tackle Myles Hinton, answered any questions about his status as an elite prospect and Ayden Hector also flashed as a playmaker. As the Cardinal brand resonates with prospects across the country much more than it did a decade ago, it should come as a surprise to see so many elite talents making their was to Palo Alto.
Dwight McGlothern
It couldn't have been a better week for the Rivals250 defensive back, who committed to LSU during Saturday's game and then had two interceptions, including a pick-six. McGlothern entered the week unsure of if he would even commit during the game, mainly because he wasn't sure about where he wanted to go. But when LSU gave him the green light to join their class, McGlothern kept his announcement on the books and made his pledge to the Tigers. McGlothern then played like a prospect headed to DBU, picking off two passes, including one he returned for a touchdown. McGlothern has seen lots of ups and downs during his high school career, but he finished it off with a bang.
The Unusual Suspects
The All-American Bowl has also been known for televised announcement, with college football's blue bloods usually being the recipients of the positive publicity that comes with a major commitment addition during the game. But a few programs that aren't traditionally featured as hats on the table over the years had reason so celebrate Saturday. Wisconsin added a commitment from Rivals100 running back Jalen Berger, Kentucky nabbed in-state prospect DeVito Tisdale and Arizona State added four-star wide receiver Lavon Bunkley-Shelton. The announcements show just how much the recent success of the programs on the field has helped recruiting and the public commitments will serve as great publicity for the programs as they head into the offseason.
LOSERS
Pac-12 Offensive Coordinators
There were plenty of future Pac-12 offensive stars in Saturday's game, but the defensive stars shined the brightest, led by five-star linebacker Noah Sewell. The Oregon signee had a big interception and return, and also helped lead a goal line stand by standing up five-star Clemson signee Bryan Bresee at the goal line. The collision between a a combined nearly 600 pounds of defensive stars showed just how strong Sewell is and how unique of a matchup problem he will be for opposing offenses. Stanford defensive back signee Ayden Hector also showed his ability to make plays, scooping up a loose ball and returning it for 71 yards for a score.
Haters of Load Management
Load management is a term best associated with the NBA, but the term coined referencing players who sit out rather than risk further wear and tear may be a term college football fans will be using soon. Plenty of players elected to skip this year's game, as well as Thursday's Under Armour game. Players missing from Saturday's game included five-star LSU signees Arik Gilbert and Elias Ricks, as well as Tennessee signees Harrison Bailey and Keyshawn Lawrence and five-star Oregon signee Justin Flowe. All told, at least 10 of the nation's 33 five-stars didn't play in one of the two games because of injury or other reasons. It's a trend that could continue to expand, especially if college coaches urge prospects to avoid the injury risk associated with an extra week of practice and a game.
The Game's Running Backs
It's been tough over the years for running backs to have dominant performances in the all-star games and this year's game was no exception. Georgia Tech commit Jahmyr Gibbs finished the game with 26 yards on five carries and Stanford running back signee Casey Filkins had four carries for 20 yards and a score. Outside of those two, yards were hard to come by for the backs, with the majority of the game's rushing yards coming from quarterbacks, wide receivers or defensive players that saw action on offense.