Alabama wins another recruiting national title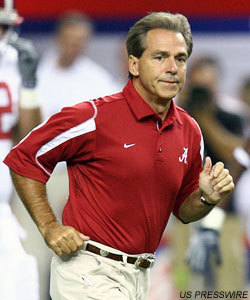 There are several uncommitted players who could cause some shifts in the top 10, but nobody has enough left on the board to knock the Tide from the top.
Though the late flurry was enough to push Alabama to the No. 1 spot, it was the Tide's early commitments that laid the foundation.
"I love the school and everything they bring to the table," Fluker said shortly after committing. "It's a great situation for me from a player standpoint because I love the way the coaches teach and communicate with their players. I know they can help me become a better player and they are building something special. I feel very comfortable around the coaching staff and players."
THE TOP 10
The top 10 recruiting classes in the nation:
"Last year, when they pulled in the nation's No. 1, class it made a huge impression on me," McCarron said when he committed. "All the top players in the state wanted to play for Alabama, and that made me and the other top juniors take notice. Coach Saban does a great job recruiting."
Those recruits helped set the table for the Tide to make their run in the days leading up to National Signing Day.
OK, we were wrong.
"I wanted to play for a coach that could help me become the best in the nation," Cotton said Wednesday after picking the Rebels. "I'm going to come in and work hard to be prepared so when my number is called, I'll be ready. I believe the SEC Championship Game and a berth in a BCS bowl game will become an annual event, and I am really excited and honored to be a part of that."
[rl]