ACC breakdown: The league's top newcomers in 2016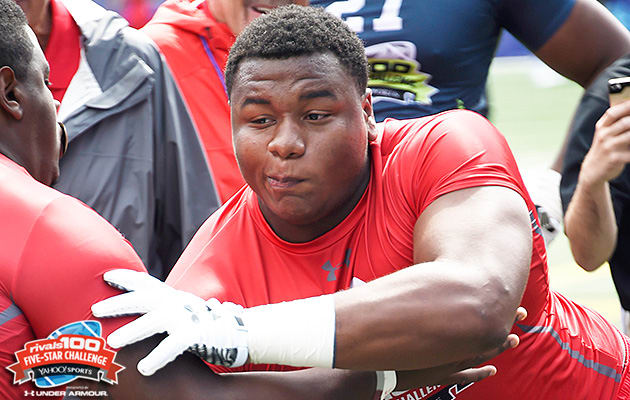 Many view the ACC as a top-heavy conference, but there are some big-time incoming players that are going to make waves this year. Check out the top newcomers for each ACC school this year.
RELATED: Impact newcomers in the Big Ten | SEC
BOSTON COLLEGE
Steve Addazio isn't the type of coach to play true freshmen if he doesn't absolutely have to, so don't expect more than one or two to play, if any at all. Freshman defensive back Hamp Cheevers has been a regular on the second-team defense and has opened some eyes by making big plays. Linebacker Max Richardson has also had a good camp and could be used as a reserve this season.

CLEMSON
The rich certainly got richer last year, and it is already showing on the field for Clemson. Former five-star Dexter Lawrence is already in the starting rotation at defensive tackle and is largely responsible for allowing the Clemson coaching staff to move budding star and former five-star Christian Wilkins out to defensive end. Former Rivals250 defensive back Trayvon Mullen surprised many with how quickly he adjusted to the college game. He will get a lot of playing time at cornerback early in the season and some think he could be starting by the middle or end of this season. There is also a chance former five-star Tre Lamar could start at inside linebacker as well.
DUKE
Most expected former Rivals100 wide receiver Scott Bracey to turn heads immediately, but he has been hampered by a hamstring injury for most of this offseason. Cornerback Mark Gilbert has been very good in practice and should see the field frequently this year. Duke has a deep stable of running backs but Brittain Brown has been pushing to get into the rotation.

FLORIDA STATE
Finishing with the No. 2 overall recruiting class in the 2016 team rankings, Florida State has plenty of talent. Much like Derwin James last year, former No. 1 cornerback Levonta Taylor will start out playing spot duty in the secondary and will gradually get more and more playing time. He will likely start as a punt returner as well. Former Rivals250 prospect Josh Brown will get significant playing time at outside linebacker/BUCK this season as well.

GEORGIA TECH
It's an important year for Paul Johnson and the Yellow Jackets. Running back Dedrick Mills has been pushing Marcus Marshall for his starting spot. That's a battle to continue watching as camp rolls along. Wide receiver Jalen Camp has had a great offseason and is doing a great job in practice. He is in line to lock down that third receiver spot.

LOUISVILLE
The Cardinals needed to reload at defensive tackle and cornerback and it looks like they've found their replacements. Chris Williams wasn't highly rated but he has had a very good camp so far and could start if he keeps up this momentum. Cornerback Ronald Walker has great size and has fit in with the Louisville defense very well. He could also be starting week one if he continues to perform.

MIAMI
There's a new coaching staff and a new mentality at Miami. Mark Richt and his staff are making huge strides to improve their roster so look for them to play young players early. The big name is former Rivals100 linebacker Shaq Quarterman. He will likely start at inside linebacker but linebacker Mike Pinckney will also play a lot. Former four-star wide receiver Ahmmon Richards will get significant time as well.
N.C. STATE
N.C. State has been having a nice run on the recruiting trail over the last couple years, but they are still looking to take that next step as a program. To do that, the Wolfpack coaches have been trying to get more explosive playmakers on offense, but they've had some wide receiver injuries this offseason. Former four-star wide receiver Kelvin Harmon looks to be taking advantage of that situation and could end up starting. Defensive back Isaiah Stallings has had a nice camp as well and is already working with the second-team defense.
NORTH CAROLINA
The questions for North Carolina always seem to be on the defensive side of the ball, and a pair of freshmen are in line to answer the critics. Former four-star defensive back Patrice Rene has had a great camp, and while he may not start, he will play a lot. Linebacker Jonathan Smith is in the linebacker rotation and will likely be on the field for special teams as well.

PITTSBURGH
Pittsburgh head coach Pat Narduzzi has a defensive background, and that's where the Panthers have a few impact newcomers. The defensive tackle group is so thin that true freshmen Amir Watts and Keyshon Camp will play regularly and will be counted on in important situations. Former Rivals250 defensive back Damar Hamlin, the crown jewel of Pittsburgh's 2016 class, will start out the season playing spot duty but could move into a starting role as the season progresses.

SYRACUSE
Kenneth Ruff looks like he could end up starting at defensive end. His speed off the edge will be something to watch for this season. Moe Neal is an electric running back and will get a lot of touches this season.

VIRGINIA
The quarterback position has been volatile over the past couple seasons for Virginia, but Bronco Mendenhall is looking for stability this season with East Carolina transfer Kurt Benkert. He has two seasons of eligibility left, so Cavalier fans hope he can pick up the new offensive system and galvanize the team moving forward. Expect freshmen wide receivers Hasise Dubois and Joseph Reed to work in the rotation this season as well.

VIRGINIA TECH
The main newcomers to watch at Virginia Tech are Jerod Evans and Joshua Jackson. Both freshmen quarterbacks are competing with Brenden Motley for the starting job. It's a toss up right now, but it does highlight how talented these new recruits are. Keep an eye on Khalil Ladler and Tyree Rodgers. Ladler is coming back from a knee injury but will definitely play this year. Rodgers is super athletic and it's hard to see him not getting on the field in some capacity.

WAKE FOREST
The Demon Deacons are hoping to make some big strides on the field this year, and it looks like they are going to start true freshman Cade Carney at running back. He has had a very good camp and will probably the starting running back for the first game of the season. Wake Forest has had some injuries in the secondary, so Essang Bassey started in their scrimmage. There is no doubt that experience will be useful and should help him see the field during the season.